BIRDING THE LAND OF THE MIDNIGHT SUN Finland May 22nd - 29th, 2019 Bob Groom
My 8th trip with the ever-reliable Bird Holidays, Leeds was with tour leader Andy Woodall to Finland, which borders Russia to the East, Sweden to the West and Norway to the North. Finland is 50% larger than the United Kingdom but 75% tree covered and the population is only about 6 million, as compared with 66+ million in UK. The local people are friendly and very techno,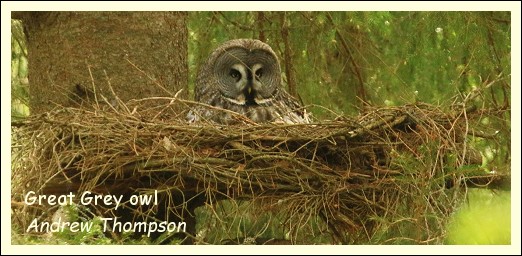 which must help in the long months of near or total darkness. It's a very civilized country, even kettles in the rooms, which you don't always get abroad. In the north birding is really hard work as there are millions of trees but relatively few birds. A few productive lakes are well populated, Goldeneyes in particular being numerous, but the majority are barren of birds. Common and Arctic Terns frequented some lakes and one had many Little Gulls, always a joy to see. There were even Spotted Flycatchers sallying out over the water, catching insects. We also saw stunning Black-Throated Divers, Goosanders, Velvet Scoters and rarer Common Scoters. A superb male Smew displayed to females on one lake. Slavonian Grebes were nesting on a small pool and the male gave close views. Red-Necked Grebes are a new colonist. The Whooper Swan is Finland's national bird and we saw them in all locations, on the sea, on lakes and in marshes. When we landed in Helsinki on day one it was a very pleasant 23C but when we arrived in Oulu after an internal flight of about an hour it was much cooler. Our excellent hotel was situated on
Kempele Bay, part of the Gulf of Bothnia. Experiencing 24 hour daylight for the first time I looked out at 2.00 a.m. to a beautiful golden glow in the sky and bird activity over the marsh. Our first full day in the field was bright and sunny but bitterly cold. With the weather about to change (to 5 days of almost solid rain and cold) a lot was crammed in.
After a scramble we had stunning views of a Great Grey Owl on the nest, the first of four owl species seen that day, thanks to our Finnature guide Ari. Ural Owl was only seen briefly (we had good views of a male another day, near Bear Lake), but Tengmalm's Owl obligingly appeared at the entrance to its nestbox and in the evening , after dinner, a 40 kilometre trip to (eventually) see Pygmy Owl,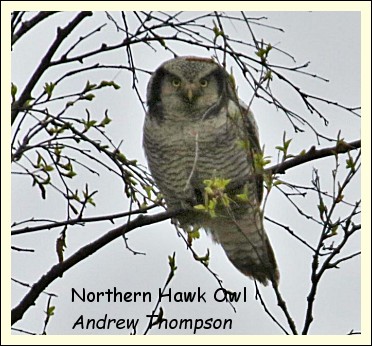 perched at the top of a conifer, untroubled by our presence. The formidable Northern Hawk Owl was a new bird for me and fortunately we did get really good views of several individuals. (We were not able to visit an eagle owl site as Finnature were restricting access so as to minimize disturbance.)
Birds of prey were very much in short supply, neither species of buzzard were seen, Kestrel and Sparrowhawk only a couple of times. I was lucky enough to pick up the only Hobby of the trip, catching insects over Kempele Bay. A couple of White-Tailed Eagles were seen but always distant. Male and female Marsh Harriers were around the Liminganlahti reserve and 2 male Hen Harriers put in an appearance as we watched a Black Woodpecker fly past.
Another day we had great views of Black Woodpecker at the nest hole. A Wryneck gave great views. Great Spotted Woodpecker was the commonest of its ilk but we also saw Lesser Spotted and Three-Toed Woodpeckers later in the trip. Cuckoos were often heard and also seen well on several occasions. All 3 hirundines were present . Swirls of Swifts pleased the eye, including several dozen over a lake close to the Arctic Circle! White Wagtails were ubiquitous, Grey-headed Yellow Wagtails were in small numbers, plus a single Grey Wagtail on a river, and close views of a Black-Bellied Dipper plunging under water, where there was obviously plenty of food. 14 species of waders included Curlews, Ruff and many Wood Sandpipers. It was good to see a flock of 22 Waxwings on their "homeground", feeding in bushes near a lake..
Great Tits were commoner than Blue Tits and Willow Tits, which were much paler than our UK birds. The attractive, brown-hooded Siberian Tit was another new species for me, as was the Siberian Jay,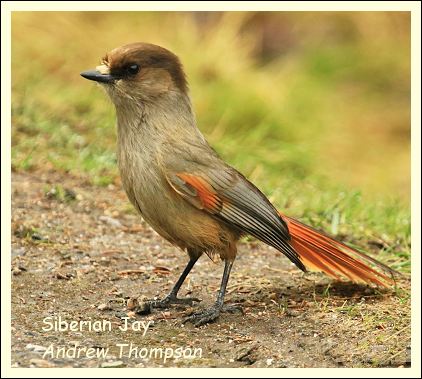 individuals were quick to come down to food. Also seen several Eurasian Jays and other corvids, including Raven. Willow Warblers were extremely common, encountered every day in numbers, but it was the only warbler that was, Sedge Warblers were present but only seen near Oulu. Fieldfares and Redwings were plentiful in some locations, also Mistle Thrushes but Song Thrushes and Blackbirds somewhat scarcer. A few Wheatears and Whinchats were noted. Also Yellowhammers but we missed Ortolan Bunting. Pied Flycatchers seem to be doing exceptionally well as to some extent were Redstarts. A few shy Robins were seen and lovely Rosefinches more than lived up to the title 'Common'. Chaffinches were everywhere and Siskins etc. quite common. Bramblings were at their brightest and often seen, as were Bullfinches at the roadside. Majestic Cranes were often seen from the vehicles. After 3 nights we relocated from the Finlandia Airport Hotel to the Scandic Hotel, at a ski-station 200 kilometres further north and east in Ruka for 4 nights. There were patches of snow everywhere as it was hilly and the temperature was mostly below 7C. We arrived in the middle of a huge cross-country running event so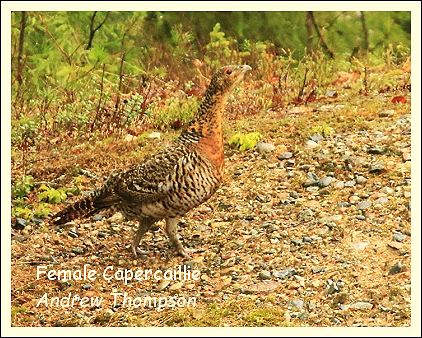 things were a bit chaotic at first.
Like several other members of the group I had a disappointment in that I was unable to do the early morning trip to see the only available cock Capercaillie as it required crossing a treacherous bog, jumping across ditches etc. Several females were seen from the vans but I've never seen a male, despite many attempts in Scotland, where the species is now in steep decline. A roadside view of 2 Hazel Grouse (normally elusive) was an unexpected bonus and both Black Grouse and Greyhens gave good views. Another disappointment was missing red-flanked bluetail, here at the extreme western end of its range. I managed to complete two-thirds of two very steep hill climbs at Valtavaara on treacherous paths but like some others in the group just couldn't make it to the top. The 4 group members who made it the second time had reasonable views of a male, despite being in cloud. Good for them but I couldn't help feeling a wee bit jealous when I'd put in such a lot of effort for no reward..
On the last morning (raining again) we finally caught up with a singing Little Bunting near Ruka before heading north. We had lunch at the Santa Claus Village on the Arctic Circle (destination of many families in December) before taking an internal flight from Rovaniemi airport back to Helsinki and then the three hour flight on to Manchester. Considering how adverse the weather had been I was pleased to have a species list of 115, the group list (including quite a few heard like bittern, merlin, goldcrest and pine grosbeak) being around 130. We didn't see many mammals, no elk sighting, but nearly white Arctic Hares were seen frequently further north and lots of semi-domesticated Reindeer wandering through the forest. With the cold spring there were no butterflies or dragonflies and, fortunately, no clouds of biting insects. It was quite an experience to visit Finland but with the weather so bad I have to admit that at times I rather wished I had chosen to head south to warmer climes and more colourful birds, but then seeing all the owls was magical and you can't see any of them in Spain!