Tony,
Thanks for the local updates from Cheshire. Here is some news of recent spring sightings from the White Peak around Bonsall, Derbyshire.
Chiffchaffs have been back for several weeks and numbers in Horse Dale are now well into double figures. Other migrant arrivals have been absent until today when there was a bit of a rush, no doubt brought on by the recent warm weather:
Blackcap heard singing in The Dale during a trip to the local shop for milk.

A total of nine singing Willow Warblers during some social distancing compliant exercise across Horse Dale and Bonsall Moor - none at all evident yesterday.

The first singing male Redstart in Horse Dale - more than a week earlier than the first arrival in 2019.
Best wishes,
Mark
Thanks Mark please say hello to Alison from all of us at the KOS!
---
Two Little Ringed Plovers today for Jayne Davies - I must try and find this magic pool!
Lovely weather today, and another walk out past the Rooney House and back via Damson Lane and Mobberley SQ. Sightings included a mandarin duck flying over Pedley Brook and a sparrowhawk over the fields beyond the fishing pit, but my favourites for the day were two little ringed plovers on the wet field area, which I think may be where Wendy saw her yellow wagtail yesterday. No willow warbler for me yet. The warm weather has brought the butterflies out again, peacocks and small tortoiseshells. As I type, it sounds as though I've got a large animal stomping about on the flat roof above my head, but it's just squabbling wood pigeons - how do they manage to make so much noise?
---
I was down the Fox Harbour early doors, via Mobberley SQ where I thought I might bump into my first Swallow. No luck with them but I did watch two pairs of Linnets gathering nest material and heard my first singing Yellowhammer. I too saw Small Tortoiseshells, one, feeding on dandelion, allowed me to approach close enough to get a half-decent shot on my I-phone. Returning home, I was having a brew on the decking when I was delighted to see three House Martins fly over. I rang Len Mason, just up the avenue, who was also in his garden but he couldn't see them. He did tell me though that yesterday the single Wheatear quickly became three - two males and a female.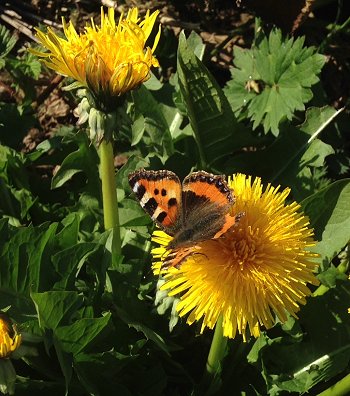 ---
Just down the road along Smith Lane Wendy Stratford has been following the progress of our Mobberley Lapwings.
Hi Tony,

Just strolled down Smith Lane to the lapwing field, and the farmer has now spread all the manure over that end of the field, and added to the 100+ plastic wrapped silage bales stacked near the gateway. However there were 4 lapwings on the ground (stubble side) and others displaying over the field the other side of the railway track. Will walk over tomorrow and have a better look.

Thanks

Wendy
---
Looks as though work has been getting in the way of Darren Morris's birding today!
Working in the same area today for quite a while so sightings were limited.
Three ravens calling and displaying to each other over the mansion area and a small clump of trees intend parkland. Four buzzards enjoying the weather too, soaring over the deer enclosure.
A lone lapwing by the side of Tatton Mere and plenty of great crested grebes displaying too.
Skylarks singing and displaying in the deer enclosure was a lovely sight and sound while building a sheep pen.
---

Maria Freel also saw the displaying Ravens over Tatton today

Two ravens spotted overhead at Tatton. Possibly displaying. Only snatched a few glimpses through the trees but there was a heck of a lot of a racket, and a lot of fancy aerobatics. :)

Usual suspects still about. Very active tawny owls too.

I've not been to the meres so I'm afraid I can't tell you about any waterfowl etc.
---
Geoff and Sheila Blamire are looking forward to hearing their first Willow Warbler - so am I!
Highlight today from our garden was copulating Greenfinches!!!
We did our walk this afternoon down Moss Lane, to Tabley Church, up Swain's Way, etc - most notable was the number of singing Chiffchaffs! In a very short stretch along Moss Lane there were 3-4 singing competing against each other. Really looking forward to hearing a Willow Warbler J
Cheers ....................... Sheila
---
Hon Sec. Derek Pike is keeping to the garden - probably still suffering from all that jet washing. I've still got our driveway to do but that can wait, it looks as though we'll have plenty of time!
We are about to have 190 homes built across the road, which we don't particularly want, the homes we do encourage are the two pair of House Sparrows in the front gable - never any at back. The Woodpigeons nest in Holly bush at the front and the Blackbird nest in Skimmer also at the front. At the back of house Great Tits in one box, another Great Tit prospecting another box, I moved the open fronted box this year because it is always empty; as I type a Robin is building a nest, plus we have the Dunnocks low down behind the spa. The other box - where we have had a Wren in the past, nothing as yet.
Today we heard in rear garden a Skylark, a Lapwing - both very unusual to hear them. We also heard Buzzard and Oystercatcher. We have had an Orange tip butterfly, also happily having a drink not 20 feet away from us other side patio door - a Nuthatch
---
Steve and Gill Barber have been giving nocmig a go; no computers or microphones and recorders needed - just two pairs of ears and natures default computer!
Hi Tony,
Yesterday, well after dark, Gill & I spent half an hour listening for Common Scoter. Finally we got lucky, the cattle weren't lowing and the Pheasants nightly rave must have been cancelled because fairly distinctly we heard two Scoter calls! Also heard were Little Owl, a local rarity these days, Tawny Owl and a Lapwing. Today our first Swallow of the year flew over us near the A34. Otherwise the day's best sightings were of a fine male Kestrel and a singing Reed Bunting both on the site of the long-drained Marton Mere.
Cheers Steve
---
I've put a new webpage on 10X50.com that will contain links to copies of these emails, so they're saved for posterity. Future historians won't believe it!
Tony Usher.