10th April 2020
Another beautiful day: after an overcast start the sun appeared and the temperature reached 21.2C. I walked down to Mobberley's Fox Harbour this morning via the now famous field pool! I took a different route and used the footpath that leads from Damson Lane next to the Roebuck Inn. Personnel had changed at the pool, the Shelducks, Little Ringed Plovers and Tufted Ducks had gone, being replaced by Canada Geese and Mallards. two Yellow Wagtails, a male and a female fed along the margins of the pool and were joined by two House Martins that were collecting mud for their nests before flying east. They must have set up shop a good distance away as they vanished from view, even through the binocs. The two Oystercatchers were still there and were cementing their relationship in an appropriate manner. The Plovers could well be back, when they nested at Mobberley SQ they used to vanish for days before returning to breed. A good count of 42 species this morning including my first Swallows at two sites. The photo is of the pool.

---
Wendy Stratford also passed the pool before moving west as far as the fishing pit.
Coot, Oystercatcher and Canada geese at the pool. 3 linnets just south of field pool, little grebe at fishing lake south of wags house!
Thanks Wendy I've never seen a Dabchick at that location.
---
Karina Stanley was taking a well-earned break at home on this Good Friday.
A relaxing day at home . My first view of a house martin today ; noisily proclaiming its arrival overhead.
With so little traffic around it's been a pleasure to listen to a skylark over in the fields opposite. Touch of Vaughan Williams anyone?
---
Jane McHarry also didn't travel too far from home.
Brimstone butterfly today near Blackhill lane bridge. Other sightings, mainly various people in the middle of fields wondering where the public footpath was.
We're lucky here in Mobberley, the public footpaths are well-marked. Some may be closed off but at least they're well-marked!
---
In Tatton, Darren Morris was experiencing an unusually quiet Easter.
It was strange to hear a tawny owl calling in the Wood adjacent to the mansion this morning. I was working in a field that borders the deer enclosure and it was lovely to hear skylarks singing and the odd meadow pipit passing over. Further along the fence line from where I was a pair of kestrel copulating on a fence post.
A quick scan of Tatton Mere....a pair of gadwall among the usual residents. No goldeneye.
The first Soay lamb born this morning and the deer that had the plastic bag on his head yesterday had somehow removed it overnight.
We do a weekly butterfly transect survey for Butterfly Conservation as part of a national survey, today I had 12 peacock and 3 small tortoiseshell.
---
Steve and Gill Barber
had one more species than me today!
I'll swap you a Swallow for one of your Willow Warblers
!
A good walk along lanes to the east of Marton was rewarded with 43 species including, best of all, a superb male Redstart. This bird was on fence posts but, harassed by a Robin and two Blue Tits, gave up its attempts to feed and moved on along the fence line and out of sight. A pair of Tree Sparrows was a good find in the same area. The warblers we've seen remain stuck at Chiffchaff, Blackcap and Willow Warbler and we still haven't seen any Swallows back at the local farms or other hirundines since the lockdown. Happily though the Grey Wagtail pair remains on the same narrow stream where we found them a few days ago.
---
Geoff and Sheila Blamire travelled by Shanks' pony over to Rostherne village
Our walk today was to Rostherne which included the public footpath above the Observatory to Wood Bongs and back through NE car park and back.
One highlight on our walk was seeing brilliant red poppies in Cicely Mill Lane - see the photo. 'Loads' of Blackcaps and Chiffchaffs but no Willow Warblers - not yet! Did you see the photo in the Knutsford Guardian this week with a cheery face on the side of a house? Fabulous!
Last, but not least, a new species for our Lockdown List (not from Gauntlet!) - singing Goldcrest in our garden J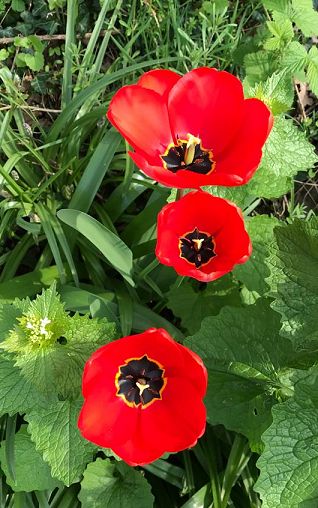 ---
I've put a new webpage on 10X50.com that will contain links to copies of these emails, so they're saved for posterity. Future historians won't believe it!