This afternoon we're tried a different route to Rostherne and back taking in several footpaths. It was challenging because the paths were across weedy stubble and autumn cereals with no obvious path - we tried to walk around the edges of the fields which was much longer than it should have been. But worthwhile: the stubble produced 20+Linnets and a Wheatear - both new species for our list. A pond (not on the map) had 2 sleeping Oystercatchers.
Garden: a new butterfly this morning Holly Blue and 2 'frisky' Wood Mice on the trailcam overnight (+ Hedgehog)!
Cheers.............. Sheila and Geoff
---
Hon Sec. Derek Pike shares his thoughts about the English at play.
Hi Tony, Another barren day here except Lapwings, Skylarks in Redrow field, when I say barren we have had lot of the usual suspects which lots of people would love. Blue Tits, Great Tits, Robins, Crows, Buzzard calling somewhere, Blackbirds, Dunnocks, House Sparrows, Wood pigeons, Collared Dove Starlings, Nuthatch plus loads of people going past - walkers ,joggers, cyclists; some have obviously not taken any exercise for years - meat everywhere, not a pretty sight worse than your Lostock Gralam English rose bud if you remember!!
Yes I remember Derek!
---
I think Maria Freel should have gone on that walk and had a look for the EG's nest site!
Morning Tony............. Might go for a walk later, but for now the two Egyptian geese flew over the mansion this morning. Think they were headed for the ice pond. :D
Maria
---
Also in Tatton Darren Morris is missing the visitors. It would have been heaving today.
Such a shame that a beautiful weekend over a bank holiday and the park is shut.
The natural residents are having some respite though and are even more confiding. A kingfisher perched on the outflow of Tatton Mere this morning and a male and female mandarin were looking resplendent.
A brimstone in Dog Wood near to a patch of wood anemone in flower, here also the bluebells are beginning to appear.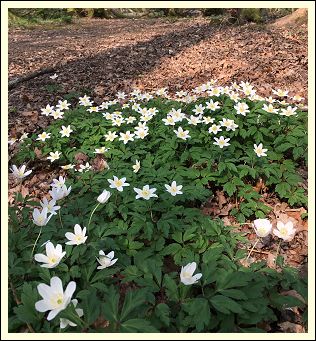 ---
Hi Tony,
Along the lanes west of Marton this morning we were rewarded almost immediately with a calling Raven. This proved to be the only addition to our lockdown bird list but there was compensation in the form of increased numbers of Blackcaps and Willow Warblers and our first Holly Blues of the year. We counted 35 Lapwings on and over a massive, recently-tilled field. Many were displaying and one or two may even have been on scrapes. Trouble is, our past experience shows this field will receive repeated attention from the farmer in the coming weeks and there will be little or no breeding success for the Lapwings.
Cheers Steve
---
Our very own Lapwing guru Wendy Stratford has been out in the fields of Mobberley where she's located some promising nest sites but, as in Marton, they're likely to get trashed before too long.
I walked the fields the other side of the railway today - couldn't earlier as the farmer was muck spreading the previous 2 days. In each of the 3 fields there, and the Smith Lane one, there are at least 2 lapwings on the ground - some of them look like they are on nests - and more in the air - seeing off a buzzard in one case. Lots of diving and calling.
---