All present and correct at the Mobberley field pool this morning when I wandered down. Yellow Wagtails, Oystercatchers and two LRPs all back in-situ!
Jacquie Ledward went in search of Yellow Wagtails. She didn't locate any but didn't do badly!!
Hi Tony
I meant to send this to you yesterday but was caught up in other things. I was on a search for Yellow Wagtails which had been sighted at Higher Marston so I went for my daily walk via Marbury Park, I crossed Forges Brook (on make shift stepping stones consisting of three tree stumps and a plank!) and continued with the Budworth Mere on the left. I continued on via the fields to Higher Marston and on past the fishing pits in Marston and finally came to Neumann's Flashes. I did a circular route back to Marbury via Witton Brook and back through Marbury Woods and via Budworth Mere again. It was a bit of. a trek but enabled me to see various different habitats.
There were four squabbling Shelducks on Budworth Mere having a very noisy disagreement. There were four Swans on the Mere and two Grebes were displaying. Black-headed Gulls called nosily over head. There were numerous Coots, Tufted Ducks and I was lucky to catch the Kingfisher fly past. I also saw Greylag Geese and numerous Canada Geese. I heard Curlew calling in the distance which seemed to be coming from the Marston area.
En route I saw the usual, Blue/Great Tits, Long-tailed Tits, I spied a Nuthatch going in and out of a hole in a dead tree trunk which I assume is a nest site. It was so quiet that I heard baby birds chirping in a hedgerow and spied four healthy and almost fully fledged Blackbird chicks. Two Song Thrush were visible on the path and did not seem at all perturbed by my presence. I also saw Crows, Dunnock, Robin, Wren, and Magpie. There were numerous Willow Warblers and Blackcap. I heard a Great Spotted Woodpecker drumming but did not catch sight of the bird.

I did not see one Yellow Wagtail, but my star species was Grasshopper Warbler! As I walked past the fishing pits I stopped in my tracks as I tried to identify a bird call, luckily it was so quiet and I heard the call again and realised it was the reeling sound of a Grasshopper Warbler. I waited for some time to make sure and fortunately the bird repeated its call several times. I did not see the bird as it is a private fishing pit and the gates are locked. To add further joy a Swallow flew over head (the second Swallow I have seen as yet).
I continued onto Neumann's and went to Pod's Hide where I saw Shovelers, Lapwing, Mallard and Black-headed Gulls. I could also hear a Little Grebe calling.
I decided to try my luck for the Siberian Stonechat, which perched obligingly on a dead tree branch.
As I walked back via Witton Brook I heard my first Reed Warbler (someone had reported Sedge Warbler but I did not hear or see it). And further on a Cetti's Warbler called out with its distinct explosive song.
I also saw a selection of butterflies - several Peacocks, One Small Tortoiseshell, One very drowsy Comma, numerous Brimstone and at least six Orange Tips
I can also report that I have Blue Tits nesting in my garden and I have been watching Pied Wagtails build a nest under my neighbours solar panels. What ingenious birds. I have Sparrow 'tenants' who are nesting under my roof (rent free of course) and my neighbour has Starlings and Sparrows nesting under his roof.
---
4 Miles before breakfast for Karina Stanley!
A glowing sunrise enticed me out determined to see a blackcap. Did the route down to Diamond Farm over the motorway following the railway line from Blackhill Farm. My first blackcap was in full voice as soon as I stepped outside! There was a lingering mist and a heavy dew.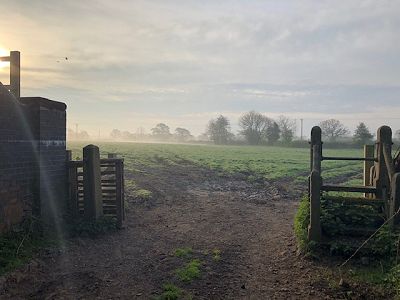 ---
Maria Freel did go out yesterday after all!
Hey Tony,
Really sorry about yesterday. I know it's a bit late, I didn't see anything as amazing as mandarin ducks (super jealous) but I did catch a glimpse of the skylark over the fields, saw the ravens again over Millenium wood, heard some Chiffchaffs calling at Mill pool, saw the kingfisher on Melchett Mere and saw a greylag goose on Knutsford road! Plus our tawny owl is hooting all day and night now! It's amazing.
---
The Hon Sec took a short walk this morning and was rewarded with his first Blackcap.
We went out for early walk this morning around the ghost town and were greeted at the "Cottage Hospital" entrance by a singing Blackcap lovely. * The streets looked lovely virtually car free, virtually people free, you could stand back and admire the buildings, it is a shame it has to be a situation like this to see the buildings.
---
Bob Groom ticked off Reed Warbler from his wanted list, I don't think we'll get any here in Mobberley!
A good morning at Tabley started with a new migrant, a singing Reed Warbler. There were 3 Blackcaps singing in the wood and at least 4 Chiffchaffs. The male Oystercatcher was on guard on the Tower Island. 2 Egyptian Geese stood on the top of the tower. Shovelers now numbered 7 (all but 2 were males) with 5 Gadwall (3 males). There was still activity at the Heronry with some young seen. A female Mallard had 5 ducklings in its wake. Both Mute Swans were out on the mere. Puzzling. Great Spotted Woodpecker hammered on a branch and a couple of Jays called loudly. As I left the park, no less than 4 Buzzards swept low, with much interaction. These were the only raptors seen. Bluebells were in flower in the wood. Horse's Hoof fungus noted on several silver birch stumps.
Bob Groom
---
Wendy Stratford also went down to the same area as me but seems to have missed the Little Ringed Plovers,
Hi Tony,

Very quiet at field pool today - oystercatchers (one sitting?), several mallard and 2 tree sparrows. Everything else was somewhere else. As walked away heard and then saw skylark, which dropped down into field to west of field pool.
when I saw them the Plovers were hidden away Wendy , on the muddy spit at the far side of the pool. I was down there about 9:30am

---
David Cogger ventured into Mobberley today.
Walking down Pavement Lane this afternoon a Mistle Thrush was singing from across the fields towards Mobberley. Many Orange Tip butterflies.
I don't contribute much to these sightings but it is interesting how many species have been seen in the vicinity. We should all thank Tony for making this knowledge possible and for sharing it with us.
Thanks David, I'll get fed up eventually, but it will be interesting to see what the final overall tally is. You never mentioned you met up with Len Mason on your travels!
---
Geoff and Sheila Blamire walked 9K and saw nothing new -
too busy looking at your Fitbits team
!
Today, our next door neighbours had a female Mallard with her c8 ducklings - on Easter Sunday as well !!! Rather think it's not 'our' pair of Mallards which are in the garden first thing hovering up the bird seed and messing up the pond J. This morning did a 9km walk 'locally' with nothing new to report - except for sore legs.....
---
Jayne Davies was another Mobblonian heading for the magic Pool - the population seems to change by the hour!
Hi Tony
I saw my first swallows on Friday, above Gleavehouse Lane and Pavement Lane. Out around Mobberley again this morning and surprisingly there were no ducks or geese on the field pool as I approached - a few goldfinches flying over the water, a pied wagtail, and then a yellow wagtail, working its way round the muddy margin of the pool. As I moved on two mallards arrived, and then two lesser black-backed gulls. Singing yellowhammer on a hedge and skylarks overhead as I headed for home across the fields. Small white and orange tip butterflies in the garden. My nestbox blue tits are decimating my cherry blossom!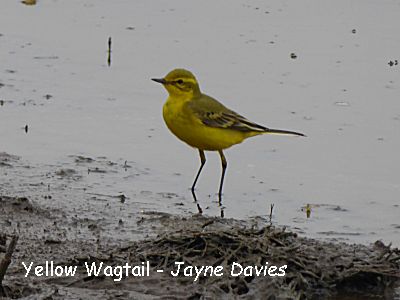 ---
I've put a new webpage on 10X50.com that will contain links to copies of these emails, so they're saved for posterity. Future historians won't believe it!