Monday 13th April 2020
For the first time since the lockdown started I didn't venture out this morning. It look as though I could have missed something big: very big!
Hi Tony
See below, now apparently heading south over Staffs ! It was in the lake district so possibly followed the M6 south this morning early and then cut across once it saw the Staff lakes where it was seen at 10.00 am this morning. Could have gone over Tatton, Knutsford and Mobberley as it moved across.
One of the introduced birds.....Cheers ......... Hugh Pulsford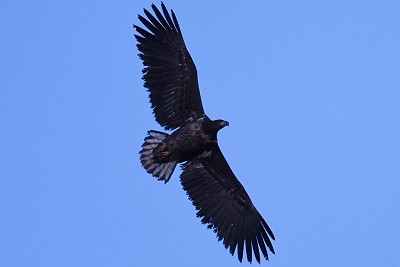 Picture by David Collis - passing over Macclesfield
This is a juvenile White-tailed Eagle, one of the bird introduced on the Isle of Wight last year. Two of the four are wandering the north country and there are plenty of details on these two sites. Thanks for the information Hugh.
---
Phil Hampson is a chap who's familiar with the Eagles from his time working on the Scottish islands
Tony
Today I had a first for the garden in a flyover Raven, been waiting years to see one here. Just need a Chough now for the full house but, somehow that is a real pipe dream. Along with Buzzard and GSW a good day.
Memories of Islay
Having said that about a fly over Raven in Gtr Manchester. We had daily Chough from the lounge window. On another occasion Golden Eagle and White-tailed Eagle having a disagreement, talon to talon. My only real regret was never having Crex crex for the garden, we only had 7 on the island 24 years ago. We did a great deal of habitat work on the reserve to increase numbers and they increased to near 40 but have settled back somewhat now. The survey time for Corncrake was 00:00 - 04:00 and we were still on the reserve at 08:00 for the day! Of course we did have 25k Barnacle and c7.5k Greenland white-fronted geese. One of the best twitches, all on 2 miles was for a Stone Curlew and the biggest dip Gyr falcon. Another highlight was a Merlin sat on the fence outside the house, 3m away and never moved.
Just rambling! ...... Regards Phil
Ramble away Phil, we've plenty of time at the moment!
---
Things are a bit slow for Jill Thornley this year up in Cumbria.

Hi Tony,
My lockdown list is sat at 31 viewed in or from garden. We do not venture beyond the gate unless shopping. Still missing Willow warbler which is days late plus swallows/martins and starling!
Found fresh blackbird head yesterday in wood and remains of carcass a few yds away.
Sparrowhawk is very secretive this time of year until the young have fledged when all hell lets loose and even the buzzards back off.
Song thrushes were competing and singing within sight of each other. The extra effort in their songs was amazing last night.
There are masses of woodpigeons roosting in the yew trees. What a mess they make.
Geoff an Sheila have their field mice in the right place, but ours found their way into the house and it has taken 2 days to trap them behind the sink.
You are seeing some good birds in Cheshire, yellow wags and grasshopper warbler are excellent ...... Jill

---
I hope Gill and Steve Barber's LRPs aren't our Mobberley birds!
Hi Tony,
An unexpectedly good hour or two along the lanes west of Marton. We added four species and a race to our lockdown list – House and Sand Martins over the massive Lapwing field (still with 36 Lapwings) and on the field a lone White Wagtail and 14 Linnets. Best of all were two Little Ringed Plover on the field flood. It's also good news that yesterday's downpour has partly replenished the flood and we should get a day or two more out of it before it dries up.
Cheers Steve
---
Alan Booth, our man on the Moor is still waiting for his Reed and Sedge Warblers.
Hi Tony
Some good birds being discovered in the countryside near Mobberley. This is a really good result for local birding on foot.
I have visited my patch of the Moor, two moor pools, moor wood and the reeds daily since 22/3. 37 species to date of which about 32 are recorded on each visit.
Still waiting for the Reed and Sedge warblers and whitethroat and garden warbler and any hirundines.
Has anyone else noticed a shortage of Finches and GS Woodpeckers?
I noticed that GSW's were suddenly scarce in Dog wood since May 2019.
Many thanks to Tony for setting this up and writing it up also
Alan
---
Bob Groom's suddenly got company on the dung heap! It's the same at Fox Harbour Bob.
In contrast to the recent warm days it was bitterly cold on the Tabley Hill Bridleway this morning with the wind strong and from the East. Despite this there were a surprising number of people on it and it was necessary to take evasive action rather too often, presumably it has now been "discovered". Perhaps because of this and/or the absence of flies at the manure heap there was no sign of yellow wagtails, just a solitary Pied Wagtail on the top. A single Swallow was the only migrant seen but perhaps not surprising with the change in wind direction. Linnets could be heard but proved elusive, unlike the cheery Goldfinches. A Buzzard stood on a hedgerow, hopeful of a meal appearing. (Later I counted 8 Buzzards up together.) The usual Tree Sparrows provided some entertainment and a Skylark confirmed that it really was Spring, despite the chill, as it went up in songflight. Bob Groom
---
Maria Freel reports the Kingfisher again at Tatton's Melchett Mere. They could get away with it this year.
Hi Tony!
Here's some sightings from today.
Buzzards everywhere as usual.
Unfortunately no sign of the Egyptian geese, but we did spot a lovely male little grebe down at the ice pond.
There was a mistle thrush or two about as we headed past the fields, along with a rook! I don't know about anyone else, but I don't normally spot them in Tatton.
Down on the mill pond are a nesting pair of mute swans along with quite a few tufted ducks and the obligatory mallard.
Since this area is also quite open and grassy, a peacock and orange tip butterfly were spotted as we headed to the meres.
Saw a few woodpeckers in flight and green and greater spotted could be clearly heard.
There was a fox out in broad daylight skulking around the rabbit wardens too.
Down on Tatton mere the swallows and sand martins were flitting about overhead, while Mallard, tufted, great crested grebes, coot, moorhen, mallard, tufted ducks, a heron and two Canada geese paddle in the water.
Melchett mere had much the same, but the added excitement of a kingfisher hiding in the branches, a small group of about 8 black-backed gulls resting on the water, and the single lonely greylag goose again.
Hope you all had a lovely Easter!
Maria
---
A Common Sand. today for Darren Morris in the park
Tatton today saw a common sandpiper and two oystercatchers near to the scout camp jetty. A male and female mandarin at Higmere too.
No sign of the hobby that I was hoping for though.
Two Hobbies today not too far away Darren!
---
If you're helping with the BTO Garden birdwatch it's time to enter your data and become an ornithologist or "Working Man Naturalist" as T.A. Coward called them in 1922 (of course today it would be "Working Person Naturalist") rather than "just" a birdwatcher.
---
The main computer's gone kaput at Dyfi - no backup = no pictures.
---
I've put a new webpage on 10X50.com that will contain links to copies of these emails, so they're saved for posterity. Future historians won't believe it!