Wednesday 15th April 2020.
A little warmer overnight with the temperature down to 2.5C, then rising to 18.0C this afternoon - a beautiful day, blue sky and just a few wispy clouds.
This morning I walked to the fishing pit at the south side of Fox Harbour, where I turned east along the unmarked path for a couple of fields, before dropping down to Pedley Brook and then on to the field pool. Good views of Wayne's world on this route but there is another public footpath that passes closer, so I'll try that soon. When they move in I'll pop in and ask if they'd like to join us in the KOS.
Quite disappointing really, no Lapwings or Yellowhammers today. At the pool a drake Shelduck, three House Martins collecting mud but no Little Ringed Plovers. An overflying Cormorant was #64 on my lockdown list.
---
Wendy Stratford walked down to the pool in the afternoon and had more luck than me.
Hi Tony,

Visited the field pool this afternoon: Canada geese and oystercatchers feeding on the grass, little ringed plover feeding near path, yellow wagtail bathing near the path, single shelduck on island, two house martins repeatedly collecting mud from the south 'shore'. 5 buzzards seen while walking, 2 pairs and a single. Descending a stile I flushed a red-legged partridge from under the bottom step!

Wendy
---
We're getting full coverage of the pool now with Jayne Davies choosing to go down in the evening!
Hi Tony

Just back in from my walk, over the last couple of days I have left my walk until late, to enjoy the evening light. I was delighted yesterday
evening to see that Wendy had seen ring ouzel, as it reassured me that I really had seen one too! I had a quick sighting of mine, before it was
disturbed by a couple of mallards walking by and flew away. No ring ouzel or yellow wagtail this evening at the magic pool, but full house
apart from that: little ringed plover, oystercatcher, shelduck, mallard, canada goose, coot, moorhen, reed bunting, pied wagtail.
My favourite lockdown walk destination!

Jayne
---
Geoff and Sheila Blamire continue with their self-training course in Cheshire Agricultural practices!
This afternoon walked down Warrington Road (via letter box) to Mere Corner lights, turned left along the "old" A556. Next to the Police Cottage Garden Warbler singing! Then before the new roundabout, in the "pylon" field, were 2 Greylags, 2 Coots in the pond and a male Reed Bunting. Then over the roundabout the next pond had 2 Moorhens (1 on nest), 2 Greylags, 2 Mallards and another flooded scrape in the field an Oystercatcher sitting on a nest, with a 2nd nearby and 3 Lapwings. Up to Tabley Church with the 7/8 Rook nests (a lot of activity there). Up Swain's Way a Yellow Wagtail was perched on top of the dung heap (a little pongy!), then Tree Sparrow further along. The active bee hives were being attended by the bee-keeper in full gear plus his bee smoker.
Then continue to Tabley Road, turn left into Green Lane (very busy with dog walkers, joggers and bikers), then left onto Moss Lane. Opposite Corner Cottage Chiffchaff singing (many others during our walk) and a Blackcap was alarming. Towards the Warrington end of Moss lane, more potatoes being planted with attendant c80 Lesser Black-backed Gulls - 2 tractors were ridging the soil and then other 2 tractors were planting the seed potatoes (using red hoppers) and giving precision flat tops to the ridges. In another field a tractor was ploughing the field - assuming ready for more potatoes! An elderly couple said they've lived in the area for over 40 years and never seen other than grass in the field!
So all in all an excellent walk with 2 new species for our Lockdown List and watching farming practices taking place.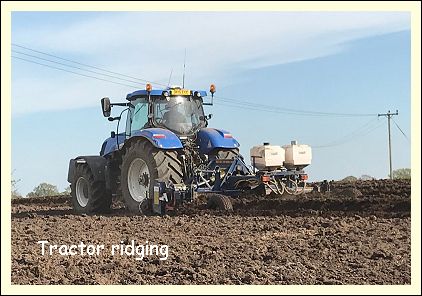 ---
Up in Cumbria Jill Thornley is finding Willow Warblers as scarce as we are further south.
Hi Tony,

At last 2 swallows. They didn't stay long, but the local Ravens obliged better. Still no willow warblers ,now this is getting very late.
Tried to photograph the voles but they seem to know when I am armed with iPad . A decent dose of sunshine was much appreciated and as often the case here the primroses wilt in our dry Aprils. Jill

---
Jacquie Ledward is hoping for nesting Hobbies in her village again this year

Ruby went on a walk round our local lanes (I didn't go!) and saw a Hobby around Cogshall Lane area (not far from Cheshire Riding School). She said it looked like it was catching insects. I wonder if it's looking for a nest site as they had one around the Comberbach/Barnton last year? ...hope so as they regularly flew over my house.
Jacquie
---
Jude Halman had a day off but still added Heron, Swallow and Mistle Thrush to her lockdown list which now stands at 48 species.
---
Steve and Gill Barber are struggling for hirundines and warblers over in Marton.
Hi Tony, lovely to be able to get out in the sunny weather but I'm beginning to wonder where the hirundines are. No sign of any Swallows at the farms east of Marton or House Martins over the village itself. We're still stuck on three species of warbler although today we couldn't find Willow Warbler in any of the spots we've had them earlier in the month. We have though found at least three Skylarks singing in a spot just over the Gawsworth boundary and added Greylag to our lockdown list.
Cheers Steve
---
No shortage of warblers for Mark Eddows in Bonsall!
An update from Mark Eddowes in Bonsall, Derbyshire:
The unmistakable rattle of the first Lesser Whitethroat was heard today (15 April) on Masson Hill in the middle of the afternoon during the dog walk. The first Swallow - just one - was also seen. The first Common Whitethroat was encountered yesterday in Horse Dale. A few days earlier in Horse Dale we were treated to a Green Woodpecker - the first I have come across here in the five years since moving to Bonsall. It came Yaffling down the dale from west to east over the course of half an hour or so, apparently looking for a mate. There were also two pairs of Teal at one of the usual over-wintering ponds at the top end of the dale. I expect that they will be moving on the breed further north somewhere soon but you never know.
Well done Mark. Spring's not complete here until we've heard the rattle of a Lesser Whitethroat. Around crashgate 9 is the best bet for us but it's a long walk for an old chap. I'll have to take some butties (still no Goostrey's sausage rolls!)
---
I've put a new webpage on 10X50.com that will contain links to copies of these emails, so they're saved for posterity. Future historians won't believe it!