Friday 17th April 2020
The government has decreed that we must stay in lockdown for a further 3 weeks.
The National Police Chiefs' Council has clarified "What constitutes a reasonable excuse to leave the place where you live"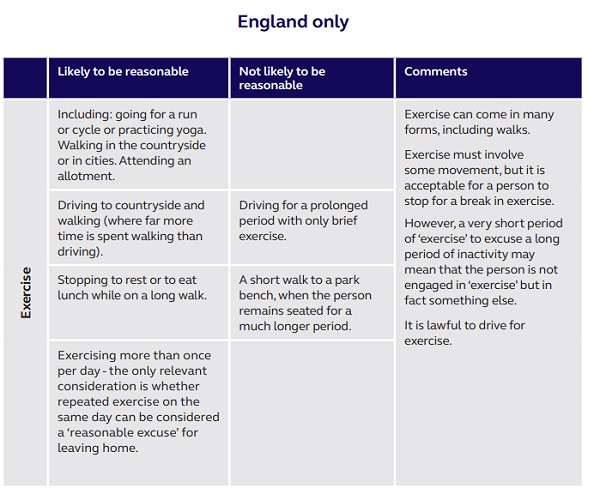 As far as I can see this means that in practice, locally, we could drive to, say, Neumann's Flash in Northwich, go birding for an hour then drive home after mixing with crowds of others doing the same thing. Obviously there are many other locations where we could also do this.
To my mind this is a nonsense and, for that reason, this compilation of people's sightings and the associated web pages will only be for observations obtained locally without the use of motorised transport.
All reports are welcome but if you've used your car or motor cycle etc. please tell me and I will put them to one side for possible inclusion in the normal "Latest News" section of 10X50.com
The only exception will be those reports from people who are continuing to commute to work during the lockdown.
---
Great to receive a first report from David Broadbent who lives on Mobberley's Pavement Lane.
Hi Tony
Down at the Forge end of Pavement Lane Mobberley I am home based most day days but did see a pair of oystercatchers fly over on a brief foray down Smith Lane. The garden and bird feeder have been busy the last few weeks with good numbers of goldfinch, house sparrows, long-tailed, blue and great tits. Other regulars include tree sparrows, robin, nuthatch, bold blackbirds, cock pheasant, wren, great spotted woodpecker, sparrowhawk and a regular pair of chaffinch, who must be newly resident somewhere. Other garden visitors include regular woodpigeon, magpie, jackdaws, crows, kestrel and a pair of buzzards based in the trees around Dukenfield Hall.
The highlight of the week for me was not the large RAF C-17 Globemaster transport aircraft flying low over the patio late yesterday afternoon but on continuing to look skyward seeing a single swallow circling directly over us and the main road field. I hope it is looking to pair up with a few others soon as we normally have around 3 pairs nesting with in the horse stables. A pair of robins also lives there, last year it was in an open nail draw this year they are behind a row of paint cans.
Taking of nests we have the usual array of house sparrows within the wood boarding to the rear of the garage and blue tits on the front boards. Tree sparrows have taken over three of the garden nest boxes and one other with blue tits. You my remember me putting up a little owl box last spring and waiting patiently for an occupant to move in which happened last week. But not as expected a pair of juvenile starlings arrived and rapidly set about nest building only to now appear to have abandoned it. I live in hope.
As I sign off I am watching a Chinook Helicopter on approach to the airport, apparently the military are taking advantage of the quite spell for training practice.
Keep Safe
Dave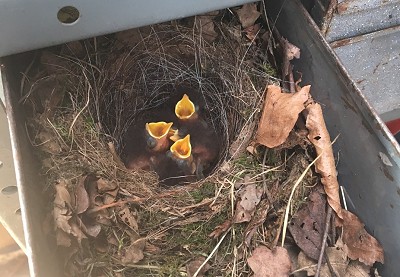 ---
Over in Crosby Barrie Armitt continues with his vismig work and had a surprise this morning!
Hi Tony
Conditions weren't promising for overhead movement this a.m: high pressure still (about to change ), and windy: easterly, force 3-5. The small stuff don't like winds above 12mph/F3 and they don't like F0... 2 to a low 3 seems ideal. So small stuff not to be anticipated. An elusive female Redstart was nice but the warblers had either moved on or were keeping their heads down in the wind - only a handful of Grasshoppers and Whitethroat. Trickle of Sand Martin (12) and Swallow (5), a Gannet notable for being closer in than usual... in good light they are white specks off Formby Point. Increased numbers of Sandwich Terns (54) and Whimbrel (6) and Wheatears (6) in the rocks along the beach. a Hooded Crow and Common Sands (3) joined the highlights. Bird of the day though appeared at 08:20. I noticed a friend of mine 300 metres away waving at me. He'd flushed an interesting bird in the dunes and had seen it land in some scrubby stuff. We began our search and it flushed and flew low from left to right and over onto the golf course - too fast for me to get the camera on it - a Quail! Not at to be expected this early and a new bird for the patch. Under social distancing rules no high 5s took place! Tomorrow looks interesting.
All the best. Baz
Cheers Baz keep up the good work!
---
Over in Marton Gill and Steve Barber seem to have cornered most of the counties Lapwings!
Hi Tony, the brisk and chilly easterly wind made for more exercise than birding this morning and, probably due to the wind, song was far less obvious than yesterday. A single Swallow and a House Martin were seen over different farms and a few Meadow Pipits were still heading east. We counted 31 Lapwings on the big field, several were keeping low enough to make us think they might be on eggs while others were display flighting. We were surprised to find the two Little Ringed Plovers still present at the once sizeable flood pool which has now reduced to puddle size.
Thank you Tony for the link regarding Buzzard/Little Owl predator/prey interactions which showed the grand total of nil! The survey of European ornithological literature found that a dozen Tawny and 11 Long-eared Owls were taken by Buzzards. Perhaps Little Owls are just too small to be worth the bother but, on the other hand, I'd have thought their habit of perching out in the open would make an irresistible target.
Cheers Steve
---
I did a loop this morning, to Fox Harbour via Pavement Lane and Springwood farm where I'm glad to report that the public footpath has been re-opened. The warning sign and the barbed wire have been removed and I passed through unchallenged!
Like Gill and Steve I found it warm in the sun but a strong easterly made it feel a lot colder. Long-tailed Tits were feeding young at their nest in a blackthorn bush and just a single pair of Lapwings displayed over a huge field where grass seed has been sown. It will take sometime before the first cut for silage so hopefully they'll have time to rear any young and move to safety when the mowers appear.
---
Jayne Davies was out searching for the elusive Rooneys very early this morning!
Hi Tony
I was out early for my walk this morning, past the field pool, towards the Rooney mansion and back via Damson Lane. It seemed fairly quiet everywhere, with not much activity at the pool: one oystercatcher, one shelduck, a couple of Canada geese, and mallards with some new arrivals - a little group of ducklings which "ran" away over the water as I approached. Chiffchaff and blackcap singing near Pedley Brook, and although there were no yellow wagtails at the field pool today I did spot one amongst the maize stubble in one of the fields.
I'm enjoying Phil's Islay reminiscences - Nick and I had a wonderful holiday there, around May 2008 I think. We had glorious weather and I have some great wildlife memories from Islay and neighbouring Jura, especially of hen harriers and otters.
Jayne

---
Wendy Stratford was at the same location later and had more luck including 3 LRPs!
Hi Tony,
Went to the field pool again today (lunch time). Another lovely day with more of a breeze. The yellow wagtail pair were very active, only one oystercatcher was visible, the Canada geese were feeding, 2 house martins were collecting mud (flying off to the west), and mallards and pied wagtails were also feeding. I'm pretty sure I saw 3 Little Ringed Plover – I saw 2 feeding on the southern side of the pool near the path, and when a corvid flew over quite low they took flight, and there were 3 of them! – very distinctive in flight. While walking I also heard and saw skylarks again – one coming down in the field north-west of the pool where the crop is growing up, and many buzzards around again.
Thanks

Wendy
---
Patience pays off Geoff and Sheila Blamire with their first Willow Warbler.
A slightly shorter walk of 7km today around Mere and Rostherne. We went out at 9am it was soooo....cold. The wind was bitter, particularly in the shade. But...drum roll..... we had a Willow Warbler !!!! Other highlights including 2 Swallows collecting mud from a field pond (but drying rapidly), several Swallows around Cicely Mill Farm, trilling Little Grebe on Cicely angling pond, but overshadowed by Goldcrests: 1st in our garden at 7.45am. then 2 Goldcrests at Cicely Mill Farm including one displaying his orange crown stripe, and finally another on Mereside Road near the rookery (8-10 nests).
Cheers Sheila and Geoff
---
Finally a late text from
Darren Morris
on his way home from work in the park.
3 common sand and Male and female mandarin at the Tatton Mere jetty.
Sent from my iPhone
---
I've put a new webpage on 10X50.com that will contain links to copies of these emails, so they're saved for posterity. Future historians won't believe it!