Wendy Stratford followed the Mobberley 5K route taking a detour to the field pool.
Hi Tony,
Did your 5k walk today, detouring to the field lake as well. Very windy but not cold.
4 lapwings on the ground in the field on Smith Lane, and 3 swallows above Slade Lane, otherwise nothing of note until the pond. 1 shelduck, 1 oystercatcher, the yellow wagtails, house martins and pied wagtails were there, but no geese or LRPs. However I did see the ducklings today! - I counted 9, but that's still a good number. While I was there the oystercatcher flew a few yards to the tree lined pool to the north, and landed behind the trees but wasn't visible from the path. It was silent when it took off which is unusual.
On the way back there were more skylarks - I think 4; 2 dropped into the field and 2 were still singing in the air.
Thanks

Wendy
I suspect the Oystercatchers have a nest over there Wendy - a job for you!
---
I too went across to the pool this morning and had much the same species as Wendy, with the addition of a Common Snipe that flew off from the small pool at the back as I approached. A cock Yellowhammer was singing on the hedge leading down to Pedley Brook and a male Yellow Wagtail was spending a lot of time on the ground in one of the fields of winter wheat. There's plenty of cover there now, the crop is about 6" tall, as opposed to the potato fields which are still just bare earth. I have a copy of "The Yellow Wagtail" by Stuart Smith, the first of the New Naturalist series to deal with a single species; a quick look at the appropriate chapter tells us that the Yellow Wagtail tends to favour the type of location it was raised in, so It'll be interesting to watch these birds as the season progresses.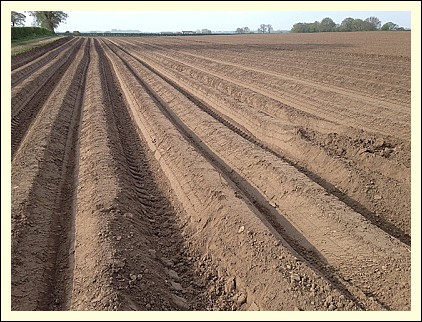 ---
As I was leaving this morning I met Jayne Davies, as she set off on her bike for crashgate 9 in search of Lesser Whitethroats,
Hi Tony
Out on my bike today, I included a visit to Manchester Airport crash gate 9 in my ride. No luck with the lesser whitethroats that I had hoped might be there, but I did enjoy the sight and sound of two curlew flying over the otherwise silent airport.
Jayne.
They'll be there before too long Jayne, it's their favourite spot!
---
The "usual" 7K for the Blamires - you've never been as fit team!
We did our 7km walk to the Rostherne area. As usual, we went via Cicely angling pond where we had 2 new species for the pond: Cetti's Warbler and 1, or possibly 2, Whitethroats. On the mere we had Shelduck which is a new species for our Lockdown List. No martins (so far?!) but several Swallows. Another Goldcrest - 4 days in a row J
Loads of Chiffchaffs and Blackcaps and couple of Willow Warblers. One Chiffchaff was just a few feet from us, giving repeated alarm calls, then her mate flew in and give a brief snippet of song. We decided to move on because obviously we were close to her nest.
Cheers…. Sheila and Geoff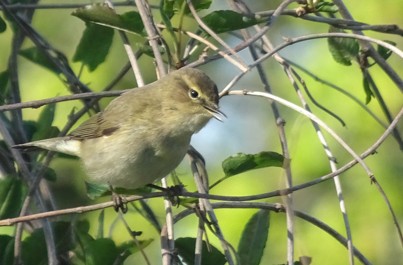 ---
Not much for the Barber's over in Marton - but it was a great day for a walk.
Hi Tony,
After a weekend with hardly any birding, today we had a three mile walk east of Marton. We last walked a similar route five days ago and whereas last time we had no Swallows and couldn't relocate the Willow Warblers we'd heard on an even earlier visit, today we saw two Swallows and heard two Willow Warblers. The number of singing Chiffchaffs and Blackcaps were similar to our previous visit but we could find no further spring arrivals. It was a poor show really, brightened by the sunshine and finding that a Treecreeper nest we'd thought abandoned was actually active.
Cheers Steve
---
A quickie from the Hon sec safely ensconced in the garden.
First for today, that I can remember. I was sat on garden bench and went to sleep - that is not a first. The first was I was I woken up by a Blackcap 6 feet above my head singing his heart out!!
There seem to be loads of Blackcaps about locally. I believe Bob Groom also had one yesterday in his small garden.
---
Just a one-liner from Phil Hampson today, he must have used up his ration of electrons!
Tony
Not much from me but the addition of the first 2 House Martins of the year.

Sam Peers, an "old timer" from Mobberley, who told me of the stuff that he found locally in the 1920s, always said that the first Swifts invariably appear in time for the Knutsford May Day festivities. There won't be a May Day this year but the Swifts should be with us in the next 7 days.
Who's going to be the first to see one? My money's on Derek, from his garden. Assuming he can stay awake long enough!
I've put a new webpage on 10X50.com that will contain links to copies of these emails, so they're saved for posterity. Future historians won't believe it!