Friday 24th April 2020.
A full house of warblers for Mark Eddows but still some Fieldfares up in Bonsall!
Tony,
Many thanks for your continuing efforts.
The main news from Bonsall today is the arrival of the first Garden Warbler so all 7 of the Horse Dale summer visitor LBJs are back now. Lesser Whitethroats are up to 4 singing males today. I see from the Derbyshire Bird Atlas, that identifies breeding at the tetrad level from a survey undertaken from 1995 to 1999, that Lesser Whitethroat was not recorded here then, only at lower lying sites. It looks like climate change which is presumably responsible for the disappearance of Wheatear which are confirmed breeders in the atlas but nowhere to be seen now. However, we still have Fieldfares here at the moment. Each time I go out I come across a flock of up to about 35 birds and make a note, thinking that it will be the last record of this season and the next time I do the same.
Best wishes,
Mark
As I recall Fieldfares were nesting in the southern Pennines in the 1970's... ACU
---
In the Crosby sand dunes Barrie Armitt has 34 singing Common Whitethroats - what's that all about!!
Hi Tony
Thoroughly enjoying the KOS daily updates.
Vismig April Week 4 at the beach: the sun keeps shining, the skies still too clear for much overhead movement but arrivals overnight bring new birds most days.
Week 4 is usually a build up of Whimbrel here to reach a peak at the end of April beginning of May. 25 today was the most so far with the low 40s coming in to roost in the next couple of weeks. Meadow Pipits are a week 4 peak but it's been poor so far or rather it could be amazing passage going on if the birds would deign to come a bit lower for me to see them. The west coast of Netherlands has been recording 20,000+ in some sessions. Dream on!
The Whitethroat peak is usually around week 2 but today there were 34 singing males the highest so far. Lesser Whitethroat is week 2 / week 3 and they have been bang on time. One rattling away as I finished my coffee today.
Still no Swift. Some say they are up to 3 weeks early this year.. but not for me. Maybe tomorrow :-)
Time to watch for Hobby and Dotterel. Bob no doubt will be the lucky one for the former.
Spotted Fly might also pop up in the next few days. Waders are looking fantastic and numbers of some like Knot building up. There should be 15,000 or so gathering in the days ahead. Grey Plover looking stunning and increasing to their peak in April of about 2,500.Some like Sanderling and Ringed Plover don't peak until May. A juvenile Peregrine is currently honing it's hunting skills and sending great flocks of waders into the sky. Seems to be a slow learner this one:-) See link for the Vismig count today and a pic of the view of a Whimbrel from my sand dune eyrie.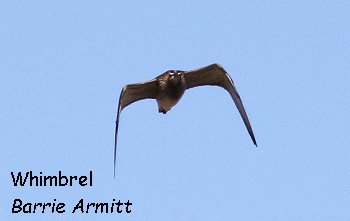 ---
Jill Thornley has her first Willow Warbler, at last!
Hi Tony,

Willow warbler finally singing in garden. Exactly 2 weeks late . Oh and plenty of swallows next door ,tell Derek. There are goldfinches ,greenfinches, blackcap, chaffinch, coal tit, song thrush, nuthatch, blackbird all singing in this balmy evening. It's warmer than our usual Summer!

Best wishes all,
Jill
---
Jude Halman and Brian were along the famous Swain's walk this morning
Hi Tony, Yet another beautiful day, never known an April like it, or so I'm told
by everyone you meet.
No Swifts yet.
We did our walk this morning as the forecast was for getting hotter.
52 species so far.
She didn't tell me though, that she recruited a new member on her travels!

Hi Tony,
I live in the middle of Knutsford so have been going out on daily walks in different directions. This morning I went along Tabley Rd then Green Lane and into Moss Lane where I met a couple who were looking for a singing blackcap in the trees. We had a chat and they mentioned the daily KOS update and that whitethroat and yellow wagtail had been seen along Swain's Walk. I didn't know where this was but, having seen neither so far this year, I followed their directions and found both so I thought that I would report this to you and also (hopefully they read this) to thank them very much for the information. Also, I've now found another good walk which makes a welcome change to my usual ones out towards Ollerton.
In future, if I find anything of interest I will let you know. I'm not currently a member of KOS so will now join up!
Cheers
Peter Dawson
Welcome Peter and we look forward to receiving some reports from you
---
A Sedge Warbler just passing through give Steve and Gil Barber a new Lockdown tick.
Hi Tony,
Lovely walk this morning along one of the two lanes leading west from the village. Lots of song, particularly from the common residents: 11 Wrens, 8 Dunnocks, 12 Robins, 5 Blackbirds, 3 Song Thrushes, 5 Blue Tits, three Great Tits, five Chaffinches and three Goldfinches all in a measured mile. Just single singing Blackcap and Chiffchaff though but a couple of Swallows were over both of the working farms and this is where we found over a dozen House Sparrows. A snatch of song from a bird moving along within a hawthorn hedge had us stumped for more than a moment until, after repeated bursts, we realised we were hearing a Sedge Warbler. A runner passed between us and the bird followed by an Openreach van and, despite waiting, we didn't hear it again. The big field is now showing patches of green but still held 29 Lapwings of which at least 8 appeared to be sat and several Skylarks remain there. In the afternoon Gill watched nine Buzzards soaring high over the village.
Cheers ..... Steve
The advantage a knowledge of bird song gives you is again amply demonstrated!
---
A second Sedge Warbler of the day, this time by Geoff and Sheila Blamire in Rostherne.
Thursday 23rd April
Back to Rostherne area this morning for our 7km walk. New species for our Lockdown List: Grey Wagtail on Cicley angling pond, but still no Sedge/Reed Warblers, probably the reed beds are too small. The Great Crested Grebe still on its nest whilst the male ate a big fish - down in one gulp! When we passed the pond on the way back 2 anglers were getting out their tackle J By the way on the trialcam, a male hedgehog was getting amorous, but the female wasn't interested!
Friday 24th April
Another trip to Rostherne but using different paths on the way back. After a few minutes leaving the house we had another species for the Lockdown List: Sedge Warbler on the Little Mere! When we pass the Cicley angling pond we were shocked to see how much rubbish had been left by the fishermen from yesterday. Including a lot of empty beer cans which aren't allowed on the site. I took some photos and will send them to the Warrington Angling Assoc. Not good.....
Cheers..... Sheila and Geoff
---
Wendy Stratford has a new toy and we're promised some pictures!

Hi Tony,

Spent the whole day in the garden today potting up the seedlings and trying to reduce the number of pots that need watering, accompanied by the robin(s) that stays close when any digging or clearing is going on. The feeders are fairly quiet apart from the tits, house sparrows, goldfinch, nuthatch and greater spotted woodpecker. We have had a pair of collared doves under the feeders this week, a pleasant change to the pigeons who seem to defer to the doves.

Very exciting - I saw a nuthatch going into the box for the first time today. We have been debating whether the hole is too small, but it clearly isn't! My trailcam arrived today so will try and get some pictures tomorrow. The nuthatches are incredibly sensitive so I'm going to attach it to the roof rack on the car parked fairly near the box - hopefully they won't notice!

Thanks

Wendy
---
Yet another cracking morning, not a cloud to be seen. Temperature 8C when I left home, quickly rising to 14C a couple of hours later.
I took a familiar route, Pavement Lane and Gleavehouse Lane as far as the farm, where I turned right towards Fox Harbour, up to the fishing pit, left towards Rooney's then down to the bridge over Pedley Brook before heading home via the field pool.
The big field next to Gleavehouse farm, that still contained the remains of last years sweetcorn crop a week ago has been ploughed. That must have been a big job as it was completely dried out and as solid as a rock. The farmer seems to have excavated trenches (about 1 Metre deep) along one side of this field, pointing towards the centre, there was some water in the bottom but not much. I wondered if this was a search for water for irrigation? Where's Pete Hall when you need him!
Approaching the fishing pit two Lapwings were showing an interest in the field recently sown with grass seed and at the pit itself two male and one female Reed Buntings were newcomers.
Over at the field pool there was quite a bit of activity. The drake Shoveler was still in residence, two Shelducks were chasing off any Mallards that tried to enter the water, a Swallow appeared briefly and did a few circuits, taking water onboard, before heading off north again. Just two House Martins collecting mud today, a single Oystercatchers and only one Yellow Wagtail, a fine looking male, that perched on the hedge behind the stile only a few feet away from where I sat. That stile forms a nice seat and I thought if we stretched some sort of cover over the top we could call it a hide!!
One thing I did notice today was the incredible number of St. Mark's Flies on the wing. Not without reason is it also known as the Hawthorne Fly, the field side Hawthorne hedges were covered by them. Tens of thousands! They're called St. Mark's Fly because they appear around St. Marks Day every year, and tomorrow the 25th is - yes you guessed it - St. Mark's Day!
The appearance of these flies heralds the arrival of Hobbies; as we found on our 2016 trip to Somerset St. Mark's Fly is the main source of food for the Hobbies until more substantial fare is available. So it's Swifts or Hobbies next - take your pick!
http://www.10x50.com/Somerset_2016.htm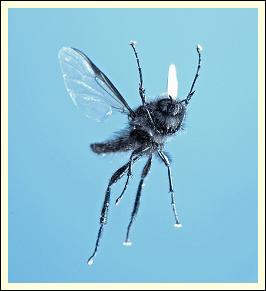 ---
A text this evening as Jayne Davies was anxious not to miss the deadline (not that there is one, I just cut & paste & type until nothing's left, then press send)
Hi Tony, evening walk so I'm at the pool now. 2 LRPs, 1 shelduck, 1 shoveler, 2 male yellow wag, 1 oystercatcher, 2 Canada geese, 1 lapwing, 1 pied wag, 1 coot, mallards with ducklings. Couldn't count the ducklings as female was just leading them into the little side pool to the north, I just saw some little duckling heads disappearing.
---
Finally a Reed Warbler on Knutsford Moor for Alan Booth!
At last a Reed warbler today but only one in all the reed bed I could get near.
Derek Pike isn't alone in not seeing any swallows or martins. I have seen none despite being so close to the mere. I may get the usual swifts over Middlewalk first!
Also although I see a reed bunting on most visits I have not yet seen more than one bird
Alan
Yes your location is favourite for Swifts Alan. We lived just up from you for 26 years and they nested in the roof.
---
Bob Groom's struggling for numbers on his local patch.
No new migrants today so my list is stuck at 15. Still to catch up with whitethroat. A few Swallows along Moss Lane but only 2 at the Brookdale Centre where normally by now there would be at least six times that number. There is obviously a blockage further south. The highlight was a big number of Mayflowers (a.k.a. Lady's Smock or Cuckoo flower) in a damp area near Moss Wood. This is a food plant for the currently abundant Orange-Tip Butterfly. Blackcaps seem to be everywhere. I don't recall seeing quite so many in any previous spring. That said they are very welcome.
---
We're all well aware that we are very lucky, in these strange times, to have so much open country around us and that others are not so fortunate.
Jane and Chris Storey (long time subscribers to the KOS web update emails) are two such folk and I'm glad that they are able to keep up to date with what we're up to here, out in the sticks.
Keep well team and let's hope it won't be too long before you can get out into Tatton again.
Hi Tony,

We just want to say many thanks for sending the KOS emails in this time of lockdown.
We live only a couple of miles or so from the centre of Manchester and although there are some nice parks for us to viist for our daily walk, needless to say, they are not as wild as your neck of the woods. We often visit Tatton Park and have followed some of the local walks you describe on the KOS blog. It is such a treat to be able read what folk are seeing, now that we cannot visit these places for ourselves. It seems especially hard as Spring unfolds around us!

Many thanks to you and all the other contributors.

Take care and keep safe

Kind regards

Jane and Chris Storey
---
I've put a new webpage on 10X50.com that will contain links to copies of these emails, so they're saved for posterity. Future historians won't believe it!