Tuesday 28th April 2020
Welcome to Peter Dawson with his first report.
Hi Tony,
I decided to risk the impending rain mid morning and go for a short walk up to Knutsford moor. I walked along Moorside and into Hillside Rd. There are a couple of places along there where you can get a clear view of the reed beds. I heard a couple of reed warblers and was just about to move on when I thought I heard a grasshopper warbler. I stayed for a few minutes and yes indeed, reeling relatively nearby. I couldn't see it of course but never mind! It then got me to thinking that I'd seen a skulking bird in the undergrowth along Moorside and managed to get the bins on it for a very quick look. It was a darkish warbler and I couldn't think what it was at the time but now think it was probably one as well. It was ~100m away from where I heard one so maybe the same bird.
There were at least 3 reed warblers and a couple of reed buntings singing along with the usual chiffchaffs and blackcaps. Nothing too exciting otherwise. I was thinking of martins. swifts and possible sedge warbler but couldn't find any. There is potential there for cetti's warbler as well but you would soon know if there was one!
Having been warned it would rain all morning (it didn't) I decided on just a short walk this morning and ambled down to Mobberley's Bull's Head and there turned right, up Damson Lane; nowadays a land of converted barns, security cameras and Audis.
It was here I'd had singing Garden Warbler earlier this month but neither sight nor sound of them today. In fact it was very quiet, just Chiffchaffs and a single Blackcap representing the Summer visitors. Mobberley Brook runs alongside the path and in between the two the remains of cultivated withy beds, where Mr. Duckworth had a basket making business in the 1950's.
It wasn't all disappointment though, a drake Mandarin flew in from the direction of Fox Harbour - just the sort of habitat for them, plenty of very old rotting trees complete with nesting holes. Find of the day though was the discovery, at last, of the Ravens' nest. We've been aware of them for the past month with their croaking flights as they criss-crossed the whole of the area we refer to as Fox harbour, sometimes seeing off other members of the crow family and lately carrying food. I watched a bird arrive from the south with what looked like a white egg in it's beak, it flew up into a high conifer tree and was greeted by a cacophony of noise from the youngsters in the nest. How I'd missed it last time I don't know - a huge pile of guano covered sticks about 80' in the air just below the canopy. I counted at least three well-grown offsprings, the nest can be seen from the first gate on the right after the last house on the lane. It's actually in a very long garden belonging to the last house on the right. It also has a big wildlife pond.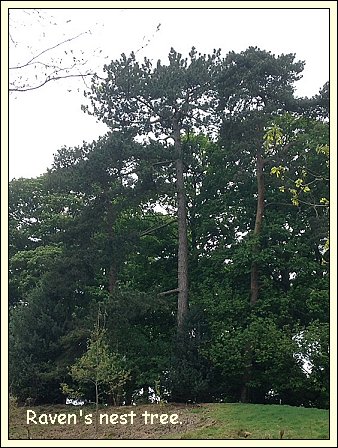 ---
Over in Marton Steve and Gill Barber also found things quiet this morning.
Hi Tony,
There hasn't really been a great deal to say about Marton's birds these last few days. The highlights have actually been recorded from home: a fine male Great Spotted Woodpecker one morning - the first for four weeks on the nut feeder, and both Little and Tawny Owls calling at 2300hrs on Sunday evening. The cold wind this morning supressed our activity and bird song. Only a handful of species, none of them warblers, sang from the small copse by the sewage works where in better conditions recently we have counted up to ten songsters. The tiny numbers of Swallows, which on previous days were hunting high over the village, were this morning, to and froing low over the fields looking for sufficient insects to sustain themselves. Hopefully there will be a speedy return to warmer and brighter weather.
Cheers Steve
---
Jayne Davies adds another species to the field pool list and finds that the LRPs are still around.
Hi Tony
On Monday evening I walked out to the field pool, which did not disappoint: Two little ringed plovers, male and female shoveler, one shelduck, a few mallard although the ducklings were not visible, two Canada geese, two greylag geese, one swallow, one yellow wagtail, two pied wagtails, goldfinch, two linnets. That's the first time I've seen greylag geese there. Plenty of singing skylarks over the fields, and a buzzard being mobbed by crows over Mobberley SQ.
A rather drizzly walk this afternoon, my best sighting was a singing common whitethroat perched on top of brambles beside Pavement Lane.

Jayne
---
Jill Thornley recalls an embarrassing incident on Lindisfarne - there were plenty of those over the years Jill!!
Hi Tony,
2 amazing military birds today. The first a Tornedo that banked as it went over the house extremely low, what a noise! The second ,a few minutes later on same trajectory , a Hercules transport plane ,that's an ugly beast , managed to get over the house, with not much to spare.

Song thrushes were feeding 2 well grown young this morning. A goldcrest was investigating a nice thick bush ,and the blackbird has nested 2 metres from the garden bench. Built in a day, she is now sitting happily and we have had to move the bench a bit further away.
Lots of gardening today ,but I did sit around in the sunshine yesterday with the scope looking towards Cross Fell in too much heat haze.

Do you remember the time when we were on Holy island and all viewing an owl in a lone bush in the dunes? Only to discover it was a newspaper when we got up to it.
Jill

---
Two new species for the Blamire's Lockdown List today. They're working hard!
Back to Rostherne this morning - a different season - really cold (for me anyway)! Well over 7km walk by doing an additional footpath in Mere. Sedge Warbler was very vocal at the Little Mere, also a Reed Bunting - only a small patch of reeds as well. Walked along Mere Mill Lane then through to the Cicley angling pond . By the way, the rubbish that 2 fishermen left on Friday had completely disappeared (without me contacting the Warrington Angling Assoc!). Having thought about it, I'm sure they were there illegally. Anyway, there were different 2 fishermen there and one caught a fish and landed using a net where he was carefully removing the hook. I went across to ask which species. His answer Carp - do you want to see it? Of course I said yes. He took it out of the net to show me, shortly before he released it back in the water. It was apparently c12lb but the biggest is 35lb! I said we've seen large fish swimming across the pond showing their back. He's not surprised because it's only 18in deep! Very interesting.
The main target was always to look down at Rostherne Mere and hoping for hirundines. Success! A lot of Swallows and at least 2 House Martins and a Sand Martin - both new species for our Lockdown List. Quite surprising to see just 1 Sand Martin - thought we'd miss the boat (excuse the pun). The other highlight was watching a pair of Goldcrests foraging, until the farmer complained that we were looking at his property L
Cheers.....Sheila and Geoff
The farmer is probably a tenant so it's not his property and belongs to Tatton Estates or whatever they're called this week - their latest plans make interesting reading - click here looking at the map at the top of the page the proposed housing development covers a greater area than Shaw Heath or Longridge! It will of course include affordable homes. Affordable by who though? Weasel words.
---
I've put a new webpage on 10X50.com that will contain links to copies of these emails, so they're saved for posterity. Future historians won't believe it!