Wednesday 6th May 2020.
If there was a cloud in the sky this morning I must have missed it - it was beautiful. I made my way to the fishing pit at the far side of Fox Harbour hoping for a new lockdown tick in the form of Peter's Sedge Warbler. Unfortunately it had moved on and just a Reed Bunting remained. A very nice Reed Bunting but not what I'd hoped for!
Near the bridge Blackcaps and Chiffchaffs and a very lively Common Whitethroat that was paying much attention to a likely bramble patch. Few hirundines but Starlings were doing their best to imitate them as they chased St. Marks flies through the sky.
Last day tomorrow team before we move to the traditional "Latest News" updates, so if you've any last minute thoughts about the last six weeks we'd all be interested!
---
Park Ranger Darren Morris hopes to see us in Tatton soon; a hint there perhaps? I wouldn't have thought so!
Not much to report. Today I explored in the area behind park gate industrial estate and the back woods of Tatton. There are some public footpaths in the area. Much of it will soon be built on by the expanding local group Monkton Properties along with many other areas locally. In the meantime the scrubland that has grow before the arrival of the bulldozers looks good for birds. I also ran down Pavement Lane which is blocked off at the moment as I think they are repairing the bridge at the bottom.
Anyway, just to say thanks to Tony for compiling these reports over the last few weeks and for everyone contributing. It has made for entertaining reading and interesting to see what everyone has been seeing and where they have exploring. Hope to see you in Tatton very soon!
---
Peter Dawson stays close to home today after the previous days exertions!
Hi Tony
Just a short walk for me today down to the Moor. I didn't expect to see much but it was actually quite productive.
Swallows and sparrowhawk over the town.
Usual reed warblers and buntings singing from the reedbed and a sparrowhawk (maybe same one) over. No sound of the grasshopper warbler.
Pochard on the mere. Lockdown tick for me. Usual lesser black backed gulls, great crested grebes and common water birds.
I sat on a bench for a while (rest period during my exercise walk) scanning for a hobby. I didn't find one but whilst looking at a jackdaw impersonating the flight of a raptor I picked up about 6 sand martins high up. First of the year for me.
Will be out on a longer walk tomorrow hoping for something exciting on our last lockdown reporting day.
Cheers
Peter
---
Steve and Gill Barber are optimistic that their Lapwings will succeed this year.
Hi Tony,
Gill and I had a four mile circuit walk this morning along lanes west of the village. This revealed a continuing picture of decent numbers of common resident birds singing but relatively few hirundines and warblers. Not a sniff of a Yellow Wagtail or something really exotic like a Yellowhammer. The big field remains intriguing with ten Lapwings apparently sat and at least four Skylarks singing still. It'll be fascinating to see if the Lapwings are wasting their time or will get young off. Pairs of Canada Geese have been hanging around the field ponds for weeks and we saw the first goslings today - a brood of five. Thanks Tony for organising these emails and allowing us "foreigners" to contribute - we"ve enjoyed it!
Cheers
Steve
Thanks Steve and Gill for your valuable contributions over the last few weeks.
---
A good, long walk to the Moor for Geoff and Sheila Blamire!
Did a new 8.5km walk this morning to Knutsford Moor and had 2 ticks! We walked down Mereheath Lane it was very pleasant with not much traffic. Without any footpaths there's no chance doing that in "normal" times. Plenty of Blackcaps, Chiffchaffs, 1 Garden Warbler and 2 Whitethroat - 1 was near the Altrincham and District Angling Pool, which was surrounded by spring-sown cereal and the farmer was spraying some chemical on the fields. We were amazed when he stopped for us to walk by and then started again. Very impressed and waved to him. First we went down Hillcrest Crescent to look over the reed beds. Our first Lockdown List tick was a Reed Warbler (probably 3-4 warblers), but no sight or sound of the Grasshopper Warbler. On the moor pool 2 Great Crested Grebes, on the female"s back were 3 "humbugs" (very small youngsters), the male occasionally brought some fish in. One of the youngsters had a wound in the middle of its forehead. On the right side of the pool a Moorhen was busy building a nest. We continued around the moor, and walked to the bottom of the Tatton Park fence, and around the area. On the way back to the moor pool we had a second tick - Alan Booth and his wife! A repeat to Hillside Crescent and back home along Mereheath Lane which was much busy. All in all a good morning.
This afternoon I did some gardening near one of our insect houses and amazed to see Red Mason Bees (Osmia bicornis) had taken it over. In the 2 photos you can see the hollow bamboo canes - the female lines the inside of the cane with mud, lay her eggs, leaving a supply of pollen, and finish blocking off the cane with more mud. Brilliant J
Cheers...... Sheila and Geoff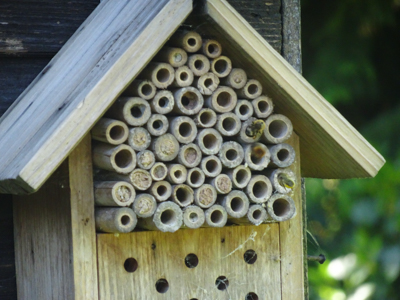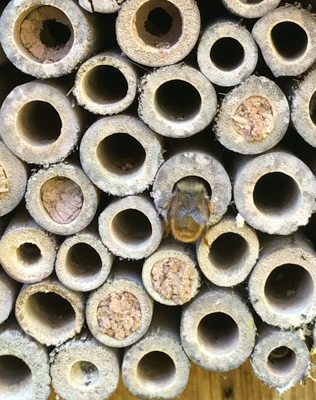 ---
I've put a new webpage on 10X50.com that will contain links to copies of these emails, so they're saved for posterity. Future historians won't believe it!