Tetrading by Bicycle




By Mark Eddowes



Tony's web art from KOS news (29/05/04) conjures up images of a lost age before the dominance of the motor car, when gentlemen naturalists took their female companions on ornithological excursions by bicycle. Such times are not altogether lost in the 21st century. By and large, cars keep to the motorways and A roads and there are plenty of lanes in the county where it is possible to cycle in relative peace.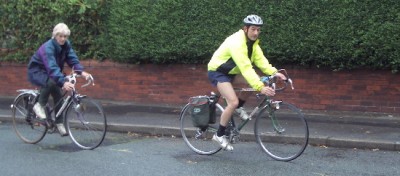 I first discovered the potential of bird watching by bike in the summer of 2003, when I began cycling to work regularly. Out in the open, rather than boxed inside a car, singing birds were readily heard and, at cycling speed, there was enough time to follow up these sounds. On a daily basis, singing Yellowhammers, gave way to Corn Buntings in the arable fields of the Mersey Basin north of the Ship Canal. In the autumn, when the homeward journey coincided with dusk, a Tree Sparrow roost in a Blackthorn thicket and the occasional Little Owl provided interest.

This spring, with the added stimulus of the Atlas Project, the potential of tetrading by bicycle was confirmed. The start of the journey through Tatton Park usually has something to offer: for example high pitched calls attracting attention to a pair of Treecreepers collecting food for young along the roadside avenue of trees or a Sedge Warbler singing by the Mere. Towards Rostherne, Long-tailed Tits that nest in the holly hedges by the road side are invariably encountered and here a Sparrowhawk was glimpsed carrying food for young.

Beyond Bucklow Hill, Chapel Lane and its continuation into Peacock Lane provide some of the highlights of the journey. The sounds of Lapwing, Skylark and Yellowhammer are all around. In May the Spotted Flycatcher's calls at Broom Manor drew attention to its return. Further up the lane a male Reed Bunting is invariably singing by a small pool where a pair of Moorhen are nesting. Tree Sparrows and a pair of Linnets are reliable here too. Breeding Coot and Mallard prefer High Legh Golf Course where a Buzzard is often found.

In the Mersey Basin, where the route crosses the Bollin, a pair of Grey Wagtail have a nest under the bridge and a Kingfisher has been seen occasionally. North of the Warburton Bridge, the fields are predominantly wheat and barley with a rough pasture and here there are Grey Partridge and Corn Bunting. Along the farm track behind Risley Moss, the descending song flight of a Tree Pipit was followed, without needing to break the cycling rhythm. On reaching the scrubland and woodland at Gorse Covert, various warblers and finches predominate, particularly Bullfinches.

Highlights of the year concern 2 species in particular:
· Yellow Wagtail - Not just seen in Tatton on passage, usually by someone else, but, by looking across a larger area with the aid of a bike, found in five tetrads, with confirmed breeding in three of them.
· Lesser Whitethroat - Ticked off previously by a "pilgrimage" to the well known haunt at Breech House Lane but now discovered at six sites in five other tetrads.

On a bicycle, wide areas can be covered relatively quickly, giving access to areas that perhaps wouldn't otherwise be visited. However, it does present some specific challenges. At bicycle speed tetrad boundaries are crossed quite frequently and it's easy to lose track of which one you're in. On a recent trip around Peover, Heather and I were pouring over the map when a helpful man on a horse passed by and, assuming that we were lost, offered assistance. It seemed easier to accept the unnecessary help than try to explain that we knew where we were but just wanted to record a six figure grid reference for that row of Hawthorn bushes over there where a Lesser Whitethroat was singing.

Song birds are generally easy to spot by bike, and other species often advertise themselves quite well. Others don't always stand out - picking out Stock Dove in a flock of Wood Pigeon when you're on the move isn't easy but issues like that can be addressed by stopping from time to time at likely spots. The same goes for getting a decent level of breeding status. Blackbirds are easy enough, even on the move, since adults carrying food for young along the lanes are obvious. Recently fledged Swallows present no problems either. Other species needn't be difficult. With territorial calls in April establishing the presence of a breeding pair of Nuthatches near Hulse Heath, it was no problem to stop there and watch in May when the adults were feeding young.

Recording observations also presents a challenge. You can't be stopping all the time to make notes so the challenge, at the end of the journey, is remembering what species have been seen in which tetrad at what breeding status and whether that represents a step forward from what has been seen in previous weeks. The main risk associated with the practice is obvious but I've only run off the road once straining to resolve what was sitting on a telegraph wire.

Along the 15 mile route to work so far this year 72 species have been recorded. So, if you're looking for new birding experiences, my advice is "On yer bike!"