On the recommendation of Roger Barnes of Bird Holidays who was their leader for Oman for 10 years, I signed up for the January, 2015 departure as there was just one place left. Our leader was John McLoughlin with Phil Palmer as co-leader (his trip to Burma having been cancelled as not enough takers). It certainly was quite an experience.
Oman is, of course, an oil state and has invested in lots of fast roads, the fastest being the Muscat expressway (100 KPH limit in some stretches), as well as lots of development, Muscat is all new buildings, as back in the 1940s it was barely more than a fishing village. The artery road that runs the length of the country was only recently completed. It speeds things up but even then the distances are huge so we took an internal flight (1 hour) down to Salalah in the south.
Much greener down there as they have a monsoon season and several African species can be found like African Paradise Flycatcher and Bruce's Green Pigeon. (In the North there are Indian species like Indian Roller, Common Myna and Indian Silverbill.) The literature said the normal max through Jan/Feb was 25 to 27C, so what did we get in the South , 33C due to hot Easterly winds from the Arabian Sea( as opposed to the normal northerlies), hellish hot for birdwatching with intense sun and clear skies day after day after day and no hint of rain or most days even cloud. But birdwatching was what we were there to do so we did it! Thank goodness the coach had an aircon.
The group list was around 190 but my score was down in the 170s, always being Tail-End Charlie. I did, however, manage to add a few things for the group list like the only Black-Headed Bush Shrike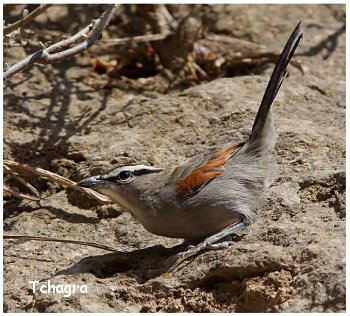 (Black Crowned Tchagra) and some Alpine Swifts passing over high. I had 3.5 new species ,having previously been to the UAE, but most of the group were clocking up many more. Arabian Warbler, South Arabian Wheatear, and Yemen Serin - a big flock – all good sightings, but there was the sad affair of the female Grey Hypocolius at the Yit-Bit oasis. One couple were lucky and saw it twice but most of us only saw it flying briefly and hours spent checking the palm trees failed to relocate it . However, there were some tremendous views of birds of prey. In a remote valley over 2 hours, including atmospheric full moon rising over the cliffs, we saw a staggering 6 species of Eagle - Short-Toed (or Serpent Eagle), Spotted, Imperial, Booted, Bonelli's and the massive Verreaux's Eagle, an experience I am unlikely to ever have again, just amazing.
Hours earlier we had been to the city sewage works (Lots of Abdim's Storks, waders etc.etc.) alongside it was the tip which attracted hundreds (!!) of Imperial and Steppe Eagles (the majority), many of them juveniles and sub-adults (plus 75 white storks), an astonishing sight.
The star bird for several of us was watching a beautiful Amur Falcon for over 20 minutes flying back and to catching insects right beside us at one of the farms. Hundreds of photographs were taken by Phil and co, 7 Marsh Harriers and even more Kestrels in the background.
The farms are irrigated from groundwater and widely separated by semi-desert. We spent 2 nights at the Yit-Bit Oasis (beyond which is the Rub-Al-Khali, the Empty Quarter, we travelled miles through it, Not only is there no vegetation but no relief, absolutely flat, like concrete with boulders and stones stretching away to infinity. ( Wilfrid Thesiger wrote about it in "Arabian Sands" when he lived there and roughed it with the Bedouin) Some of us tasted camel's milk, very rich and quite similar to cow's milk, to our surprise. The dates grown locally are so much better than any available in this country, sweet and moist.
There were good numbers of Great Black-Headed Gulls at the coast (although John says they are slowly declining) and a Crab Plover caused considerable excitement (I had good numbers in UAE). Far out at sea when we had our boat trip in a dhow there were lots of Red-Necked Phalaropes, also many Caspian, Crested, Lesser Crested and Saunders Terns, I could go on but the above will probably suffice to indicate what a good trip it was birdwise.
After lunch on the last full day we did a long drive into the mountains to the site where the Omani Owl (new to science) was relatively recently discovered. (It's related to Hulme's Tawny Owl and is strictly nocturnal so we were never going to see it.) The terrain was treacherous, it was very rocky so I had to be very careful to keep upright .Birds were rather scarce here. The others climbed up the slope to get a good view of a rare Pallid Scops Owl, but I couldn't manage it. A party of Danish birders were hoping to spend the night on the hazardous mountainside in hopes of getting e.g. a feather for DNA analysis but didn't get permission to do it. John and Phil were staying on for 2 days hoping to climb up to try and get some photographs at dawn. I didn't envy them the task !........ BOB GROOM

POSTSCIPT. A bonus trip during the fortnight was to see Green Turtles laboriously digging out nesting holes and laying their eggs under bright moonlight. It involved 5 hours on the road one day, an overnight at the Turtle Beach Resort and 5 hours back to Muscat the next day , with a break at a coastal site, but it was well worth it. We even saw several hatchlings heading for the sea with our guide protecting them from the marauding Sooty Gulls. A magical experience.
Oman is considered to have possibly the most enlightened policy on Conservation in the Middle East and is one of the World's most environmentally committed countries. It has a government ministry devoted to environmental issues, including protection laws and oversight of a network of nature reserves.