All the indications are that the HS2 rail link between London and the north of England will shortly be receiving final approval, allowing you to get to the capital 30 minutes quicker than at present. The plan reproduced above shows just how close it will come to the Rostherne reserve - interesting times lie ahead!

This year I've invested in a Tatton Park entry/parking permit, through the good offices of the Tatton Garden Society; it's cheaper than applying directly to Tatton and members receive a discount at some of the local garden centres. Consequently I'm able to park at the far end of the main mere and enjoy the peace and quiet of the Allen hide, overlooking Melchett Mere, more often - this is not the most productive spot in the park for the birdwatcher, that's still Dog Wood and Knutsford Moor but it does provide welcome shelter during the wet winter months that seem to be the norm nowadays in this part of the world.
Other members also have passes so the park is receiving a bit more attention this year than in the recent past. On Saturday (8th) it's our February field trip to Tatton, meeting at the Dog Lodge lay-by on Mobberley Road at 09:00am, Tony Ellis will be our leader, so we're in safe hands!
Hopefully the pair of Stonechats will still be around and this week Derek reports Great Spotted and Green Woodpeckers plus the resident Kingfisher on the Melchett Mere outlet stream.
Before then, tomorrow (7th) it's the CAWOS February meeting when Mark Sissons will be taking members on a journey through north and south America - "From Alaska to Argentina - Wildlife through the Americas". 7:45pm at St. Vincent's Church Hall on Tatton Street, Knutsford.

Today (6th) Bill Killey and I paid a visit to Shipbrook Hill Farm, Whatcroft and did a short bird survey on behalf of the owner Simon Bennett. The survey is organised by the Game and Wildlife Conservation Trust and known as the "Big Farmland Bird Count". Last year 1,400 farmers took part and recorded 140 species across more that a million acres.
We recorded 21 species, one more than last year in the 30' allowed for the exercise. It's not long, to say the least, but spread over so many locations and as it says on the label - "offers a simple means of recording the effect of any conservation schemes currently being initiated by farmers and gamekeepers on their land such as supplementary feeding or growing wild bird seed crops and game cover crops."
There's a nice little cafe in the farmyard and I can recommend the bacon batches - my turn next year Bill!


Species recorded at Shipbrook Farm. 6th February 2020. 10:10 - 10:40am. maximum number seen at the same time.
Fieldfare [1], Nuthatch [1], Jackdaw [4], Carrion Crow [12], Collared Dove [3], Herring Gull [1], Blue Tit [1], Woodpigeon [16], Goldfinch [1], Robin [1], Great Tit, [1], Wren [1], Buzzard [1], Mallard [2], Magpie [1], Stock Dove [2], Redwing [3], Snipe [1], Meadow Pipit [2], Sparrowhawk [1], Curlew [6].
---

27/01/2020...... A busy weekend!
A busy weekend for the KOS began on Friday evening (24th) when we welcomed back Keith Offord who entertained us with his talk "Land of Contrasts - Namibia", as usual Keith produced an excellent lecture, which was enjoyed by an appreciative audience of 28 members, including two newcomers, Liz and Martin Attwood - welcome aboard folks!

On Saturday and Sunday we joined forces with "The Friends of Knutsford Moor" (25th) and "The Friends of Knutsford Heath" (26th) for their annual RSPB Big Garden Birdwatches.

This year on the Moor we managed 32 species in the allotted one hour time slot, 4 more than last year, although we were disappointed not to be able to include a hunting Peregrine that appeared overhead just as we were finishing collating the data from our two groups. It would have been an all time new one for the event, as would the flock of six Snipe that flew out of the Moor's reedbed at the same time. There was no woodpecker activity this year but we were delighted to see and hear a Song Thrush, the first one I'd heard in song this year. Bob Groom continued birding after rest of us had left for home and was lucky enough to see more Snipe and the Peregrine again. The Peregrine reappeared, flying back low over the Moor and away towards Crosstown, also 6 more Snipe flew into the reedbed. As I was already in the Park I decided to visit the Allen Hide, on the way there from the car there were a small number of Siskins with a flock of Chaffinches in the alders. (No sign of the stonechats but then there were a lot of people photographing the deer.) In the Hide I had two sightings of the Kingfisher, a Green Woodpecker flying to Moss Plantation and a drake Pochard. Jayne had been watching a pair of Great Crested Grebes displaying before she joined me in the Hide and I then had a third sighting (for the day) of Peregrine! A pretty successful four hours of birding...

Here are the results of Saturdays Birdwatch on the Moor:- Blackbird 3, Black-headed Gull 104,Blue tit 4, Bullfinch 4,Canada Goose 9,Carrion Crow 3,Chaffinch 1,Coal tit 1, Collared Dove 2, Coot 2,Cormorant 3,Goldcrest 1,Goldfinch 10,Great Tit 2, House sparrow 6, Jackdaw 7, Jay 1,Lesser black-backed Gull 1, Little grebe 2,Long-tailed Tit 9, Magpie 2, Mallard 10, Moorhen 2,Nuthatch 2, Redwing 10, Robin 2, Song Thrush 1, Mute Swan 1, Treecreeper 1, Tufted Duck 8, Woodpigeon 4, Wren 1. - 219 birds seen in 1 hour. 32 species. Not included is a peregrine which was seen hunting above the Moor
Data supplied by Jan McCappin - thanks Jan.

A decent enough day on Sunday (26th) weather-wise for a repeat performance, this time with the Friends of the Heath - about 7C, overcast but the forecast rain never materialised.
The Heath covers about the same area as the Moor but the latter benefits from large areas of reedbeds and associated stretches of open water, so the Heath will always be the poor relation species-wise. Nevertheless it came close this year with 20 recorded, one up on 2019 and the organisers were pleased to see the resident species doing so well, especially the count of 11 Long-tailed Tits, the highest yet. Redwing was an all-time new bird and a handsome Buzzard perched in the woodland posed well for our party. Our thanks go to the Friends of both areas for inviting us along and to the KOS members who turned out to help - most enjoyable!

Species seen on Knutsford Heath. 26 January 2020. 11:00am until noon.Blackbird, Blue Tit, Bullfinch, Buzzard, carrion Crow, Chaffinch, Coal Tit, Goldfinch, Great Spotted Woodpecker, Great Tit, Jackdaw, Long-tailed Tit, Magpie, Nuthatch, Pied Wagtail, Redwing, Robin, Treecreeper, Woodpigeon, Wren - 21 species.
Data provided by Kevin Griffiths - thanks Kevin.

Bob and I spent a couple of hours in the Rostherne Obs. this morning (27/1), there are now six Goosanders on the mere and Cormorants are returning to claim the most favourable sites. Displaying pairs were ensconced on their nests, busily re-arranging and adding to the structures. Tatton's closed to the public on Mondays at this time of the year but Ranger Darren Morris reports a Little Egret on Melchett Mere this afternoon. As far as I know only the second record for the park, perhaps a pair will set up shop amongst the small Grey Heron colony in the park's Higmere Plantation. 21/01/2020...... A most successful Wildfowl watch in Tatton!


An encouraging weather forecast on Saturday evening promised us a "proper" winters day on Sunday - something to look forward to after so much wind and rain over the past few weeks.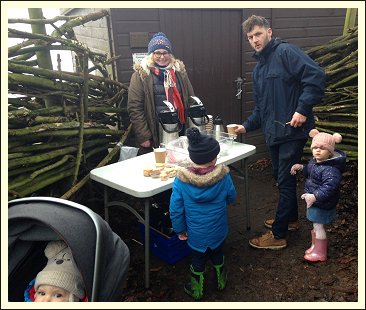 It was certainly cold enough, the car was frozen over at 8am and the temperature never rose above 3 ° C during the morning but unfortunately there was a thick mist that made viewing from the hide a bit challenging. Fortunately this didn't put off visitors to the park, the Knutsford Drive was busy with walkers, cyclists and motorists and we had no difficulty in enticing a steady stream of visitors into the hide, a task made so much easier with the promise of free tea, coffee and biscuits supplied by Yvonne and Darren! We had to keep checking that the hide wasn't getting too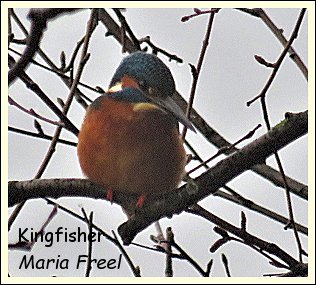 busy and tried to regulate the numbers, so as not to overwhelm the KOS members inside who were dealing with the public, but at one stage Derek and I couldn't resist inviting a walking group of 16 down to the hide! This year I tried to keep a count of visitors on my trusty dictaphone, I know I missed loads but when I played it back later I'd recorded 73 visitors, so that was the minimum and the true total this year was probably approaching 100. As well as the refreshments we were able to (almost) promise real-life views of an obliging Kingfisher that was in situ when our Hon. Chairperson arrived, during the morning the bird would leave for a few minutes before returning to one of it's favourite perches, a number of visitors were profuse with their thanks as they left "We've seen them on TV but never in the wild!". A nice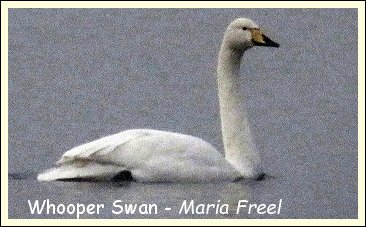 enough bird but from our point of view the star of the show was a lone Whooper Swan that appeared through the mist shortly after we'd heard it calling as it approached the mere. A few lucky people were able to see it in the 'scopes before it vanished across the far side never to be seen again - during out two hour session anyway! We managed a modest total of 22 species, which wasn't bad under the circumstances but the morning is really about enhancing Tatton's visitor experience, introducing people to the Allen hide and perhaps raising our KOS profile. We handed out plenty of our "business cards" and amongst Sunday's visitors were regular readers of this website and it was great to be able to put faces to a few names! Thanks go to all the KOS members who turned up to help, especially Yvonne and Darren for providing and serving the refreshments. Another busy weekend coming up. On Friday (24th) it's our January indoor meeting in the Jubilee Hall when Keith Offord will be talking about - "Land of Contrasts - Namibia". The following day (Saturday 25th) we'll be helping the Friends of Knutsford Moor with the RSPB's Big Garden Birdwatch. 11am until noon. Meeting in the Moor shelter at 10:45am On Sunday (26th) it's repeat exercise with the Friends of Knutsford Heath. again 11am until noon, meeting at 10:45 close to the junction of Stanley Road and Northwich Road.

13/01/2020......The first field trip of the new decade!


The probable Siberian Stonechat remains at Northwich's Ashton's Flash and a sample of it's droppings has been obtained. DNA analysis of this will confirm its origin (the bird's origin not the poo, as we know where that came from!), although I don't know who will carry this out and who will pay for it.
At least three KOS members succumbed to temptation and travelled over to take a look at this rare vagrant. Bob Groom was suitably rewarded for his persistence - Went over to the flashes this morning. I had a quick look at Neumann's then spent 2 hours, with other birders, looking in vain for the bird from the bund bench. I did see Green Woodpecker, Shovelers and Skylark. I was getting ready to leave as I had an afternoon meeting when the news came through that it had been located. It was a scramble through briars and branches but I made it and caught up with the rest. Really good, close views. What a little stunner it is, great to see.

The first signs of the coming breeding season locally with The Hon. Sec. reporting Rooks in attendance and nest refurbishment underway at the small rookery next to the M6 services (31/12) and Buzzards displaying over the new building site (190) houses opposite the entrance to Lilac Avenue(10/1).
Much the same on Saturday(11th) over at the RSPB's Burton Wetlands reserve with, probably, two pairs of Buzzards and even more croaking Ravens vying for the best nest sites. The Buzzards can wait but the Ravens will hope to start laying during the first week in February.
It was a relatively warm day (12 ° C) for our first field trip of the year, very gloomy when we arrived at 09:40am but things improved as the day went on, although the wind speed increased to gale force early in the afternoon. All the species we've come to expect at this time of the year were on view from the reception building, with the addition of a scattering of Golden Plovers amongst the massed ranks of Lapwings. The high tide had perhaps encouraged more waders than usual to rest and feed on the reserve, Dunlin were numerous with a flock of c200 birds and a constant stream of Curlews arrived from the estuary, some calling as they flew in - that most evocative of bird calls, telling us of wild, lonely places in the far north.
A Cetti's Warbler sang for a few moments as we made our way towards the Marsh Covert hide from where Gadwall and a nice male Pintail were added to a rapidly expanding day list. No new species from the Inner Marsh hide, although as we walked back towards the reception centre a mixed flock of thrushes passed over, amongst them chattering Fieldfares, unlike their close cousins the Redwings, few and far between this winter.

Through the window of the Parkgate chippy we watched Marsh Harriers hunting over the reeds, a bit of a challenge for them as they struggled against the ever increasing south-westerly wind. Nothing new from our next port of call, the Old Baths, so we walked along the old quayside as far as Cottage Lane, the estuary on one side and the Heswall golf course on the other. Redwings fed on the field behind the baths, other new species en route included Pied Wagtail and Meadow Pipit - not rarities of course but welcome additions to the list. Highlight was a distant male Hen Harrier, a species we'd hoped to see, not good views but they all count! Returning to the Baths we met up with Bob and Len who'd been lucky enough to see a great White Egret and a Merlin, bringing the final tally to 57 species. It's worth noting that winter counts are often greater than we manage during the spring and summer!

Don't forget that on Sunday (19th) it's our Winter Wildfowl Watch in Tatton Park at the Allen hide overlooking Melchett Mere from 11:00am until 1:00pm. This has become an annual event, in conjunction with the Park rangers and all are welcome - Darren the Ranger and Yvonne will be providing tea and coffee, for us and any members of the public who feel inclined to join us in the hide!

Species seen on the Wirral - 11th January 2020
Robin, Dunlin, Redshank, Coot, Black-tailed Godwit, lapwing, Shoveler, Teal, Wigeon, Shelduck, Little Egret, Black-headed Gull, Mallard, Greylag Goose, Moorhen, Carrion Crow, Golden Plover, Canada Goose, Starling, Curlew, Pheasant, Jackdaw, kestrel, Snipe, Great Tit, Siskin, Goldfinch, Greenfinch, Tufted Duck, Blue Tit, Cetti's Warbler, Gadwall, Pintail, Redwing, Buzzard, Pink-footed Goose, Magpie, Raven, Fieldfare, Herring Gull, Wren, Grey Heron, Lesser Black-backed Gull, Chaffinch, Cormorant, Great Spotted Woodpecker, Little Grebe, Marsh Harrier, Blackbird, Pied Wagtail, Meadow Pipit, Hen Harrier, Merlin, Great White Egret, Skylark, Mistle Thrush, Linnet [57]

17/12/2019...... A Record Breaking Christmas Party!


The "Birdwatcher's Yearbook 2019" has a section devoted to details of all the UK's natural history organisations, the KOS is listed alongside 100's of others. Locally CAWOS has 310 members and the Cheshire Wildlife Trust no less than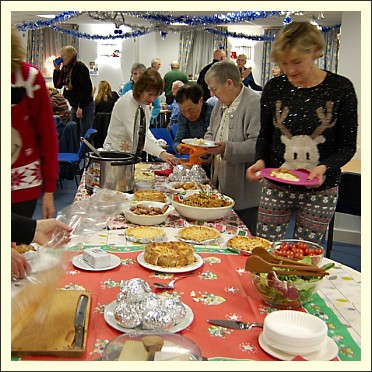 13,000; I couldn't find anyone with less than our 38 members! So a turnout of 27 for the Christmas party on Friday, representing 71% of the total membership was very encouraging. It was a most successful evening, the buffet was exceptional this year with members providing, mostly homemade, food - ranging from my simple jacket potatoes to complex examples of culinary art - meat and vegetarian chilli, creme brulee and a delicious pavlova that vanished so fast the usual suspects were denied a second helping! The Hon. sec. kept the evening on track and, in his own inimitable manner, managed to squeeze a few more quid out of members during the final auction. Len Mason won the quiz this year, mainly due to his knowledge of the topography of our Cheshire meres and the following day, Hon. Treasurer Frank told us that we made a record profit of £400. Well done everyone - a great team effort that will keep us in speakers for another 12 months!

Predictably, fewer people met up on a cold and drizzly Sunday morning (15th) for our December field trip up to Marshside and Martin Mere. Just 4 ° C as we arrived at Marshside, although the rain had stopped and overnight snow on the distant Pennine hills provided a beautiful Winter backdrop, against which the silhouettes of flocks of Pink-footed Geese were a fine sight as they passed out towards the Ribble estuary.
The general consensus was that there were less birds about this year than on previous visits, but it's a huge area and very difficult to judge unless you're really familiar with the location. Pink-footed and Greylag geese fed close to the main Sandgrounders hide, whilst in the distance, on Crossens Marsh, flocks of Lapwings and Golden Plover frequently took to the air - nervous about passing raptors,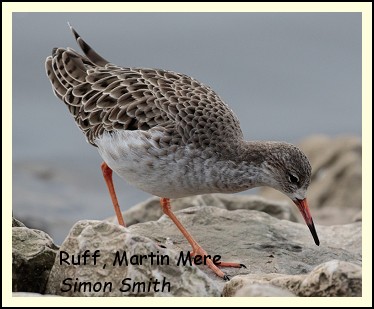 although there were fewer about this time - just a single Kestrel and a quite magnificent male Hen Harrier that was quartering the marsh as we made our way to the other hides. From Nel's hide we had good views of the usual Teal, Tufted Ducks, Shoveler, Pintail and Black-tailed Godwits plus thousands of Wigeon, the most numerous of the wildfowl species this year. There were only a few Curlew present this time around, a species that seems to be struggling more than most and a cause of great concern amongst naturalists.
The admission price for adult non-members at Martin mere is now £ 13.00 and a still a hefty £ 11.04 for concessionary entry - I think they're pushing their luck a little with those prices, especially as the area of pens containing the collection of wildfowl from various parts of the world seems to have been neglected over recent times and isn't a patch on what it was in the past.
We began by walking down to the Ron Barker hide from where we had good views of a female Marsh Harrier and a single Buzzard, the only one of the day. Most of the wildfowl were way out on the marsh, including a small flock of Whooper Swans, we didn't see any others, although they do tend to appear later at feeding time and provide great views from the Discovery hide. As it was we only spent a few minutes there, the build-up to the feed hadn't started, but around 15 Ruff were already there looking very smart in their mid-winter plumage. Our final walk took us down to the far end of the reserve where species such as Great Spotted Woodpecker, Reed Bunting and Bullfinch were frequenting the feeders and duly added to the day list, which finally reach an impressive 61 species after the addition of Barn Owl and Merlin, recorded by Bob Groom when he took a different route to the majority of the party.
On Monday 30th December we'll be doing what is now our traditional post-Christmas walk around the Northwich Woodlands (Neumann's, Haydn Pool, Budworth Mere etc.) meeting at 10:00am at the usual Witton Bridge car park.
So, to all KOS members and any others who happen to pass this way - have a happy and peaceful Christmas and, if we don't see you on the Christmas walk, best wishes for a happy and healthy new year.
Species seen at Marshside / Martin Mere 15th December 2019