Latest news, views, gossip etc.
25th January 2023......... Rostherne Cormorants
As the name implies, the "tick list" in the Rostherne Mere observatory is a binary affair - 0 or 1; tick or no tick. It doesn't indicate the number of each species, just whether or not at least one individual was present on a given day. Perhaps not as useful as the monthly wildfowl counts or the CBC and BBS surveys but, over a period of years, the simple and easy to understand tick list can show long term fluctuations in our bird populations.
There are some species that are recorded on the tick list every day, amongst these is the Cormorant. Until the end of the last century it was just a Winter visitor but in 1999 they remained on the reserve and nested for the first time. In 2021 the colony, located in the mereside trees of Harper's Bank, held 173 nesting pairs. Reading the appropriate literature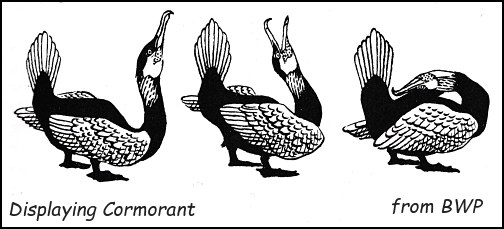 it appears that tree colonies never become permanent as the guano generated by the birds kill off their host trees. This has happened at Rostherne; the trees are dead but, despite this, the Cormorants have returned and, once again, begun nesting. Ken Davies and I were in the obs. on Monday (23/1) and, with the aid of Ken's Swarovski, spent some time observing the comings and goings. Male birds sat on their nests with wings quivering, heads pointing upwards and cocked tails spread upwards and backwards. Established pairs stood side by side, in one case sharing a piece of nesting material jointly in their bills. Fascinating stuff, about which there is little online, so I had to dig out volume one of BWP!
The wildfowl were mostly hidden away amongst the mereside vegetation, so trying to count them was impossible. The previous day (22/1) a monthly count had taken place revealing 157 Teal, 134 wigeon, 110 Mallard, 32 Mandarin, 20 Shoveler, 49 Canada Geese and 3 Goosanders.
The bird table was very busy, we saw a small group of five Siskins and a Great Spotted Woodpecker was heard drumming; a sure sign of the warmer weather to come.

On a walk around the lanes of Mobberley last Sunday (22/1) there was a woodpecker drumming in Spring Wood, clearly heard from the best part of a kilometer away. I headed in that direction, on the way passing a field of c.100 corvids - Jackdaws and Rooks (the rookery in Shawheath is just a short distance away) and, in another field, c. 200 winter thrushes, 95% of which were Redwings. I didn't find the woodpecker but at the confluence of the Marthall and Pedley brooks, where they become the Birkin, I came across a Little Egret only the second I've ever seen in the village!

Just across a couple of fields is Booths Mere, a spot that Peter Dawson keeps an eye on. This from last Wednesday (18/1)........."Once the sun had come out and the snow had started to disappear, I had a wander around Booths Park early afternoon. Of note, there were approx a dozen mandarin on the Mere, mainly males. I've seen them there before but only the odd one or two. Also about the same number of shoveler, a mix of male and female, and 3-4 pochard. Otherwise just the usuals. Still no brambling in the garden. I haven't seen many reports from anywhere of them this winter. However they often don't turn up until Feb or March so there's still time yet.".......... Thanks Peter, no Bramblings (or Siskins) for us yet either but, as you point out, they'll appear eventually.

The warmer weather hadn't arrived by last weekend but the continuing cold snap didn't deter Bob Groom (18th Jan) ..........."Whatever happened to the mild Southerly air we were promised for this weekend? It seems it slowed down when it reached the south-west and instead we are stuck with the ice and snow and low temperatures - Min -6C Max 4C - and it will be midweek before milder air replaces the frosty air. Elaine and I had to cancel our trip into Tatton with the road still closed and Moss Lane was too icy so we had a productive walk on Green Lane (which had been gritted) instead. Close views of Buzzard, Kestrel and Sparrowhawk. Only a few Redwings and a single Fieldfare. 44 Lapwings at a distance and another bird flying with them that might have been a Golden Plover. The ditches were full to the brim but frozen solid and covered in red grit."............

The Blamires too remain determined to get out and about whatever the weather and Mondays walk took in the Rostherne obs............" Mereside Road: 100+ Fieldfares. Rostherne Brook area: 2 Lesser Redpolls (with Goldfinches), Song Thrush singing, Wren investigating the leaky dam , female Bullfinch.
Oxhey Meadow: 22 Fieldfare, 3 Redwing.
Obs (with Tony and Ken): Great Spotted Woodpecker drumming (good to hear) and just as we were leaving Tony spotted c5 Siskins. "..................

The Sand Martin Competition now has 30 entries, from as far away as Maryland (USA), Auckland (New Zealand) and Warrington! So get your entries in NOW before you forget. A reminder that it's open to everyone, not just KOS members. click here.

Members will be having a busy weekend, starting on Friday ((27/1)

On Friday 27th January it's indoors at the Jubilee Hall when Mike Watson will be telling us about the Northern Territory of Australia. Doors open at 7:15pm for an 8pm start

The following day (Saturday 28th) we're on the Moor with the Friends of the Moor helping with their "RSPB Big Garden Birdwatch" - 11am start, meeting at the shelter on the Moor

On the Sunday (29 January), were on the Heath with the Friends of Knutsford Heath for their "Big Garden Birdwatch" - again it's an 11am start at the information board on the heath. Close to where Stanley Road meets Northwich road.

The KOS committee will be meeting next week to discuss the programme for 2023/2024 and preliminary discussion will take place about how we celebrate the society's 50th anniversary!!

I believe that only three current members were at that first meeting, on the 29th April 1974, when Colin Istead suggested the possible make-up of the first committee. This was voted on and his suggestions accepted by those present. The first "proper" meeting took place the next month when Bill Mulligan introduced the speaker, Sidney Bunker who entertained us with his bird song recordings on an old reel-to-reel tape recorder!
---
18/01/2023...... The trip to Marshside & Martin Mere



We're enjoying another cold(ish) snap at the moment with a mid-morning temperature of 0⁰C in the back garden. It will be over by the weekend and get nowhere near the -6⁰C we experienced in the run-up to Christmas.
My weather station measures the temperature once every minute and analysis of the data produced showed that the overall average in 2022 was 0.8⁰C warmer than 2021 ( 11.2⁰C v 10.4⁰C )

A bit wet to begin with on Saturday, (14/1) for our January field trip up to Marshside and Martin Mere but the rain soon moved off, leaving a dry but very windy day.
We'd not left the car park at Marshside before eagle-eyed Bob Groom found us a splendid male Hen Harrier, close in, flying slowly into the wind over the shoreline - an excellent start to proceedings. Number #1 on the day-list that eventually grew to 60 different species.
As it was still drizzling we walked to the RSPB's hide/information centre and set up shop overlooking the marsh, which was heaving with wildfowl and waders. Wigeon, Canada Geese, Greylag Geese, Pink-footed Geese, Mallard, Shoveler, Shelduck, Gadwall, Pochard, Teal plus Lapwing, Golden Plover, Black-tailed Godwit and Oystercatcher. All in a constant state of flux; I don't know how they are ever counted but they must be as the RSPB's website gives target figures for the different species ..........."We aim to ensure that black-tailed Godwits and ruffs remain present through the breeding season and that breeding wildfowl numbers are stable. Meanwhile, our October-March targets for non-breeding birds include 1,650 black-tailed Godwits, 700 pink-footed geese, 6,000 wigeons, 1,800 teals, 140 shovelers, 500 golden plovers, 700 oystercatchers, 1,500 knots, 1,500 dunlins and 300 curlews."..........

We learnt that Nell's hide, further up the marsh and a normal stopping point for us, had been vandalized and was closed. Instead we headed into Southport as, earlier in the morning, Colin Butler had seen a flock of Twite and a Snow Bunting close to the pier. On a more benign day it would have been an easy stroll along the promenade up to the appropriate spot but the gale force wind on Saturday made it a bit more of a challenge. Anyway, with coats flapping, hats flying and eyes watering, we all made it and had reasonable views of the flock of c.40 Twite but, unfortunately, the single Snow Bunting had moved on - however it has been included on the list as Colin was part of the group and the rule is "any bird seen or heard by any member of the party"! Of course this has led to a few contentious additions in the past but, as we all know, "it's only birdwatching, no one dies"

On then to Martin Mere. The prices in the restaurant seemed quite reasonable; I paid £2:50 for a large americano and joined others from the party outside on the veranda as we'd brought our own food.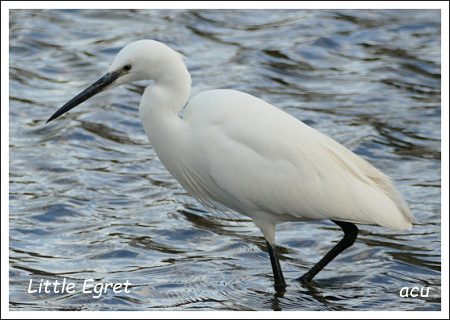 It was a cool spot and, given the conditions, one of the staff invited us to sit inside. A nice gesture and one which was readily accepted!
Out on the reserve five Marsh harriers floated over the reedbeds and a Peregrine quartered the area from time to time but on the whole we thought numbers, especially Pink-footed Geese, were down compared with previous years. From the Ron Barker hide a Great White Egret and a Grey Heron sheltered from the wind at the waters edge in the lee of the reeds. Making our way down to the Janet Kear hide I noticed a Little Egret in the pool in front of the flamingo enclosure, it was unconcerned by visitors walking by and posed nicely for the camera.
Around the Kear hide Treecreeper, Reed Bunting, Greenfinch, Long-tailed Tit, Blackbird and Goldcrest all helped to swell the day-list. A useful and, most importantly, up-to date record of species present at Martin Mere is kept on the website. click here.

Back in Cheshire the colder weather brought a sprinkling of snow overnight, in fact a few places had some yesterday. This from Sheila Blamire after returning home from their daily meander........"It's snowing here as I'm typing!
Did 11.5km around Millington area this morning – a little icy in places! Difficult with the poor visibility but a lot of winter thrushes: Mereside Road – 60+ Fieldfares; Peacock Lane – c40 Redwings, c10 Fieldfares plus c20 Starlings. Also Buzzard."..........

Birding webcams abound during the breeding season but there are fewer in Winter. One of the better ones is situated at Loch Garten, up in Speyside. As well as the usual, Coal and Great Tits, from time to time a Crested Tit will appear plus Great Spotted Woodpecker and Red Squirrel. Well worth a look. click here. If it's currently night time just click back on the red time line for earlier footage.

Only 20 entries so far in the Great 2023 KOS Sand Martin competition, so you're in with a chance! Open to all click here. Done and dusted in 60"!!


Species recorded on the KOS trip to Marshside and Martin Mere. 14th January 2023.
Hen Harrier, Black-headed Gull, Wigeon, Canada Goose, Greylag Goose, Mallard, Shoveler, Shelduck, Gadwall, Lapwing, Golden Plover, Black-tailed Godwit, Pochard, Great Black-backed Gull, Lesser Black-backed Gull, Oystercatcher, Herring Gull, Teal, Starling, Great White Egret, Cormorant, Pied Wagtail, Magpie, Redshank, Coot, Moorhen, Pink-footed Goose, Little Egret, Twite, Snow Bunting, Peregrine, Ruff, Robin, Curlew, Pintail, Whooper Swan, Marsh Harrier, Jackdaw, Kestrel, Buzzard, Grey Heron, Goldfinch, Dunnock, Chaffinch, Great Tit, Blue Tit, Wren, Stock Dove, Long-tailed Tit, Treecreeper, Tufted Duck, Reed Bunting, Greenfinch, Blackbird, Goldcrest, Sparrowhawk, Skylark, Carrion Crow, Mute Swan, Great Spotted Woodpecker [ ✓ 60]

13th January 2023......... More signs of Spring.



Finch flocks are building up locally. Last Saturday Sheila Blamire spotted a Siskin in the garden at Mere, the first since April 2022. In Knutsford Peter Dawson has Siskins plus Redpolls on his feeders and Sheila and Geoff had 60+ Siskins at Rostherne on one of their early morning walks. Here in Mobberley we've not had either species so far but there's plenty of time as they don't normally turn up until mid-February.

On Sunday (8/1) KOS Secretary Karina Stanley added a new species to her year list with a visit to Chelford for the Smew on Lapwing Hall Pool..........."A quick diversion to Lapwing Lane en route to Northwich for food shop. Nice views of The Smew [✓] and other wildfowl were available. Close encounter with a female sparrowhawk as she flew low across the grass and watched enthralled as a male kestrel hovered a few yards away, strategically going lower and lower, before successfully diving for a mouse snack. Great view as he flew triumphantly away with his prey and nipped its neck. "...............

Not to be outdone, we hastily organised a mid-week morning to same location! There was plenty to see on the Acre Nook lake, just a few yards up from the Lapwing Lane car park.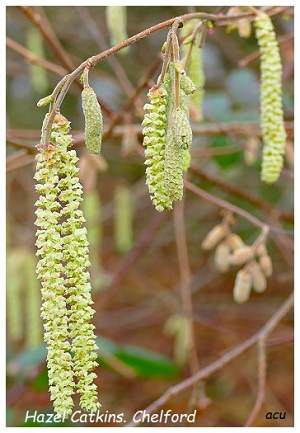 Unfortunately the island has now vanished but there were still large numbers of Lapwings on the far bank, where a Great White Egret stood guard in the shallows. On the water a nice selection of water fowl - Wigeon, Tufted Duck, Mallard, Teal, Goldeneye, Great Crested Grebe and Coot.
Our time 'scoping the lake was brought to an end by a short, sharp shower of ice cold rain; so it was off to the sheltered lane leading to Lapwing Hall Pool. En route, growing on a birch tree, we noticed the bracket fungus you can see on Geoff's picture at the top of this update. This engendered a certain amount of discussion but with 15,000 species of fungus to go at we were floundering! Anyway, after consulting an expert, it seems that both are examples of Birch Polypore and the green appearance of the upper example is caused by algal growth. There's a whole new world out there!
We didn't have to look too hard for the male Smew, it was floating in the inlet, close to the entrance gate. Poor views though as this stretch of water is obscured by dense shrubbery. Further round the lake good views of other occupants, including more Wigeon and nine Goosanders (5♂ and 4♀), looking splendid in their fresh Spring plumage. A single Snipe leapt up from the edge of the pool and a Great Spotted Woodpecker was heard drumming in the distance. We finished off with excellent views of a Goldcrest, feeding low in moss-covered hawthorn, too quick for our cameras unfortunately!
Fortunately the hazel catkins were moving slower than Chelford's Goldcrest and I was able to get a decent image. It looked great - one of the first signs of Spring - of which we've had further examples, as well as the drumming woodpecker, Sheila and Geoff report singing Mistle Thrushes at three different locations and Bob Groom had a Song Thrush in song on the morning of our recent trip to Budworth mere.

Don't forget tomorrow (14/1) it's our field trip to Marshside and Martin Mere, meeting up at 10:00am at RSPB Marshside from where we'll be making our way over to Martin Mere for lunch and then onto the reserve for ducks, geese, swans and harriers (hopefully)

Remember also to enter our world famous Sand Martin Competition. Do it NOW by clicking here it's open to anyone, not just KOS members. You can do it less than a minute!



Species recorded at the Chelford sand quarries 11th January 2023.
Great White Egret, Grey Heron, Wigeon, Tufted Duck, Mallard, Great Crested Grebe, Coot, Woodpigeon, Cormorant, Goldeneye, Teal, Black-headed Gull, Lesser Black-backed Gull, Lapwing, Pochard, Carrion Crow, Smew, Mute Swan, Canada Goose, Goosander 9+6, Snipe, Great Spotted Woodpecker (drumming), Great Tit, Blue Tit, Blackbird, Robin, Shoveler, Kestrel, Pheasant, Goldcrest, Mistle Thrush, Chaffinch, Magpie = 33.
---
6th January 2023........Drake Smew at Chelford and the 2023 Sand Martin Competition

It's often said that the one good thing about waking up with a hangover is that the rest of your day can only get better. I find that, even without the aid of alcohol, you can normally induce the same effect by listening to the "Today" program on Radio four.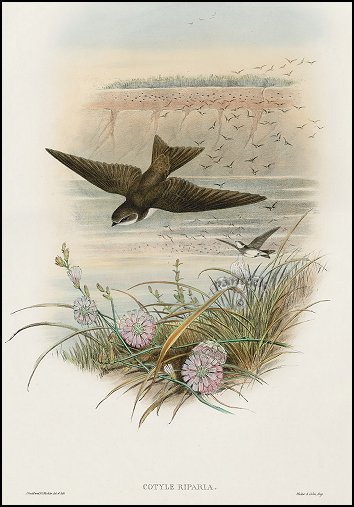 A bit of a letdown this morning to discover that, despite the ongoing strikes and Putin's war in Ukraine, the focus was on the continuing royal family soap opera. Perhaps the BBC think we've had enough bad news over the past few months and we needed a little bit of comedy to start the day.
Of course the rest of the natural world, of which we're just a small part, carries on regardless. This morning a Dunnock was going full belt from the silver birch at the bottom of the garden, whilst below it the daffodils are pushing through nicely, ready to bring a splash of colour in just a few weeks time, a reminder that Spring's just around the corner.

Regular visitors to this website will know that, in this part of the world, Spring officially begins with the appearance of the first Sand Martin over Tatton Mere and this year I'll again be running the KOS Sand Martin Competition, in which visitors are invited to estimate (guess!) when the first Martin will be recorded. The competition is not just for KOS members, anyone can enter and there will be a small prize for the winner. The average arrival date in Tatton is the 14th March, last year it was the 8th March and Cheshire's earliest record is the 16th February, so the closing date is the 15th February. Remember it's not you that has to see the bird, there will be plenty of KOS members (some of whom work in the park) keeping a daily watch from mid-February. You can enter by clicking here, it will only take a few seconds of your valuable time!

I spent a couple of hours in the Rostherne Obs. on Monday morning (2/1) just 3⁰C but crystal clear visibility and through the big binoculars set to 40X, I could make out people walking along the skyline next to the tower on Rivington Pike, about 22 miles away!
Most of the wildfowl were hidden away around the edges of the mere but a small flock of Teal were very active and a group of Mandarins appeared, 7 birds - six males and a lone female, the boys were most vigorous in their attempts to impress the young lady.

Geoff and Sheila Blamire began the year, as they left off, with a muddy trudge around one of their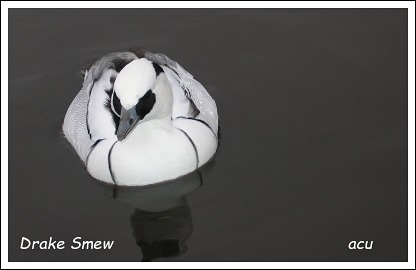 favourite locations on Sunday morning (1/1) ........." We did our 11km walk around Plumley, Holford and Lostock Green this morning, which turned out to be wet and muddy, with a lot of flooding, but bird wise a good start to 2023!!!
Holford: 136 Curlews (opposite Hame Farm), 1 Kestrel (Holford track).
Plumley: 71 Curlews and 1 Kestrel (Cheadle Lane) and a Little Egret! First time we've seen an egret in this area - it was in a field with horses. ".............

Last Winter we enjoyed a mid-week visit to the Chelford Sand Quarries and were lucky enough to come across a female Smew on the Lapwing Hall Pool. This year there are two females and they've been joined by a male - a striking looking bird that we used to get annually on Tatton Mere. Naturally it's attracted a lot of attention and amongst the visitors was our own Bob Groom! ............"" A better day than forecast and still lovely and mild - Min 8C Max 12C. Went over to Lapwing Lane. Inevitably there was a twitch on and parking was at a premium but I did manage to get the last space. Cracking views of the drake and accompanying female Smew (eventually) that had arrived yesterday and later saw the other female that had already been in residence. I chose the route through the wood and kept on walking round. Lots of Wigeon, Goosanders etc. Also male Goldeneye and hovering Kestrel. I was lucky to catch the m/f close in at a point where there was a gap in the trees. Later saw them again en route to the gate but more distant. Walking back down the road saw the usual Tree Sparrows and Nuthatches. Great White Egret, hundreds of Teal and Lapwings, many Cormorants and yet more Goosanders at Acre Nook. At one point a Sparrowhawk powered across. A very successful visit.................

Late news 6th January 2023 - Phil Dell recently sent me details about a large flock of Pink-footed geese (he estimated about 5,000) that were roosting in fields close to his house in High Legh. I travelled there yesterday (5/1) but they failed to appear. It was a different story today though! Via the Rostherne Mere WhatsApp group he alerted me to the fact that the birds had appeared at 2:30pm. I therefore abandoned this update and made my way to the recommended spot, along Crabtree Lane - close to Lilac Farm. At first I could hear them well enough but they were out of sight in an adjoining field. Eventually though they took to the air and vanished, flying north - a great sight and sound. I managed a few seconds of video and some still pictures - thanks Phil, great stuff!


---
30th December 2022.......... The 2022 Christmas Walk.



Welcome to the last update of 2022. This year we managed a full program of KOS outdoor field trips and in September, after 2½years, we were able re-start our indoor meetings. Trips and indoor get-togethers, up to April 2023 are listed on this website's trips page.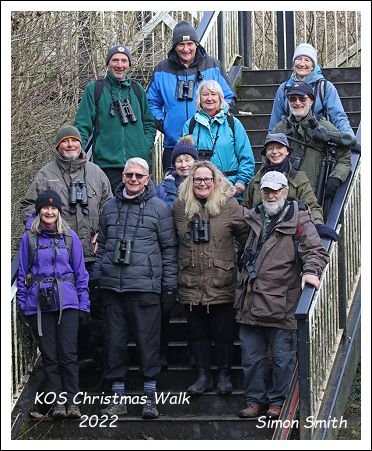 The committee will be meeting shortly to draw up plans for the Period May 2023 through to May 2024 (which will be the 50th anniversary of the KOS!!). I know that Sheila Blamire has already set the wheels in motion for a 4 day holiday to East Anglia in May next year. All members should have been sent details via email.

We were lucky yesterday (29/12) with the weather for our annual Christmas walk around the Neumann's Flash / Budworth Mere area of Marbury Country Park. 13 members arrived at the Witton Mill Bridge car park at the allotted time and, as we were enjoying some of Jude Halman's homemade sloe gin, a flock of about 20 Pink-footed geese were spotted in the distance - a good start.
The trip leader for the day, Sheila Blamire, led us along the old Warrington Road, as the normal route alongside the extensive reed beds was "wellies only" due to heavy overnight rain. A pity, as this is where we would have expected Cetti's Warbler. As it was the species doesn't appear on the day list, hopefully they've survived the extremely cold weather at the beginning of the month.
Elevenses were enjoyed at the park's picnic area where we met up with Bob Groom before moving down to the new viewing screen. Geoff Blamire hurriedly set up his 'scope and everyone was able to take a look at the cobalt blue Kingfisher, perched just below the screen, a few feet above the water of the mere.
It's a regular visitor to that spot explained Stuart Jackson, a local photographer, who spends a lot of time capturing images of the mere's wildlife. He has kindly sent me the image you see on this update; it was taken during the recent cold spell. A fabulous picture - thanks Stuart!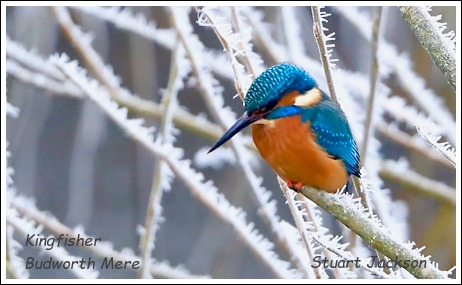 Further out on the mere, Mute Swans, Tufted ducks, displaying Great Crested Grebes and no less than 14 Goosanders. Has there been an influx lately? I hear that Rostherne had nine yesterday.
Over the far side of the mere, telescopes revealed 100s of Coot and a large flock of wintering waders, mainly Curlews and Lapwings, plus more wildfowl - Shoveler, Canada and Greylag Geese, Teal and Goldeneye.
Cutting back up through the woodland and over the canal we arrived at Dairy House Meadow where a Barn Owl, sheltering at the back of it's nest box, was added to the ever growing list. Neumann's Flash was unusually quiet but, from Pod's Hide, we had Shelduck and Wigeon bringing the grand total to 52 species, one more than Christmas last year!
Derek and Jean had intended to join us but there was a mix-up with times, so they ended up at Tatton where they too had excellent views of a Kingfisher ......."I could have been there for 10:00am then realised it was 9:30am never mind I hope you all had a pleasant morning. We went into Tatton for an hour or so.
Superb, prolonged views of a male Kingfisher on the small tree on the side of the overflow stream from Melchett, it then flew towards us and landed twenty feet or so away posing, then across the road to the overflow stream from main mere, landed then flew down stream towards where a branch goes across stream landed again.

Best views for a long time in Tatton "........

Our next field trip is on Saturday 14th January when we'll be visiting RSPB Marshside and WWT Martin mere.

Two weeks later there follows a very busy weekend!

On Friday 27th January it's indoors at the Jubilee Hall when Mike Watson will be telling us about the Northern Territory of Australia.

The following day (Saturday 28th) we're on the Moor with the Friends of the Moor helping with their "RSPB Big Garden Birdwatch"

And, on the Sunday (29 January), on the Heath with the Friends of Knutsford Heath for their Big Garden Birdwatch!



Species recorded on the Christmas walk.- Thursday 29th December 2022
Black-headed Gull, Pink-footed Goose, Woodpigeon, Great Tit, Blue Tit, Dunnock, Robin, Goldfinch, Jay, Blackbird, Carrion Crow, Coal Tit, Nuthatch, Buzzard, Long-tailed Tit, Mallard, Jackdaw, Magpie, Greenfinch, Goldcrest, Mute Swan, Goldeneye, Tufted Duck, Goosander, Great Crested Grebe, Kingfisher, Cormorant, Lapwing, Herring Gull, Lesser Black-backed Gull, Curlew, Common Gull, Shoveler, Canada Goose, Greylag Goose, Teal, Chaffinch, Treecreeper, Barn Owl, Sparrowhawk, Starling, Fieldfare, Redwing, House Sparrow, Shelduck, Wigeon, Grey Heron, Coot, Bullfinch, Siskin, Song Thrush. = 52
21st December 2022...........The Winter Solstice


Today is the shortest day of the year; the start of the astronomical Winter - the Winter solstice. Only a few weeks to wait before the first Sand Martins are seen over Tatton Mere, marking the beginning of the KOS Spring!

The spell of cold weather came to an abrupt end over the weekend; in the early hours of Friday morning (16/12) my weather station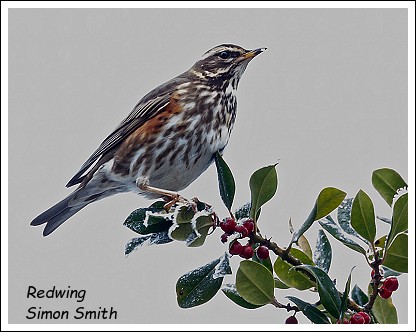 recorded a low of -7.3⁰C . The official Met. Office station at Rostherne recorded -9.5⁰C but the temperature then began to rise rapidly and reached +14⁰C on Monday (19/12) as a plume of warm, humid air pushed up from southern Europe.

The temperature in the obs. at Rostherne Mere on Monday morning was 8⁰C but it was 12.5⁰C outside and, as a consequence, the windows were dripping with condensation, the log book was damp and the monthly "tick list" sodden! Quite remarkable. Volunteer warden Phil Dell told me he'd never seen anything like it, in all the years he's been visiting the reserve.
It was pretty gloomy, we managed to count a few species loitering near the boathouse but a big flock of finches remained largely unidentified........."47 Wigeon, 25 Pochard, 3 Goldeneye, 32 Lapwings, m&f Goosander, Grey Heron (survived the cold spell). Too gloomy to ID c.120 finches in the mereside alders, I did make out some Goldfinches the rest probably included Siskins and, perhaps, some Redpolls"............

There are some Redpolls about, Geoff and Sheila Blamire came across some during their Friday morning workout .........."We did our 10km walk to Rostherne on Friday 16 Dec - boy it was cold!
Highlights include: Rostherne Brook (seen from Rostherne Lane) flushed 2 Snipe and 8+ Mallards; Rostherne Mere 1m 1f Goosanders; below the Obs 1 Lesser Redpoll feeding amongst the brambles; seen when we left the Obs 8+ Lesser Redpolls feeding in the Silver Birches and 1 Song Thrush; Ciceley Mill Lane, Grey Wagtail feeding along in the leaf litter (same as in 14 Dec).".............

Bob Groom managed to do the monthly WeBS count over the week and was pleased to encounter a Bittern as he progressed around Tabley Mere.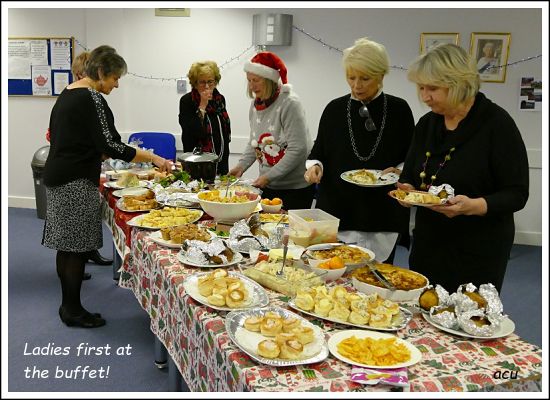 .........." I decided to do my Tabley count, with the now benign air making it quite pleasant. Nonetheless I found Tabley Mere still 95% frozen so everything was concentrated in one corner. 128 Teal were so nervous that they were constantly flighting ( and burning up fuel, but a lovely sight). Otherwise the rest of the wildfowl seemed happy enough - 75 Mallard, 6 Wigeon, 7 Canada Geese, 5 Tufted Ducks, 2 Cormorants, 2 Coots. A Heron put in an appearance and a Buzzard winged low across the water but the highlight was a Bittern flying across the mere. Great view! Small birds in the wood included Tree Creeper, party of Long-Tailed Tits, Nuthatches, Goldcrest, Wren, Robin... Fortunately the rain largely held off until after I'd left."................

Birder Bill Morton forsook his beloved Frodsham marshes last Thursday (15/12) and enjoyed a stroll around Tatton Park where he came across the park's first Bramblings of the Winter......."I was out from dawn till dusk birding along the banks of the Mersey and that was chilling to the marrow. I've been to Tatton Park today where it was people free and managed some Bramblings along the beech walk alongside the golf course. "......... Thanks Bill!

Of course the highlight since the last update has been the KOS Christmas party, our first since December 2019! There was good turnout of 21 members and friends, slightly less than three years ago, but I know the current 'flu bug that's doing the rounds meant that some regulars couldn't attend. Nevertheless more than 50% of our current membership were able to enjoy a most successful evening. Our secretary Karina Stanley, ably assisted by Jude Halman, set out the tables during the afternoon and, as you can see from the picture, these were rapidly filled with a delicious selection of temptations as people arrived with offerings of, mainly, home cooked dishes.

Treasurer, Frank Dearden did the appropriate calculations and was able to announce a very useful profit.

Many thanks to everyone for your contributions to last night's party; a lovely and relaxed gathering.
Along with the enjoyment we raised an important sum for the Society's funds, as follows:

Admission £ 152.00
Raffle £ 76.00
Bring&buy £ 59.60
Donations £ 50.00 from absent friends
= £ 337.60
Bought in food items came to £ 55.00 giving a net contribution to KOS funds of £ 282.60

Karina's off for a Christmas get-together with her family in Dubai but left us with a lovely email message before she left.

It was a very special evening enjoyed by all the members and friends. So good to be able to share time after the Covid restrictions of recent times. A great team effort indeed - thank you all so much.
Looking forward to next year's party and hoping even more members will be able to come and join the fun.
Happy Christmas!
Karina.


---
13th December 2022 .......... The cold spell continues....





The trip up to Leighton Moss on Saturday (10/12) had to be called off at the last minute. At 7am the temperature was well below freezing and it had started to snow, this was to continue for the next five hours and resulted in Manchester Airport being closed to both incoming and outgoing flights.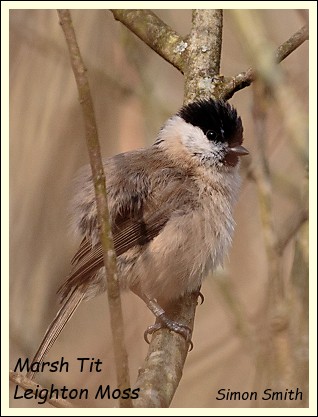 Fortunately only 10 people had signed up for the outing, so a quick series of phone calls and everyone was made aware of the cancellation. Everyone that is except Frank, our Hon. Treasurer, who must have left his hearing aid out and who, despite numerous attempts, couldn't be raised. And so it was that at 07:40 he fired up the trusty Saab and headed north!
In the event he did quite well and seemed to have thoroughly enjoyed himself!

............"No Bearded Tits in view from the walkway when I was there. Otter I saw from the Causeway Hide on the fringes of the one area of standing open water on the reserve.

Yellow-browed Warbler was on the reserve day list, having been seen by staff at first light by the track leading to Lower Hide. I headed there as soon as I entered the reserve to find three likely looking birders staking out a clearing. So I joined them and gave it thirty minutes before moving on to the Lower Hide itself, which was the only viewpoint on the reserve with decent views of wildfowl. Caught up with the Yb birders later and, in response to my questioning eyebrow, they shook their heads and said "no".

Despite this, the Lower Hide and track to it were clearly the most productive part of the reserve in those conditions. I spent the whole morning in the vicinity. A small mixed tit flock there included two Marsh Tits. But Birds of the Day for me, on account of their confiding nature and prolonged views, were two Treecreepers navigating a large Silver Birch.

After a winter warmer lunch in the cafe, I headed for the Jackson and Grisedale Hides. Both were empty of birders and similarly of birds apart from two Pied Wagtails skating on the ice which covered both stretches of water. Passerine sighting was better from the approach tracks though parts of these were treacherous and I could move only slowly. One other couple I saw on the footpath gave up halfway.

So difficult conditions but the cold atmosphere and frosted surroundings made it a delight to be there. In hindsight I'm glad I didn't hear that phone call from Tony. "................ Thanks Frank; I'm glad we're still on speaking terms!

I went over to Rostherne later in the day, it was looking very picturesque (see image above)......"I waited for the snow to stop and had an early lunch before going over to Rostherne arriving at 12:15pm. The temperature was 2.7C and it had dropped to 2.4C an hour later when I left. The thermometer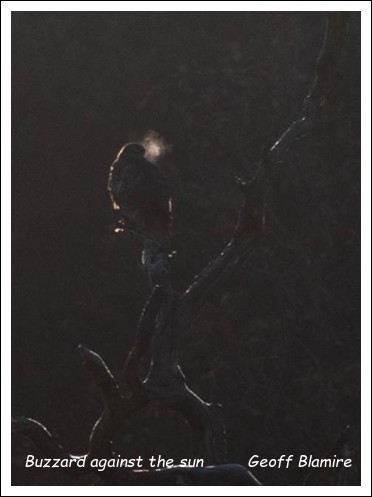 in the obs. showed a minimum recorded temperature of -5.6C; I assume this was overnight on Thursday/ Friday of this week. I didn't re-set it.
Predictably the bird table was very busy, a Cetti's Warbler sang from near the boathouse and a Little Egret flew low over the mere heading towards the Bittern hide."........

Earlier in the week (Weds. 7 December) Geoff and Sheila Blamire included the reserve in their daily walk ..............""We decided to go to the Rostherne Obs via Cheery Tree lane - 12km in all. Quiet birdwise along Cherry Tree Lane until a Buzzard flew up from one of the fields and perched in a dead tree by the wood with the sun behind it forming a highlight around the bird - beautiful. Every time it called you could see its breath in the freezing temps. When it finished its meal (vole?) it flew to another dead tree to use a lookout perch. Continued along Marsh Lane, across the two fields then passed in front of Wood Bongs and saw another Buzzard in a dead tree by the mere. When we arrived in the Obs the outside temp was 0⁰C , the inside temp was 2.5⁰C ! No other birders had braved the cold. The "usual" Mallards, Wigeons, Tufted Ducks, Pochards, Goldeneyes (2f 1m) etc , but good to see a female Goosander fly in. Continued to Ciceley Mill Pool and 3 Buzzards flying low together - all the time calling. The pool was almost frozen over. The same with Little Mere.
The last time I saw a Woodcock was earlier this year when we disturbed one from Wood Bongs and it flew the length of the field beside Marsh Lane and disappeared over Marsh Lane farm - just as we were walking along the field! ...........

Bob Groom also went to Rostherne the following day but took in Tatton Park on the way ........."According to the Met Office it was -5C at midnight and -6C through the early hours. Definitely the coldest night that we've had for a very long time. The maximum for the day was forecast to be zero C so again the coldest day in yonks. In the event it crawled up to +2C but still brutally cold. I went into Tatton. To my surprise Melchett Mere was mostly unfrozen , which was good as the 'pool' at the head of Tatton Mere was hard frozen (so no gwe). Cormorant and Heron shared the half-dead tree and there were 3 more Cormorants. 3 Wigeon, 3 Egyptian Geese, a few Pochard and Gadwall. There was a brief duck panic, which spread to a big tit flock in the trees but it wasn't a raptor. Another Heron had taken off from a treetop..

Two small birds beyond the mere were probably the Stonechats but hard to tell with the vegetation covered in hoarfrost. A few people were photographing the winter wonderland but the park was pretty quiet considering. I carried on to Rostherne and met Phil Dell in the observatory. I got him on a departing Little Egret but he missed a Woodcock flying past, my second in two days! He's e-mailed me this evening to confirm. It was apparently disturbed by Rupert and Bill doing survey work in Doll's Meadow. (A lot of Teal also came out.) There were 5 Goldeneyes with the drakes head shaking! Also 2 Egyptian Geese, 2 Herons, GSW, LTTS....".........

I'm sure it's not needed but a final reminder that this coming Friday (16th December) it's our annual KOS Christmas Party. The food will be as good as ever, despite the "Great Mobberley Disaster of December 2022" when a lorry backed into Goostrey's Bakery - demolishing a wall, dislodging three ovens and severing the gas supply! I believe Karina has sourced another supply of meat pies but, of course, this of little comfort to the villagers of Mobberley who are having to somehow survive this freezing winter weather without Goostrey's sausage rolls!

On the 29th December it's our annual Christmas walk and, as usual, we'll be taking in Budworth Mere and the Neumann's Flash area. 9:30am at the Witton Bridge car park.


---