Latest news, views, gossip etc.
Supplementary Pages 2021
.....
Back to Knutsford Ornithological Society Homepage

22/4/2021...... A day to remember!


On the 6th May 1978 we were in Suffolk on an early KOS long weekend.

I was a memorable day for two reasons.
#1 The local team, Ipswich Town, beat Arsenal 1-0 in the FA Cup final. The landlord of the local pub was an Ipswich supporter; he had a few beers prior to kick off "just to calm his nerves". After the final whistle he went into full celebratory mode with more alcohol. His wife and a couple of regulars carried him upstairs to bed about 9 o'clock but not before he'd bought everyone in the pub a drink!
#2 Earlier in the day we'd been at Minsmere and I'd heard the song of a Cetti's Warbler for the first time. They were known to be spreading north and, back in Knutsford a few days later, I was standing at the edge of Knutsford Moor with Jonathan Guest and I asked him how long it would be before we heard a Cetti's singing on the Moor. I think we agreed it would be about 40 years. Not far out, as on Sunday morning (18th) I heard a bird in song at the bottom of Drury Lane - my first. I know they've been seen locally for some time now but this was my first on the Moor.

Peter Dawson directed me to the correct spot and yesterday (21st), on the Moor, he had both Reed and Grasshopper warblers.
....."Had a quick wander down this afternoon to see whether any other warblers had arrived. The cetti's was in good voice in the scrub along Moorside. I moved along to Hillside where after a while I heard a reed warbler singing and a grasshopper warbler reeling. The latter quite subdued and only heard twice for relatively short periods in the space of about 15 minutes. I'll give it another go in a day or two......"

On Tuesday (20th) I paid another visit to the Moor and to Dog Wood. No Cetti's this time but as I sat at the end of the wood scanning the mere Tatton Ranger Simon Jones drew my attention to the spectacular bird pictured at the start of this update. He recognised it immediately as a Lady Amherst's Pheasant as he'd used feathers from this species to tie fly fishing lures - I hadn't a clue what it was!
It's not valid for inclusion on any lists (Life, British, Cheshire, Tatton, year etc.). Luckily I stopped listing when I grew out of short trousers and went up to the "big school".

Ranger Darren Morris didn't have to make this choice as I think he missed it - out on one of his Tatton safaris - this from last weekend.

"I had a four hour walk in the park this morning. Still 7 or more goldeneye on Tatton Mere. No hirundines but two mandarin.
A small flock of brambling with linnets and goldfinches at Swan Clump and a pair of mandarin on the Mill Pool again that seem to have taken up residence with the little grebes.
I walked around the farmland and outlying woodland but it was very quiet.
Had a good look for redstart at the Mill area too.
Oh and a nice pair of grey wagtail at Swan Clump too.
I'm just dissecting some barn owl pellets that I got out of the deer enclosure. Lots of voles!
Heard a Cetti's warbler too when walking along the Moor path.........Darren "

Mobberley's Gleavehouse Pool continues to entertain its aficionados. Wendy Stratford found her first Yellow Wagtail of the year on Sunday (18th)...."Just come back from a glorious early evening walk to the GP. 2 swallows and a charm of about 10 goldfinches in Gleavehouse Lane (near the barn), and skylarks singing over the usual field.
At the GP I saw a male yellow wagtail (hooray!) as I approached - by the edge of the pool near the "float through" under the hedge. Later he flew into the tree above - great view from the obs. A female yellow wagtail was on the far side of the pool at the waters edge. While I was watching her an LRP flew in and landed close by - it was still there when I left about 30 mins later, making fast little runs along the shore. The goosanders, oystercatchers and one shelduck were also there, and the usual backing cast. "

After some navigation issues Bob Groom paid a visit (Tuesday 20th) and had a rewarding morning - "The visuals did the trick. Half-hour there, half-hour back and a good hour spent at the 'observatory'! Frequent Raven sightings (including once over the pool) and as I discovered on Sunday there are definitely two birds about. Strange occurrence on the way down. Sure I heard a Cetti's call! Unlikely I know but it's hard to mistake that call, heard numerous times at Frodsham yesterday. Several Skylarks ascending in song, good views of one. At the pool, a stunningly bright male Yellow Wagtail gave super views. Presumably same as Wendy's bird. 1 Pied Wagtail. 1 House Martin swooped in several times to gather mud. 2 Long-Tailed Tits, m Reed Bunting (sallying out of the willow to catch insects!), Chaffinches, Bullfinch, plus 2 Tree Sparrows flying into clump of trees just before the pool. Stock Dove. Distant Buzzard. 2 Oystercatchers. Wildfowl Tally - 1 very naughty Shelduck attacked all 3 Coots and twice had a go at the female of the Mallard pair, giving the poor bird a right slap. (The male didn't intervene.) 19 Canada Geese, 7 Greylag Geese. Also a Moorhen. Altogether a very successful visit I felt as I swigged my apple juice in the sunshine.."

Jayne Davies has also been a regular visitor and has counted four Yellow Wagtails and the first returning Yellowhammer of the Spring..."I had a rather chilly stroll to GP this evening and was rewarded with the sight of 4 yellow wagtails.
The goosanders were back - I hadn't seen them for a while - but now there were three: a male and female sitting together, and a second male socially distanced from the pair. Also, my first yellowhammer this year - a male, sitting quietly on top of the hedge by the track.
Walking out via Mobberley SQ I saw a pair of Egyptian geese and a male mandarin, and as I was walking back towards Gleavehouse Lane a female mandarin flew over and landed in a wet area at the field edge. "

On Saturday Len Mason found a male Wheatear in the horse paddocks along Pavement Lane in Mobberley, a bird seen later by Wendy. I missed it but yesterday I had two distant males in a field of cows behind Gleavehouse Pool.

Geoff and Sheila Blamire once again explored Rostherne's Wood Bong and Geoff caught some of the action in two videos - well worth a view! (On YouTube you should see some of Geoff's other videos available on the right of the screen. Some have had 10K views that's as many as read this update each week!!) "Our walk from home included a quick stop by Newhall Farm just the other side of new A556 - we were watching a Brown Hare when it put up 2 Skylarks.
Continued up Rostherne Lane - but nothing of note on the scrapes. Past the Obs. to Wood Bongs and very surprised that the Treecreepers' nest has been deserted and with most of the nesting material been removed. It never seemed to be good spot with many twigs falling out. Couldn't see another nest close-by but there are so many places in that area ideal for a Treecreepers' nest I'm sure it will have relocated nearby. Here's a link to Geoff's video from Wednesday 14th April: https://youtu.be/YjeFqoKeaw4
But we found a Great Spotted Woodpecker's nest further into the wood, seen from the bridge. The male was in the middle of excavating the nest hole. Here is a link to Geoff's video taken this morning: https://youtu.be/JVbsS6xCT5k "

So there we are, up-to-date I think. There's a lot going on at this time of the year - Spring; the thought of which sustained our spirits during the long Winter months!
---







17/4/2021...... Summer migrants continue to return
A high pressure system remains firmly planted over the British Isles; it's brought a long spell of dry weather but the clear nights mean sub-zero temperatures, although the sun's getting stronger at this time of the year and daytime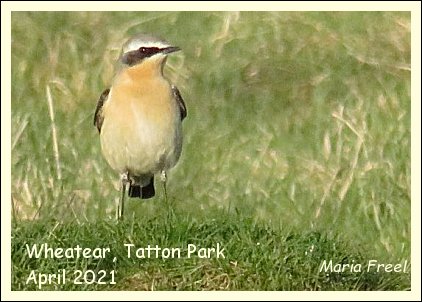 temperatures are reaching double figures.

Sand Martin counts at Tatton continue to decline as more of the birds continue north; there have been few House Martin records so far and it's the same with Swallows, although some are returning directly to local nesting sites here in Mobberley.

Darren Morris recorded the first Wheatears of the season with two birds near the Millennium Wood in Tatton last Sunday (11th). Earlier in the morning he'd had two Common Sandpipers on Tatton Mere, again the first of the year. Maria Freel caught up with the Wheatears the following day in the deer park and managed to capture the image shown.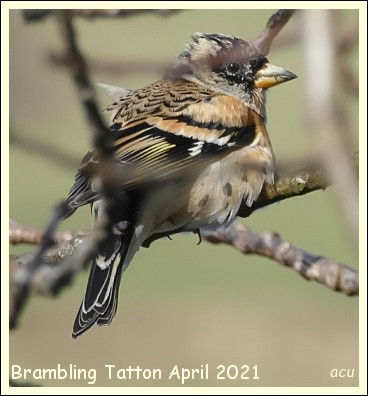 Also on Monday, (12th) I went in search of the Wheatears, unsuccessfully, but I did hear my first singing Willow Warbler this Spring as I sat on the bench overlooking the Mill Pool, where Little Grebes trilled, a Green Woodpecker yaffled and a pair of Mandarin floated on the water.

I heard another Willow Warbler the next day, in Dog Wood, near the bottom gate. I couldn't locate it but as I scanned a mereside oak the Brambing pictured caught my eye; it was perched at eye level, unusual, as later in the season, they're normally right at the top of the budding oak and beech trees.
Geoff and Sheila Blamire are still finding Bramblings in their back garden in Mere....."Anyway - now to the afternoon in our back garden. Started with a Goldcrest at the top of our big conifer and a Chiffchaff foraging along the hedge and next door's cherry trees (no song). Then started to count the number of finches: 8+ Siskins (4m 4f), Bullfinches (2+ pairs), Greenfinches (1pr), loads of Goldfinches and Chaffinches, 1 Lesser Redpoll and 2 BRAMBLINGS!!"

Bob Groom was anxious to add Brambling to his Winter list and I met him the next day (14/4) as he headed through Dog Wood in search of the previous day's bird...... "Walking through Dog Wood this morning I encountered Tony U returning. He hadn't see his brambling again but I was hopeful and pressed on. We remarked on the number of singing Blackcaps and Chiffchaffs. A lovely symphony of song. I watched a Tree Creeper feeding a second bird, presumably courtship feeding at what looked like a nest site. Sat on a log and watched the 2 Common Sandpipers on the bank and when disturbed fly down the mere. Very nice. I was about to start back when I heard a Great Spotted drumming very near the incline track in Tatton Mere Covert. I started up but then heard a wheezing call. I turned and as I did 3 Bramblings flew into the top of the big tree nearest the gate and gave good views before flying off with, I think, the 4th unseen bird behind them. Whoopee!"

Swain's Walk, Tabley, continues to provide some good records, including, on Monday (12/4), the first Yellow Wagtail this year by courtesy of the Blamires ... "Swain's Walk: the "dung heap" field was being planted with potatoes, accompanied by 70+ Lesser Black-backed Gulls, 9+ Buzzards including 7 on the ploughed edges but were being moved off when the tractor came too close, and - drum roll - Yellow Wagtail!!!!!"

Two days later, at the same location Peter Dawson had a nice sighting - ....."Just a quick update from my walk this morning across town to Swain's Walk and back via the Moor reedbeds.

Whilst walking back up Swain's Walk I saw a raptor circling that didn't look quite like the usual buzzard. Disappointingly it wasn't the hoped for osprey but actually a red kite. Where I'm originally from in Berkshire they are "garden" birds but of course much rarer in this area so good to see.
No reed or grasshopper warblers at the reedbeds but a cetti's warbler was singing from the usual place close to the cut through between Hillside and Moorside."....... Thanks Peter, I've yet to hear a Cetti's on the Moor but I think I've been listening from the wrong place!

The Little Ringed Plover hasn't been seen for a few days now at Gleavehouse Pool but, at this time of the year there's always something of interest - including on Thursday three Yellow Wagtails. My first this year..." 11 ° C as I walked to the Gleavehouse Pool, although it felt a lot warmer. Sufficient heat to generate some thermals, in one 2 Buzzards, m&f Sparrowhawk and a Raven. Pr. Tree Sparrows by the big gates and still c40 Linnets on the second big field. 2 Shelduck on the water and a f. Mandarin flew off as I arrived.
3 Yellow Wagtails were the highlight - 2 bright males and a female.
No Wheatears or Yellowhammers yet."
Jayne Davies was down there yesterday and reports just one Yellow Wagtail and two House Martins, so we should see many more of the latter over the coming days.

This is a good time of the year to count Rook's nests, before the leaves come out. Derek Pike counted 30 along Northwich Road, I estimated 18 in Ashley, just passed Sugar Brook Farm, 20 on Mobberley Road near the Bentley garage and yesterday 20 in Toft, just past the cricket club.

We should have Reed Warblers singing on Knutsford Moor this week. Geoff and Sheila heard one yesterday (16th) in Mere.... "Pair of Gt Crested Grebes have built a rickety nest close to the nearest bank. Female climbed on top and solicited the male which he obliged by copulating with her. But really spoilt it when he slid over the female's head into the water as if it was a water slide!!!! Very funny... Also: Reed Warbler singing!".

---







10/4/2021..... Migration stalled by the adverse weather.


The predicted cold weather duly arrived during last weekend and continued for most of the rest of the week. Having roosted nearby overnight Sand Martins would normally continue with their northerly migration early the following morning but because of the low temperatures, combined with strong winds straight from the arctic, they paused their journeys and large flocks built up over local waters. This, of course, included Tatton where Bob Groom proclaimed Saturday 3rd April as being Sand Martin Day!
"I DECLARE THIS DAY 'SAND MARTIN DAY'.... I headed into the park at opening time and was greeted with a real spectacle. At a conservative estimate 800, possibly nearer 1,000, Sand martins were over Tatton Mere. A huge number low over the water, end to end of the mere, but when you looked up there were three times as many in the sky! Despite a lot of painful scanning, I couldn't see any other hirundine species. But talk about hypnotic.."

Similar numbers were encountered at Marbury and by Tuesday (6th) Bob estimated 1,500 birds in the park as a whole. Along with them came their nemesis in the form of a Hobby, Bob's earliest ever record "...End-to-end Sand Martins as for the last few days, also a couple of Swallows and a single House Martin. At one point they all suddenly disappeared. For a moment I thought they had left then I caught sight of a tight ball of hirundines low behind the pine trees, I looked up in the sky and a Hobby was circling! Has to be my earliest ever locally. It moved away towards Moss Wood and was lost to sight. Within 5 minutes the hirundines had spread out again the length of the mere....."

Also on the 6th Geoff and Sheila Blamire went to Northwich, shopping for essential supplies, and found huge numbers of Sand Martins present there."....We went to Neumann's/Marbury CP this morning before going to Tesco (25% off wine finished today!). Around the flashes: 2 Avocets and 4 species warbler (Chiffchaff, Blackcap, Willow Warbler and Cetti's). Budworth Mere: end-to end Sand Martins (a big mere!) - well over 1000. Only found 1 Swallow and no House Martins..."

In Mobberley Wendy Stratford braved the deteriorating conditions and visited our local Gleavehouse Pool ".....Despite the fact that it's now snowing in Smith Lane I've just come back from a great walk to the GP - very blustery cold wind but sunshine the entire way, and the light was very sharp and bright which made the singing skylarks in both fields easier to see!
Approx 40 linnets in the Gleave House stubble field - flitting between the hedges and the ground. At the GP there were maybe 20 meadow pipits on the ground around the small ponds and also the pasture to the south of the big pond. They were well spread out and busy feeding.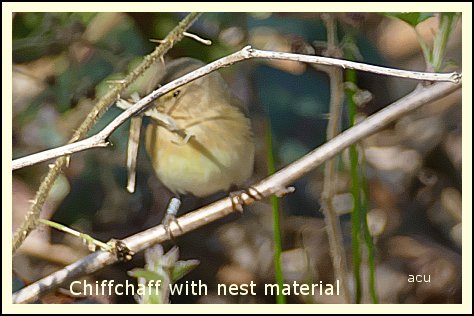 On the water were 14 canada and 2 greylag geese, the oystercatchers and the shelduck, plus pied wagtails, coots and mallards. The reed bunting was in the thorn hedge by the obs today. There were 4 swallows (possibly more) busy feeding over the fields to both sides of the pool - in full twitter, great to see!

Meanwhile I confined my activities mainly to Knutsford Moor and Dog Wood where there was some shelter from the weather!...."I stuck to Dog Wood this morning hoping for a Willow Warbler. Wall-to-wall Sand Martins again. Highlight was watching two Goldfinches carrying feathers and using them to line their nest in an elder bush right next to the path. As I watched them a Chiffchaff appeared carrying nest material and dived into the undergrowth (record shot [notice it's ringed])."....
No Willow Warblers for me yet but the early warblers are unperturbed by the current weather and getting on with the job in hand.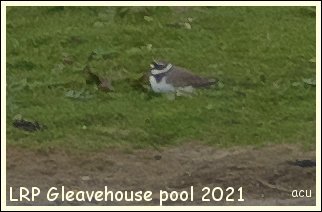 I received a text yesterday afternoon from Jayne Davies with news of a returning Little Ringed Plover at Gleavehouse pool. I made my way over there and luckily it was still there, at the far side unfortunately, a bit too far away for a decent shot with the camera (my camera anyway!). Jayne's first record last year came on the 8th April, so the weather doesn't seem to have put the bird off. Although at one stage last year three birds were present and some serious display occurred they eventually nested elsewhere. As I sat watching the goings on I was delighted to see a Little Egret fly over, heading purposefully north. A good record for the pool and Mobberley; I've never seen one in the village before!
We've still to welcome back any Yellow Wagtails (7/4 in 2020), we're lucky with this declining species as, last year, there were 3 or 4 nesting pairs within half a mile of the pool - perhaps this week!

The results of the RSPB's Big Garden Birdwatch have been published - you can download the spreadsheet by [clicking here]

This morning Darren Morris drew our attention to a YouTube presentation - "The reintroduction and rewilding summit". It's introduced by Chris Packham and amongst the guests is Roy Dennis, who'll no doubt be talking about the reintroduction of White-tailed Eagles on the Isle of Wight. We first met Roy in the 1970s during our stints as volunteer wardens at Loch Garten - Barrie will remember his wellingtons! [click here to watch]
---







02/04/2021...... More Summer migrants
We've enjoyed some pleasant weather over the past week, with the temperature reaching 20 ° C at times, so, with the lifting of some lockdown restrictions, I was able to meet-up with John Somerville and hon sec. Derek Pike in Tatton Park on Monday morning (29/3) for a couple of hours birding. I've seen Derek a few times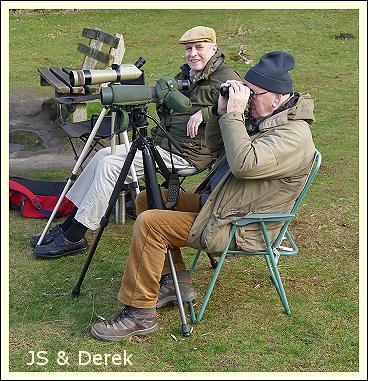 recently but it's been 12 months since I've seen John.
We set up shop on the shores of Melchett Mere hoping for a few passing migrants, but it wasn't to be and we saw very little; still it was great to meet face-to-face after such a long time and share some gossip and discuss current ailments!

It appears from the latest forecasts that the warm weather will come to an abrupt end on Monday, with winds straight from the Arctic bringing the chance of some snow once again! A timely reminder that Winter can still have a sting in its tail, a fact not lost on some Winter visitors that remain with us - Maria Freel recorded a flock of 27 Whooper Swans flying north over Tatton on Thursday morning (1/4); a few minutes earlier Steve and Gil Barber watched what must have been the same flock as the birds passed over Chelford. Also on 1/4 Geoff and Sheila Blamire saw some late Winter thrushes on one of their morning walks - "....Millington: 4 Fieldfares and 10 Redwings, so many Chiffchaffs and Blackcap, loads of Lapwings and Skylarks in the usual places.
Mere: 2 pairs Lapwings and 1 Oystercatcher on Mereside Road field pool, singing Goldcrest at last year's site on Mereside Road, 2 Goldcrests at the end of Clamhunger Lane, we still have male Reed Bunting in our garden...."

Sand Martin numbers have increased since the last update and a week ago Bob Groom counted 240 feeding over Tatton mere......"I settled down on the log to count Sand Martins and the more I looked the more I saw. My best count was 240+ but there could have been more. They tended to stay well down the mere so couldn't tell for sure if there was anything else with them but I doubt it as at one point they bunched into a 'swarm' and lifted up into the blue sky. They flew round a couple of times and I thought they might be about to depart but they then dropped down again and separated....."

Maria found our first local Swallow on Sunday (28/3) when she spotted a bird amongst the Tatton Sand Martin flock.
The previous day Geoff and Sheila recorded the first House Martin, this time at Rostherne where a new bird was added to the reserve's all-time list as Bill Bellamy recorded two Avocets - not on the new scrapes, but floating on the surface of the mere (23/3)! I've seen Redshanks "swimming" occasionally - not very efficiently but they certainly weren't wading.

I had a walk through Dog Wood on Tuesday (30/3), my first visit for a long time - 32 species including, 5 singing Chiffchaffs, my first Blackcap, 7 occupied Herons' nests, 2 pairs GC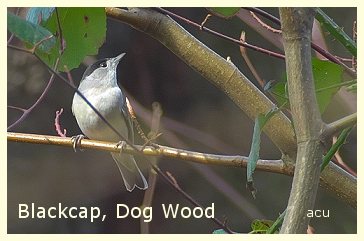 Grebes displaying on the main mere and one bird on the Moor, Gadwall, Stock Dove, Great Spotted Woodpecker.

Gleavehouse Pool continues to attract its devotees, this from Wendy Stratford - "..... At the GP this afternoon there were the goosanders, tufted duck, oystercatchers, one shelduck and also 6 canada geese, 5 coot, a moorhen, pied wagtail and 2 pairs of mallard. 2 buzzards overhead. Everything was quiet and most birds were resting, apart from the oystercatchers which were mating, which including dancing around with their wings outstretched (crane-like)! Skylarks singing over both fields.

Met Jayne at the pool - the first time we've met. Very nice to chat together. We are both hoping to see a ring ouzel again!"

Excellent! As W.B. Yates wrote "There are no strangers here; Only friends you haven't yet met."

---







26/03/2021......Return of a young friend.


The Rostherne Mere all-time species list stands at around 220; quite respectable for an inland location but it's taken a long time to reach that total - 140 years, or thereabouts! Coward and Oldham began visiting the mere in 1886, with some of their observations published in "The Birds of Cheshire" (1900) and "The Vertebrate Fauna of Cheshire and Liverpool Bay" (1910). It wasn't until Rostherne Mere was declared a National Nature Reserve in 1962 and a full-time warden appointed that the species count accelerated somewhat. Many, if not most, of the British waders have been recorded but, apart from Snipe, Lapwing and occasional Green Sandpipers, records are few and far between.
Recently though, taking advantage of the reserve's closure due to covid-19, a number of scrapes (23 I believe) have been created in the hope that passing waders will be tempted down and utilise the new facilities!
The plan seems to be working as, last Thursday (18/3), on one of their daily walks from home, Geoff and Sheila Blamire saw a Green Sandpiper on one of the new scrapes!
..."Rostherne Lane overlooking the new scrapes (meant to be 23!) 4.20pm: on one scrape was a pair of Mandarins, pair of Teal, 3-4 Pied Wagtails and a Green Sandpiper! (Well - Bill Bellamy did say they were hoping to attract waders there!!!)".....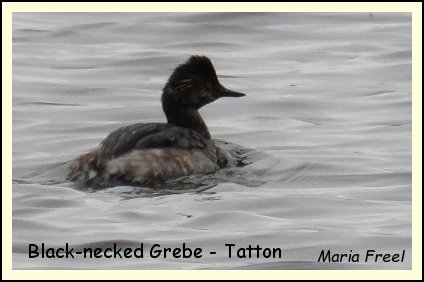 Despite limited access in 2020 Bill Bellamy has edited an excellent Bird Report for the year. As well as birds; dragonflies and damselflies are also covered, there are some cracking pictures and it's well-worth downloading [click here].

There are fewer species on the Tatton list, just over 200 I think. At one time, in the 1980s Bryan Roberts and Garry Healy were keen to expand this but, for one reason or another, they no longer visit the park. I believe Tatton Ranger Darren Morris has an up-to-date tally. Again waders are not attracted to the location, although there were some good records in the '80s when the water level of the main mere was lowered every Winter, exposing large areas of mud. This was arranged by my late brother-in-law, Tatton Ranger Phil Pownall, ostensibly to remove broken glass (swimming was allowed then) but in fact Phil knew it would benefit the birds and we birders!!

The park's Common Scoter only stayed a short time but was replaced by a first winter (2CY)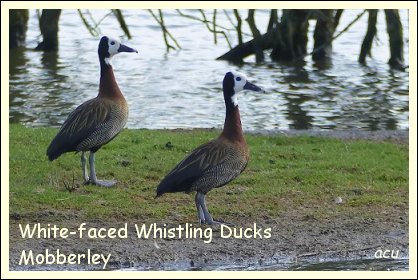 Black-necked Grebe, discovered by Darren last Thursday (18/3). As you can see from Maria's photo it's not an adult and quite possibly the youngster that appeared on 22/9 last year and stayed for almost a month, being last seen on 18/10.

Here in Mobberley, Jayne, Wendy, Len and I continue to follow the current travel restrictions and are largely confining our activities to the roads and paths around the village. Lapwings are displaying once again opposite Smith Lane Farm and last week I had three singing Song Thrushes on a 5K stroll around the lanes plus my first singing Chiffchaff, from the footpath on the new road hill. Wendy, Jayne and I have visited the Gleavehouse pool a number of times in the past couple of weeks. I went down on Monday - ..." I set off for the Gleavehouse Pool early(ish) this morning, complete with flask and a Goostrey's sausage roll, hoping for LRP, Goosander, early Yellow Wagtail or Swallow etc.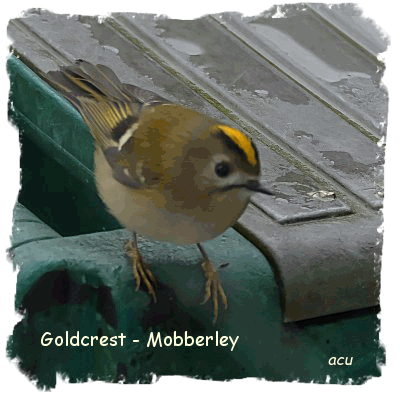 I spent a couple of hours in the GP observatory but didn't have much luck; 2 Oystercatchers, 4 Canada Geese, 3 Greylags, 2 Tufties and a calling Raven - in the same tree they favoured last year when away from the nest. 2 Skylarks were in song but that was about it!"
When Wendy went down in the afternoon she recorded a male and female Goosander.

On Wednesday (23/3) it was all change again, the Oystercatchers were still there with the usual 5 Canada Geese who'd been joined by these rather splendid White-faced Whistling Ducks; a species originating from South America and sub-saharan Africa. Perhaps these individuals came from somewhere a little closer!!

The Goldcrest pictured appeared outside the kitchen window as I making my breakfast one morning this week. It was taking insects from the window frame and seemed to be quite unconcerned with my presence; it even gave me enough time to go to the next room, grab my camera and run off a few shots! They were taken through two layers of double glazing, so the image is not pin-sharp but the softness introduced is quite attractive - that's my excuse anyway!

A reminder that it's time to renew your Woolston Eyes permit, if you've not already done so. Work on number 4 bed continues and eventually this will become one of the premier birding spots in the north of England - the March newsletter has been circulated and you can download a copy by [clicking here].

Well it's 12 months ago today when we first started to record our activities during lockdown#1 http://www.10x50.com/covid_index.htm and were restricted to birding locally, without the use of motorised transport. When war broke out in 1914 the consensus was that "It will all be over by Christmas". It wasn't.
Will this latest war be over by Christmas 2021? You'll have to wait and see - stay safe!
---







17/3/2021...... Another nice record for Tatton
Tatton Park ranger Darren Morris enjoyed a memorable morning today (17/3), beginning with his first singing Chiffchaff of the season at 9:00am in Dog Wood, followed a short time later with a male Common Scoter on the main mere. I was able to send out a few texts and emails to interested parties and during the next few hours a number of KOS members and friends were able to tick it off on their lists and for Maria to capture the image shown!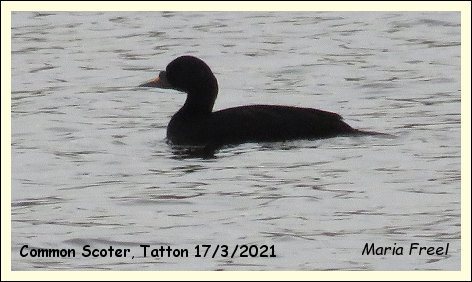 You may remember last year, in early April, we became aware of the nocturnal migration journeys undertaken by this species, as huge numbers passed over Cheshire at night, making their way to the North Sea after wintering in the Liverpool and Morecambe Bay area. Perhaps this bird was an early starter. Alan Gillespie tells me it was still present on the mere in the late afternoon.

We're now at the cross-over part of Spring, with early Summer arrivals overlapping with late Winter visitors, who'll be heading north soon.

Despite the recent stormy spell of weather Sand Martin numbers continue to increase. This from Alan Gillespie last Friday (12th)...... "I was in Tatton Park very early this morning in the rain (and a bit of sleet). It was very quiet as dog walkers had delayed their routines. I did see 8 or 9 sand martins (not easy to count as they were moving back and forth) on Tatton Mere around the blue buoy at the north end of the mere. These were my first for the year. I seemed to have ducked the previous sightings. Also had kingfisher, little grebe (2), displaying goldeneye, resident kestrel, calling green woodpeckers, calling raven as well as a very close encounter with a buzzard apparently drying its wings on a low branch much like a cormorant."

Representing our Winter birds, Hon.sec. Derek Pike reports a male Blackcap in his Lilac Avenue garden and Jude Halman had a small group of four Yellowhammers at Toft.

Geoff and Sheila Blamire meanwhile are still seeing Fieldfares and Redwings on their morning walks. They should be with us until the first week of April. This from Friday (12th.)......"Friday 12th March - 12km walk notable sightings

Chapel Lane over A556 (SJ725836): 10 Lapwings in 2 fields

Millington Lane opposite Newhall Farm (SJ733843): 33 Fieldfares and 2-3 Redwings in a field + 2 Buzzards

Cherry Tree Lane: stubble field after Cherry Tree Farm 10+ Lapwings displaying and 1+ Skylark singing; 2 stubble fields past Tom Lane 4+ Yellowhammers (1 singing) and 16+ Reed Buntings; further down in a field out of sight were 6 Lapwings displaying.

Mereside Road (SJ735829): in a field with an almost permanent pond were 2 Lapwings displaying.

Total of 28+ Lapwings at 4 different sites.

Plus on Saturday 13th March: Chester Road new small roundabout leading to the new bypass: north field 6+ Lapwings displaying; south field 2 Oystercatchers and 4 GreyLags......

Bob Groom did his monthly wildfowl count at Tabley on Sunday and did better than in February, although the news about the Herons is disappointing......"Good to see a variety of species on Tabley Mere, including best count of Teal (41) for a very long time. Also Shoveler, Gadwall, Tufted Duck, Mallard but surprising absence of swans (unless hidden in the reeds) and not much activity in the heronry, considering breeding normally well underway by now ".......

I walked down Smith Lane in Mobberley today, in the hope of hearing my first Chiffchaff. Normally it's possible to hear up to three in song along the stretch down to it's junction with Slade Lane. No luck on this occasion but I did watch displaying Lapwings in the big field of stubble opposite Smith Lane farm and, in the same field, a flock of c. 150 Linnets - very active commuting between the ground and surrounding trees.

Smith Lane resident Wendy Stratford has been down to the Gleavehouse pool three times this week and been rewarded with plenty of activity.

...."On Monday a pair each of tufted duck, shelduck, oystercatcher, canada geese and coot. On Tuesday the same apart from no shelduck, but 5 mallard and more Canada Geese. Also 3 skylarks singing above the normal field, which was delightful! As the crop is so low they were visible when they coasted down to the ground. Today no skylarks (although it was lovely and bright and warm) and at the pool the same as yesterday, with the addition of a pair of goosanders! There was also a small leggy wader at the back of the pond when I arrived but it flew away before I could identify it - best guess sandpiper?"......

It could well have been a Green Sandpiper Wendy, as we've seen them there in the past.
---







10/03/2021...... The first Chiffchaff!
Peter Dawson may have just missed out on the first Sand Martin of the year last week but, by way of compensation, yesterday (9th) he recorded the first singing Chiffchaff of the season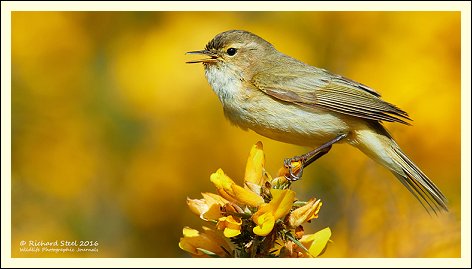 in Tatton!
".........First singing migrant of the year for me this morning, a chiffchaff in the scrub, town side of the Dog Wood entrance.
Also at least two, probably more, sand martins over the Mere and a pair of stonechats in the usual marshy area by Melchett Mere........."
Well done Peter, I think that's our earliest ever record. Perhaps singing Blackcap next!

There's a National Trust property, close to the church called Mobberley Field. Recently a big pool has been excavated there and I guess it will be called Mobberley Field Pool.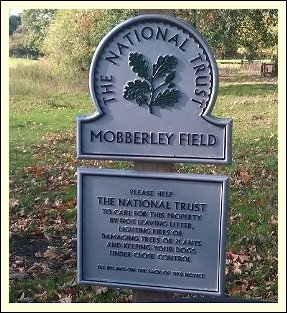 This is the title I gave to the pool "re-discovered" to the east of Gleavehouse Farm last Spring which was featured in many lockdown reports. So, to avoid any confusion, I propose to rename "our" pool "Gleavehouse Pool" and use the title from now on!!

So on Saturday (6th) I paid my first visit to Gleavehouse pool this Spring. Just 19 species which included 28 Canadas, 2 Greylags, 2 Oystercatchers, Skylark in song, Buzzard, Sparrowhawk, Stock Dove in "song".
No LRPs yet but they have been recorded in other parts of Cheshire.

Jayne Davies had been there two days previously.
........."Out past the field pond on Tuesday and again today. The pond and surrounding field were very busy, having been taken over by dozens of Canada and Greylag geese. Amongst the geese I've also seen four mallards, two coots, one male teal, two oystercatchers and two lapwings. So it's definitely livening up! There were skylarks singing above the nearby fields too, and a tree sparrow on Gleavehouse Lane."

Jayne was followed by Wendy Stratford and David Cogger...." I went to the Gleavehouse pool today - lovely calm afternoon. Counted 13 Greylags, 18 Canadas, 2 Oystercatchers, coot, mallard and a pair of Teal. I met David Cogger (I think) there, we had a good chat"....."

Yes Wendy it was David and apologies to you both for not warning you about the knee-deep mud!!

From this year the annual Cheshire Bird Report will be compiled using data from the BTO's BirdTrack database.
The BTO have published a newsletter for BTO members and volunteers in Cheshire and Wirral. Full details are given about BirdTrack and how to use it - you don't have to be a BTO member. To download a copy click here.

It can, of course, be used for all your records - in Cheshire or at any location in the world! Give it a go, it's very intuitive and KOS members will have no problem getting to grips with it. Just make sure that, in Cheshire, you use the locations that appear in the County gazetteer, a copy can be downloaded by clicking here.
Mobberley Sand Quarry and Mobberley Fox Harbour have been recently added.

Bob Groom's been out and about, taking in both Tatton and Rostherne...." Tatton was fairly quiet, perhaps people had been put off by the forecast of rain, unfortunately it was rather quiet birdwise too. No martins there, or at Rostherne when I checked. (Still don't understand why they cut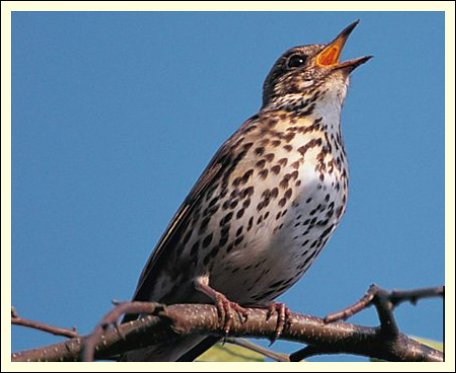 all those trees down, they were a happy home for blackcaps and chiffchaffs.) I went on to Cherry Tree Lane and like G and S had some good views - 4 Yellowhammers, 2 Greenfinches, a dozen plus Reed Buntings, 2 Greenfinches, Great Spotted, 2 Long-Tailed Tits, Buzzards.. but the highlight of the day for me was a Song Thrush, singing its heart out in a tree at the Rowans.."

The Blamires have reached a new milestone as we come up to 12 months since lockdown #1.

".......Over the last 4 days we've walked 43km and here are the best notable sightings:

Friday 5th March: the first stubble field after Cherry Tree Farm there were 7 Lapwings, but no Skylarks. Then further down Cherry Tree Lane, in the adjoining stubble fields, 20+ Reed Buntings, but no Yellowhammers.

Saturday 6th March: Garden - male Reed Bunting and 2 pairs of Bullfinches. Still got our pair of Mallards though...

Sunday 7th March: Yesterday, just outside our house, I found a Treecreeper singing, and a Pied Wagtail perching on a roof and singing. Chapel Lane, just over the bridge over new A556, 7 Lapwings in their "usual' field, but no display (it was cold!). Then walked around the whole of our new "patch', but this time we counted the stiles - there were 10. Not surprising we were exhausted! Next to Rostherne Lane we watched for some time a Sparrowhawk circling and towards the village 4 Buzzards were riding the thermals. Cicley Mill Pool - 3 Little Grebes, but no sign of any Great Crested Grebes yet. Little Mere, Mereside Road, 2 Great Crested Grebes were doing their synchronised head shaking and preening - looks hopeful.

Monday 8th March: Went into Wood Bongs - the first time in 2021! Watched repeated visits by 1-2 Blue Tits clearing out the Treecreeper's nest from 2020 and disposing the old nesting material nearby. Seems that they are planning to reuse the area behind the bark - seems very strange... A short distance away another Blue Tit is excavating in a dead bough. Then found a Treecreeper looking for insects and occasionally pausing to sing. It will be a tall order to find a Treecreeper's nest 2 years running!!! By the way, if you want to see what is going on the best place is from Rostherne Lane at the entrance to the footpath which cuts of a corner of Rostherne Lane.

But the notable thing for this week - drum roll - since the 1st lockdown we've walked the grand total of 3,000km, equivalent walking to Moscow (but as the crow flies it's only 2,560km to Moscow)......."



---







03/03/2021...... A record first and a first record!
Based on the meteorological calendar, the first day of Spring each year is March 1st, whereas, in 2021, the spring equinox occurs on Saturday, March 20th. This event marks the astronomical first day of spring in the Northern Hemisphere. But, as all KOS members know, the real first day of Spring is the day when the first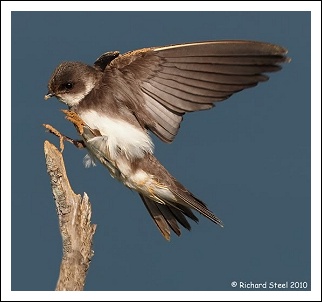 Sand Martin is seen over Tatton Mere!
So, this year, it was yesterday, 2nd March, when Tatton Ranger Darren Morris watched two birds hawking for newly hatched insects over the main mere, by the overhanging willows on the west shore. This was a new record, beating Roger Barnes's 2003 bird by a full 6 days!

Darren was closely followed by Peter Dawson, who almost took the honours this time!....." He beat me to it! I was in the park this morning and saw one flying north then two going south and then two going north. Some may have been the same birds so between 2 and 5. There were about 30 wigeon on MM, one male goosander and a kingfisher."

For me, and just as exciting, was Knutsford Moor's first singing Cetti's Warbler. Seen and heard by Middle Walk resident, Alan Booth..."Good news about the sand martins.
I had my first Knutsford Moor cetti's in the scrub at the moor side of Moorside Road this morning.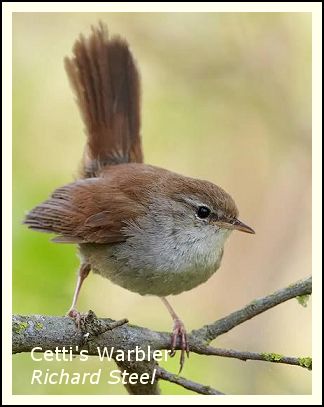 good views for a few seconds at 2 metres (social distancing) and singing very loudly "
Thanks Alan a long-awaited occasion and something we'd been anticipating for decades, ever since hearing them on a trip to Suffolk in the 1970's and becoming aware of their expansion northwards due to climate change.

The 2021 Olympics in Japan are almost certain to be cancelled but Geoff and Sheila Blamire are still in full training!
...."we walked 76.4 km / 47.7 miles over the week (7 days) - took us a little longer than usual because there was so much to see!!"

From Sheila's notes on 28/2 ...."Our 10.5 km walk today took us to Millington and our new patch we've found - walked new woods - so very promising.
Highlights was on Chapel Lane over the bridge over A556 in the left field were 10 Lapwings in the air plus 7 on the ground, including 1 soliciting for mating, and in the right field were 46 Rooks and 37 Jackdaws. Further along Millington (past Children's' Adventure Farm) was a singing Skylark (a new place for Skylark).

So notable sightings over the last week:
Chapel Lane: 17 Lapwings (calling), 21+ Golden Plovers in the field
Millington: Skylark (singing), Brown Hare.
Cherry Tree Lane: 6+ Lapwings (calling), 6 Skylarks (singing), c12 Linnets (singing), 1 Yellowhammer (singing), no sign of the c40 Reed Buntings from previous week.
Swains' Walk (aka Tabley Bridleway): 1-2 Skylark (singing).
Moss Lane: Green Sandpiper on a flooded field........."
---







23/02/2021...... Good times ahead!
News of Tatton's Hooded Merganser eventually found its way onto social media. Predictably there was some whingeing from certain quarters. ..."A poor excuse by the rangers and whoever else made the call in my view...It is a public park with no restriction on viewing...and a park full of ordinary public who had probably come further than would-be twitchers....just another example of the self-righteous covid police. "... On the whole though there was a positive reaction and agreement with the action taken. "Good decision. Twitchers would have travelled for this for sure. Stunning bird - will settle for the photo !".

Peter Dawson tells me that Oystercatchers have returned to the area with two birds on the flood water along Chelford road, along with two Shelduck (22/2).
Peter's also walked into Tatton and added to his Tatton year list. "I had a walk round the park yesterday, the first time in a while. Very quiet on the bird front and no sign of the merganser. Notable sightings were a pair of grey wagtails on the stream by the Old Hall and eight wigeon on Melchett Mere with a pair of stonechats in the marshy area to the south. There was also another pair in the marshy fringes on the west bank of Tatton Mere. There are still a few goldeneye around on both Meres. Down towards the southern end of Tatton Mere the usual lesser black backed gull was in amongst the black headeds, whilst looking at that I noticed a male goosander some distance away. First of the year for me. It was the Knutsford side of the "fence" so I think that makes it Knutsford Moor rather than Tatton Park?"
As I understand it Peter the park's southern boundary is the reedbed of Knutsford Moor so the Goosander can be safely added to your list!.

Park Ranger Darren Morris has kindly sent me a copy of their 2021 Wildlife Newsletter - you can download a copy from here - Tatton Park 2021 Spring Newsletter - it's well worth a viewing, if only for the stunning Stonechat picture!!

Geoff and Sheila Blamire continue with their daily yomps and last Monday (15th) came across an unusual aggregation of Reed Buntings .. " Our 11km walk consisted of Mereside Rd, along the length of Chester Road, continue to Cherry Tree Lane, up to Rostherne village, along Cicley Mill Lane and back along Mereside Road.
The 'usual' field along Cherry Tree Lane (with Rostherne Mere in the background) held c40 Greylag Geese. Then just pass Cherry Tree Farm 2 Skylarks singing!! in a field with a mixture of lank grasses and sedges. In the next field (stubble) were c40 Reed Buntings with no other species amongst them (I was looking out for Yellowhammers!). "

Bob Groom followed their footsteps a couple of days later (not the whole 11km) "Long time since I've been that far down and the lane was a bit busier than expected.(Birkinheath lane was closed due to cable work/ tree trimming.) But the birds were great. Quite a few Chaffinches but fewer Reed Buntings than you had ( about ten or a dozen) but still grateful to see so many. 4 Yellowhammers on the dividing hedge between the two stubble fields.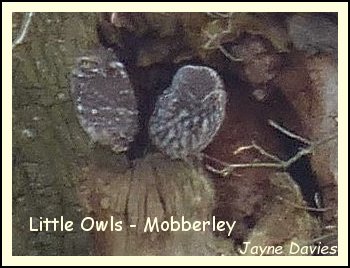 The 2 Skylarks put in an appearance while the sun shone. Long-Tailed tit plus several Great & Blue Tits. 4 Lapwings, 3 Goldfinches. At least 4 Buzzards, a Kestrel and great views of a circling Peregrine that came from the direction of Bowdon Church, headed towards Rostherne Mere, then went higher and veered off. Party of Redwings. Nuthatch. Bullfinch. Great Spotted Woodpecker drumming. Also Mistle Thrush and Song Thrush. Jay en route. Really good. Will definitely go back there for another session."

Closer to home Tony Ellis reports that he now has up to a dozen Lesser Redpolls visiting his garden feeders and they've recently been joined by a pair of Blackcaps.

Here in Mobberley Jayne Davies now has two Bramblings in her garden - "I'm still seeing a brambling in the garden most days, and occasionally I have seen two, both females. Today there were four lesser redpolls and a siskin in the garden too.
Down Pavement Lane yesterday, the two little owls were both in front of the nest hole, see photo.

Spring is coming! Let's hope we'll all soon be able to go out and about a bit more"

A sentiment shared by each and everyone of us Jayne! It appears that all being well groups of up to 30 people will be able to meet outdoors from the 17th May. That's the week before what is normally the date of the first of our Friday evening summer walks - Goyt Valley anyone?

---







14/02/2021...... More questions than answers


Tatton Park recently played host to a remarkable little visitor. First seen on the 20th January and a second time on the 2nd February, in poor light on both occasions, it was eventually re-discovered on the 4th February and identified as a Hooded Merganser - a first winter male.

The official British Bird List is maintained by the BOU, the British Ornithologist's Union. https://bou.org.uk/wp-content/uploads/2019/02/British-List-2019-02-01.pdf I was surprised to find that a bird that is quite common in wildfowl collections, with escapes bound to occur, is included on the list, based on a female of the species seen in October / November 2000 on North Uist.

The BOURC's announcement accepts that this decision was not straightforward. It was acknowledged that there are large numbers in captivity and known escapes have occurred, and the BOURC states that it remains of the opinion that the majority of birds in Britain and Ireland are derived from a captive origin. Conversely, numbers of the species in the Nearctic are increasing, and there have been several recent records from the Azores, implying that transatlantic vagrancy is certainly a possibility. Weather conditions in autumn 2000 also appeared conducive to natural vagrancy, and the bird arrived at the same time as a number of other Nearctic ducks.

From the BUBO website........Some birders may wish to count other individuals. For example, up to four birds were at large in the 1996/97 winter. The way BUBO Listing operates, British birders can add any Hooded Merganser to their list if they wish to do so. Some will wish to wait for the BBRC to pass judgement on a record before counting it. Others may feel that any bird that doesn't display obvious signs of captive origin is acceptable. It's up to you. Remember, however, that your record will be open to scrutiny to any other birders, so make sure you feel you can argue its case!

As far as I know only 9 KOS members know about this bird and, much as we'd have liked to publicise it's presence, we were, and still are, in the middle of a global pandemic. This country has a higher death rate / per capita from covid than any other on earth so we're obliged to follow the government regulations. Including - "You can continue to exercise alone, with one other person or with your household or support bubble. This should be limited to once per day, and you should not travel outside your local area. You should maintain social distancing." So, reluctantly, and in conjunction with Tatton staff the decision was made to suppress the news until the bird had moved on. It was thought that too many people would have been tempted to travel outside their local area to "tick" it off on their various lists, just in case it was eventually accepted as a genuine vagrant from North America.

During it's stay the bird favoured Melchett Mere but, with the very cold weather recently, both meres froze over and it has moved on, perhaps to the coast. Apologies to all you listers but, on this occasion, we really had no option!


---







11/02/2021...... Firecrest in Dog Wood
I think Darren Morris was after Lesser Spotted Woodpecker for his 2021 Tatton list on Thursday last week (4th) on a visit to Dog Wood. No woodpecker but he was rewarded with a real bonus for his list in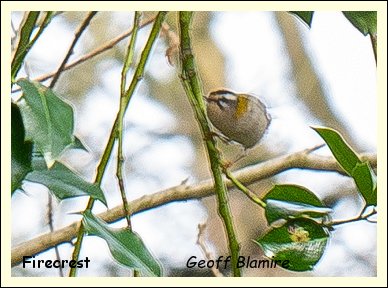 the form of a Firecrest, the first in the park for a long time. Geoff and Sheila Blamire were in Tatton at the same time and Geoff managed a record shot of the rare little visitor.
Darren has also added Pink-footed Goose (50 over -> NW yesterday) and a Ring-necked Parakeet over in the deer enclosure, bringing him up to 75 species already.

It appears that the current cool spell will last for a few more days, -3.5 ° C last night here in Mobberley, before the waiting Atlantic low pressure systems take over from the present continental high.
Lots of activity on the feeders, with four Lesser Redpolls regular visitors amongst the usual Green and Goldfinches. They were joined yesterday by a fine cock Siskin and today we welcomed a female Brambing in the wildlife area at the bottom of the garden; presumably this is the same bird Jayne Davies has been watching in her garden, just a couple of hundred yards away.

Also in Mobberley one of the Little Owl pair has been showing well along Pavement Lane, perched next to the nest hole they've used in previous years.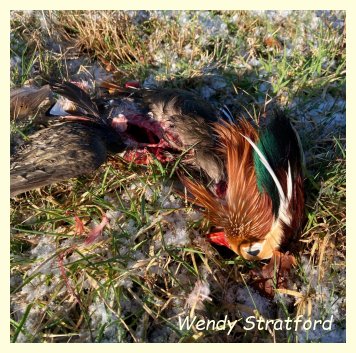 Along Smith Lane Wendy Stratford was watching a Buzzard feeding in the field opposite her house; after it left the scene she went across to see what the prey was, expecting a rabbit, she was surprised to find the remains of a drake Mandarin Duck!

Bob Groom and other KOS members have also been keeping an eye on goings-on in the park. Bob had a rewarding time on Tuesday (9th)........"Highlight was close view of a Peregrine that came from the direction of the Gardens. A Buzzard and later a Heron swept low over the marsh but no snipe came up, perhaps not surprising as there had been several birders in there earlier. A male Stonechat showed itself on the tussocks. Two sightings of a Kestrel. A Raven called and displayed. 10 Wigeon and about 4 Goldeneyes (male, sub-adult male, females) on Melchett Mere (about 30% ice). A male Mallard was amorously pursuing a white duck, obviously full of spring fever !"
Yes indeed, Spring fever - it's only a month now before we're welcoming the return of our first Summer migrants. Last year, unusually, it was Chiffchaff but by the 20th March we should have recorded them and also the first Sand Martins skimming low over Tatton Mere.

Of course this begs the question - "when will be able to get together as a society once again?". The general consensus is that, given a following wind, it will be outdoors at first and eventually we'll be able to resume indoor meetings. Our Summer evening walks, on the fourth Friday of the month, take place in May, June and July so perhaps these dates could be pencilled in as possibilities. What about an outdoor AGM sat on the big hill overlooking Mobberley's Fox Harbour?
---







02/02/2021...... The RSPB's Big Garden Birdwatch
Last year over half a million people took part in this, the UK's biggest Citizen Science project. Given our current circumstances this year's will be even more popular and hopefully include records from KOS members who had set aside an hour over last weekend.

Here in Mobberley the feeder had been replenished the previous day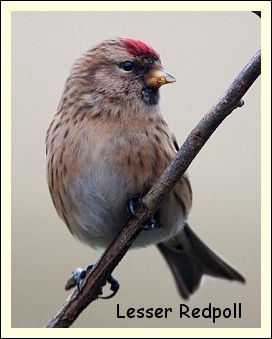 and early in the morning I "ground-baited" with bread, dry meal worms and some out-of-date Booths ginger cake.
Anxious to have Lesser Redpoll on the list I waited for the first to appear before starting the clock!
I did quite well and ended up with a total of 18 different species; the highlight was a Song Thrush. They can often be heard singing in the Spring but this was the first I'd ever seen actually in the garden.

As I explained in the last update, in the interest of continuity, it would be good if Knutsford Moor and the Heath were covered as in previous years. Bob Groom and Hon. sec. Derek Pike stepped up to the plate. Bob covered the Heath and Derek the Moor.

As in the past, with a larger range of habitats the Moor was more productive,.

"January 31st 2021 RSPB Big Birdwatch start 9 30am weather high cloud (forecast sun) temperature 2c.

I went early to miss the crowds of young families, One problem two women feeding the birds on Moor pool try counting BH Gulls when they are fighting for bread!!!
Birds - 10 Jackdaws, 2 Moorhens,3 Carrion Crows, 7 Tufted Duck, 3 Coot, 50+Black Headed Gulls 1 in Summer plumage, 5 Mallard all male, 4 Blackbirds, 5 Magpies, 1 Coal Tit Drury Lane end, 4 Blue Tit, 2 Dunnock, 2 Robins, 1 Great Tit, 1 House Sparrow, 10 Woodpigeons, 7 Canada Geese.
And the star bird 1 Goldcrest in hedge and flitting to trees opposite Swinton square. Not a lot of small birds about I should think saving energy because of the temperature!"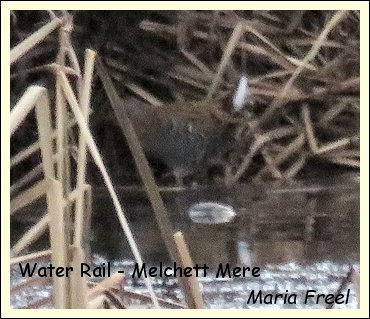 Meanwhile on the Heath Bob was disappointed with his haul ......" You beat me by two species! I had hopes of 20 but in the event only scored a measly 15 - no finches, woodpecker, not even a wren! Wood pigeon/Jay/Blackbird/Jackdaw/Collared Dove/Magpie/ Blue, Long-Tailed, Coal and Great Tits/Nuthatch/Carrion Crow/Dunnock/Robin/Black-Headed Gull.."
Counts of zero can be just as significant as any other Robert!!

Over in Mere Geoff and Sheila Blamire managed a modest list but it did include Siskin and Brambling!
"Brambling, Siskin, Bullfinch, Chaffinch, Goldfinch, Great, Blue, Coal, Long-tailed Tits, Great Spotted Woodpecker, Robin, Woodpigeon, Collared Dove, Jackdaw, Magpie, and Sparrowhawk = 16 species. Some flyover species but can't count them. In the past up to 20 species oh well.... "

Maria Freel's Tatton list for 2021 has reached 66 already - half way to the 125 target. Latest additions include Water Rail, Brambling and Goosander. The Rail on Melchett is a good one - they nest on the Moor but that's outside the park's boundary so any there won't count!
Darren Morris hasn't updated me with his latest list but yesterday he had no less than six Stonechats in the deer enclosure and a male and female Goosander on the Birkin.
It's turning out to be a good Winter for Goosanders, Tony Ellis has eight whilst walking around Shakerley Mere on Sunday (31st).

Roger Barnes reports four occupied Herons' nests at the Higmere Plantation heronry. Roger tells me he's just purchased a Panasonic bridge camera identical to mine so, as he walks through Tatton every day, I'm looking forward to some spectacular images for this section of the KOS website!

Incredibly I'd just finished this update and was about to upload it when I received a text from the above mentioned Roger Barnes informing me that he was sat at the side of Melchett Mere watching a female Smew!! We used to get one or two each Winter but I've not seen one in Tatton for many, many years. Did he get a picture? sadly no, it was raining and he'd left is new all-singing, all-dancing camera at home. Lets hope the bird stays for a few days!!
---







18/01/2021...... Busy Gardens
The newly formed Knutsford Medical Partnership was quick off the mark with the covid vaccines, last weekend (9th & 10th) they inoculated 1200 of the area's most vulnerable, followed this week by c. 500/day folk aged 75+. This seemed to include quite a few KOS members, including me!
I was in at 1:40pm and left 20' later clutching the all-important card with dates and details of the vaccine now coursing around my body - it was the Pfizer variety. Of course this is not a passport to freedom giving the bearer carte blanche to do as they please. It's a small but very significant step on a long road and it's still incumbent on us all to continue following the guidelines which, by now, we're all very familiar with.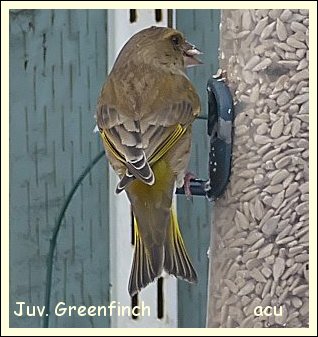 some cold weather lately with further snow forecast later this week. Here in Mobberley the sunflower hearts are vanishing at an alarming rate with visitors every morning from first light. The usual Goldfinches have been joined lately by what appear to be family parties of Greenfinches and up to four Lesser Redpolls and two Siskins; species we don't normally see until later in the winter. Hugh Pulsford tells me the juvenile Greenfinch was about 7 months old when the picture was taken and is probably a female.

Tony Ellis also has Redpolls in his Knutsford garden - "......... I had one of the best days for garden birds today: Lesser Redpoll, Siskin, Treecreeper, Bullfinch, Goldfinch, Greenfinch, Dunnock, Coal Tit,
And then the more usual: Collard Dove, Woodpigeon, Blackbird, Blue Tit, Great Tit, Robin........"

Over in Mere, Geoff and Sheila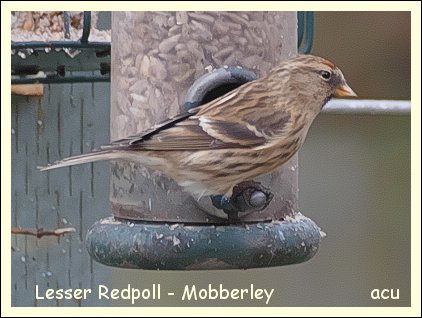 Blamire have been doing quite nicely too "....In our garden today: Lesser Redpolls (2m), Siskins (2m 3f), Bullfinches (1m 1f), also Goldfinches and Chaffinches (no Greenfinches), GSW, etc. And a male Sparrowhawk scaring everything away!!!!!"

In Sale John Somerville is lucky enough to have a female Blackcap visiting the garden whilst back in Knutsford Darren Morris has a male!

Roger Barnes reports a Jack Snipe at Melchett Mere on Wednesday afternoon (13th). A species ticked off by Darren on an early morning tramp around the park...."I had an early start today again and saw 48 species in total and took the year tally to 63.
New additions today were two that I targeted: Jack snipe (2) and woodcock (15) others included mandarin and two ravens getting very agitated over Shawheath Plantation. Still no brambling!"

The RSPB's "Big Garden Birdwatch" takes place from Friday 29th until Sunday 31st this year; normally we would be joining forces with the "Friends of the (Knutsford) Moor" and "The friends of the Heath" on two of these days for an hour or so in our capacity as "experts"!
It won't be possible this year but, in the interests of continuity, perhaps an individual or couple could use the locations for their hour's daily exercise sometime during the weekend and send the results to the two organisations. Having said that I read in the week that Northwich police attended Acton Bridge station where people who had been seen train spotting received an appropriate warning!!


---







11/1/2021...... Lockdown #3
The guidelines from the official government website tell us that, during the current lockdown, and until otherwise advised.

✱ You should minimise time spent outside your home.
✱ You can only leave your home to exercise, and not for the purpose of recreation or leisure (e.g. a picnic or a social meeting).
✱ This should be limited to once per day, and you should not travel outside your local area.
✱ You can exercise in a public outdoor place:

As usual these are somewhat nebulous and open to individual interpretation by the general public and those charged with ensuring compliance.

I'm sure it's OK for Knutsford residents to walk into Tatton Park for their daily exercise but I'm not comfortable doing the same having driven from Mobberley, although it's less than 3Km from home to the park's Dog Lodge entrance.

So for the time being I'll just stick to walking from Bucklow Avenue in much the same way as I did during the Spring lockdown and leave our Knutsfordian members to keep an eye on proceedings in Tatton.

One of the Little Owls along Pavement Lane can be seen during daylight hours roosting in the oak tree, directly opposite the new wooden gate 100 meters north of Pavement Lane Farm, whilst, from just in front of the old farmhouse, Peter Dawson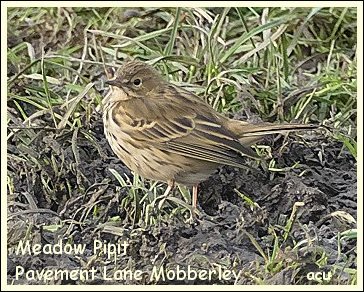 has seen a Barn Owl in the nestbox that they used successfully last year "On a couple of occasions before Christmas I saw what I thought was part of a barn owl in the box in fields between the lower section of Pavement Lane and Knutsford Rd. I couldn't see enough to be sure so didn't include it in my "Lockdown List". I had a look again this morning and an owl was sat outside the box in clear view! It can be seen from the metal gate by the donkey pen." Flocks of up to 20 Meadow Pipits can be seen from the same spot, feeding amongst the sheep in the field that runs across to the owl box.

The recent cold spell seems to have prompted some movement amongst our Winter thrushes with small numbers of Redwings and Fieldfares perched in the roadside oaks on the track down to Springwood Farm. Overhead occasional Skylarks have been heading west and the local Ravens, presumably from the Damson Lane nest, have become very vocal. They should be laying eggs in a month or so.

Tatton Park ranger Darren Morris and Maria Freel, who is lucky enough to have a flat in the mansion, are keeping lists of the number of species they record in the park this year. I think the all-time count is around 200 different species but that includes Knutsford Moor; Darren and Maria will only be including those seen within the park's boundaries, so any records from the Moor won't count. We were asked what's reasonable figure to aim for and plucked a figure of 125 from thin air! Many years ago we managed 75 species in a single morning and Garry Healy managed no less than 82 in a day in response to my challenge! So 125 should be easily achievable!

Maria has so far reached 39 species - Out walking out usual circuit today (past the ice pond, towards Rostherne, around to millennium wood, between Tatton and Melchett meres, then back to the mansion) and along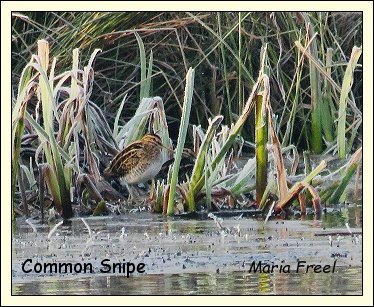 with the usual suspects we spotted a massive group of approx 200 redwing mixed with about 50 or so starling at the large clump of trees by the old deer sanctuary. The Raven was disturbed by a buzzard down by the millennium wood pond. 2 Little grebe on their own at mill pond. Heard a green woodpecker get disturbed from swan clump at the old hall. Plus there's still a good presence of pochard and goldeneye on Tatton mere. Overall a pretty good day leading my total to 39 for the year so far, 20 of those from today! Off to a flying (excuse the pun) start.
Darren though has 10 more with 49 ticked off after an early morning visit on Thursday (7th). - I went in for 8am again and saw kingfisher and a few snipe, plus two stonechat. I'm up to 49 for the year.

Geoff and Sheila Blamire also include Tatton in their catalogue of winter walks - Geoff and I went into Tatton Park yesterday for a 9km local walk. The conditions were challenging - well for me anyway now I can't wear my snow boots and of course we walk into other places that most normal people don't go to. Good though - one time we followed some fox tracks until they disappeared under the fence into Millennium Wood. Also the Stonechats and a pair of Goldeneyes gave very good views.

Bob Groom's never been a fan of Winter but you can't keep a good man down and he's been braving the elements in Tatton, Plumley and Mobberley - this from Thursday (7th) .....Certainly been a cold one today - min -5C,max +1C but by mid-week it will be up near 10C. Frosty scene may be very atmospheric, as it certainly was in Tatton today with the Stonechats, but personally I'll be happier when my fingers don't tingle.. Just hoping the snow forecast for the early hours doesn't put us back to square one, temporarily.
Lots of Fieldfares and Redwings in Plumley yesterday and in the paddocks off Gleavehouse Lane, Mobberley the day before. I think there has definitely been a further influx...
---







03/1/2021...... The cold spell continues



What does Tatton Ranger Darren Morris do on his day off? Well he goes for a walk in Tatton of course!......

Having a day off and knowing how busy the park is recently I headed out early this morning. Walking through Dog Wood just as it was coming light at 8am. By the jetty I could make out the silhouette of a kingfisher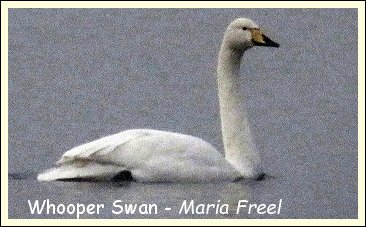 bashing a small fish against the branch it was perched on.
Snow was still underfoot and a scan of the mere revealing 6 mandarin, 5 little grebe, several goldeneye and a teal. Tufted duck and pochard plentiful.
It was great to see 6 whooper swans, 4 of which were 1st winter birds too further along the mere towards the public jetty.
On Melchett there were 8 wigeon and 31 snipe in the rushy corner, these were flushed way away from them on the path so I don't think there were any Jack's among them.
No brambling along beech avenue though.

Darren alerted me to the presence of the Whoopers on Tatton Mere in a text message, so I was in the park by 10:15am, just after the gates were opened to traffic. Unfortunately the whole length of the main drive, from the Knutsford entrance to the mansion, was closed due to snow and ice and I had to use the main car park before walking down to the mere. Sadly the swans had moved on but the opportunity to photograph a male Stonechat for the first time was a bonus, as was meeting Roger Barnes who'd had a pair on the far side of Melchett Mere at the same time as I was watching the two in the reeds of Tatton Mere - so confirming that at least two pairs of Stonechats are wintering in Tatton, something we'd suspected for some time.

The following morning, New Year's eve, Wendy Stratford followed Darren's example and was in Dog Wood before the crowds built up.

I went into Tatton via Dog Wood just after 8am today and spent a wonderful hour or so on the lake side in the snow (it was snowing!).
There was some ice by the far bank, and the middle of the mere was starting to freeze in places - frail ice? But the bank I was on was clear and the majority of the birds were feeding there.
The squadrons of geese were slowly but steadily moving towards Knutsford, and several groups took off and headed further away (Booths Hall maybe?). A pair of great crested grebes were starting their pairing dance on the far side - synchronised swimming towards each other, then away, repeat! Also swimming with neck and head low on the water and wings slightly raised. Lovely. 3 or 4 other gc grebes further up the mere feeding together. Saw 8 little grebes (3 together, 2 together and 3 alone). The pair were right next to a coot briefly, which really demonstrated how small they are. In the trees there were mixed tit groups, a nuthatch moving from tree to tree exploring the bark and song thrushes (one in Dog Wood stayed still in a bush close to me - great view).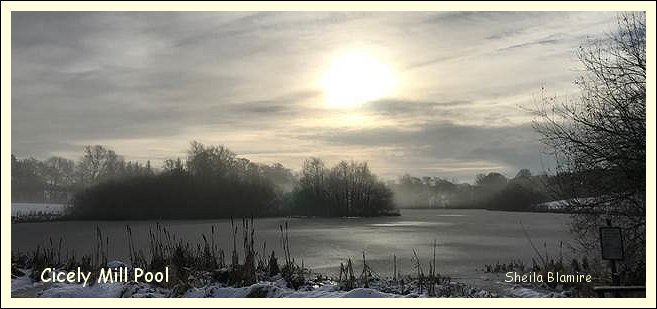 No swans to be seen at all, but I didn't walk right up the north end. As I was walking back by the jetty a kingfisher flew right to left and landed in the fallen tree by the Dog Wood fence, flashing brilliant turquoise.
Great tip from Darren to go in early - only saw a couple of runners, but as I was nearly at the gate on my way out there were quite a lot of dog walkers.

The current spell of freezing weather hasn't deterred Geoff and Sheila Blamire from continuing with their daily outings - the 30th December....The wildfowl managed to keep the strip of water open in the Little Mere - there were c45 Mallards and c35 Coots, but with half of them standing on the ice rather than on the water! We walked to Rostherne this morning. Cicely Mill Pool was completely frozen over - of course the whole pool is very shallow. We couldn't see Rostherne Mere because of the fog. All the fields had a blanket of fog as well which give the whole area an atmospheric feel.

And to start the new Year .....Our 9.2km walk this morning to us to Holford area. Highlights included: the "usual" field held 160+ Lapwings, then 80+ Curlews flew in but settled in a field out of sight (no idea whether they joined other Curlews already there); almost back to the car we came across another field with sheep held 80+ Lapwings with 4 Curlews, then c100 Curlews flew in along with c50 Lapwings, then c70 Pink-footed Geese flew low overhead. So - 3 quality species, with their evocative calls. Not bad to the start of 2021.....

Bob Groom finally managed to travel over to Tabley for the December WeBS count last Sunday.... Fortunately the weather was more clement than the M.O. forecast and although there were treacherous bits the paths were much better walking than I had feared. A highlight was several views of a couple of Tree Creepers in bright sunshine. The Mere was busy with wildfowl, including 300+ Canadas. For once Shovelers and Gadwall outnumbered Mallard and Tufted Ducks. Still 25 Mute Swans.. Just a single Goldeneye, they always seem to favour Tatton over Tabley and Rostherne.
I often used to see curlews in the fields to the right heading past the farm along Cheadle lane but not so much more recently.

---







01/01/2021...... A remarkable Lockdown List.
One of the few positives to come out of the pandemic has been the realisation that it's possible to enjoy birdwatching without the need to travel more than a short distance from home. Here in the Knutsford area we're luckier than many people as, on our doorsteps, we have such a good mixture of open countryside that's criss-crossed by well-maintained and well-marked footpaths.
During the first lockdown from the end of March until the beginning of May KOS members were out and about, on foot, within a few miles of home, enjoying the excitement of the Spring migration combined with a spell of beautiful weather http://www.10x50.com/covid_index.htm.
As lockdown regulations were eased we were able to travel a little further, using motor transport, rather than being restricted to Shanks's pony and most folk ended their lists. One person who didn't was Peter Dawson who continued right through to the end of 2020 and he's kindly summarised his activities over the nine months since the first lockdown in the article below.

I'm fortunate that my Knutsford house backs onto woodland, with plenty of water about, so I always see a decent number of interesting birds without going anywhere! I keep an annual list and usually see between 50 and 60 each year from the house. In a "normal" year, I wouldn't usually go on many walks from the house. Like most birders I suppose, I would generally go out in the car to sites where I thought that there was a much better chance of seeing some more uncommon birds. That all changed this year. According to my records, Lockdown 1 started on March 23rd and, at that time, we were told to stay at home and only go out for daily exercise or if necessary for work, essential shopping etc. Consequently, I started daily local walks from the house. As always, I would take my binoculars with me although sometimes only the "mini-bins" which are not great for seeing things but are much easier to carry! These walks were usually three main routes - Chelford Rd-Ollerton-Radbrook Hall-Toft Rd, Toft Wood-Seven Sisters Lane-Manor Lane and also through Booths Hall down to Pavement Lane.

When out and about in the early days, I met a few birders and stopped for a chat. The couple (apologies but I can't remember their names) that I met in Moss Lane told me about Swain's Walk and also that you were posting daily updates of local sightings on the KOS website. From this information I expanded my walks to include Swain's Lane and also to Mobberley Field Pool where a number of interesting sightings had been reported. In the early days, access into Tatton Park was not possible. As time progressed, the number species increased due to summer migrants arriving, To add a bit of interest, I decided to keep a "Lockdown List" comprising of birds seen and/or heard whilst out walking from the house. By the time that Lockdown I ended, in mid May, my list total was 86. I was pretty pleased with what I considered to be a good number so decided to carry on and see whether I could get to 100 by the end of the year. I thought that it was definitely possible but I would need to get a few unexpected ones in order to reach my target. On October 20th, I managed to get there by seeing a pair of wigeon on Melchett Mere.

By the end of the year, my list had increased to 106. I was very pleased with the final total and amazed at some of the species that are local to the area. In particular, there are three that I have trouble finding every year anywhere in the UK - yellow wagtail, grasshopper warbler and black redstart - so to find these so close to home, and in the case of yellow wagtail breeding - was very surprising (to me anyway)! Below is a summary of the "best" birds that I found and where they were.


| | |
| --- | --- |
| Site | Bird |
| Home/Sanctuary Moor | tawny owl, sparrowhawk, brambling, lesser redpoll, pink footed goose, siskin, little grebe, peregrine, green woodpecker |
| Knutsford Moor/reed beds | reed warbler, grasshopper warbler, raven |
| Tatton Mere | kingfisher, black necked grebe, goldeneye, egyptian goose, common tern, curlew, grey wagtail, wigeon, stonechat, green woodpecker |
| Mill Pool | redstart |
| Melchett Mere | egyptian goose, wigeon, snipe, stonechat, teal |
| Chelford Rd floods | mandarin duck, shelduck, oystercatcher |
| Toft Wood-Seven Sisters Lane | garden warbler, lesser whitethroat, red legged partridge, fieldfare |
| Lower Moss Wood-Radbrooke Hall | yellow wagtail, yellowhammer |
| Gleave House Farm area/Field Pool | yellow wagtail, wheatear, little ringed plover, raven, red kite, egyptian goose, sedge warbler, oystercatcher, yellowhammer, pink footed goose |
| Tabley Rd-Swains Walk | yellow wagtail, grey wagtail, hobby, tree sparrow |
| Tabley House | cuckoo |
| Booths Hall/Mere | shoveler, grey wagtail, pink footed goose, mandarin duck, raven, teal, black redstart, egyptian goose, goosander, collared dove, snipe |
* Heard only.

I should make it clear that not all of these were found by me - I was told about some by others so many thanks to all those who provided the information about both the birds and the walks. Also, many thanks to you for all your hard work in providing regular updates on the website.

If anyone wants any more information about when or where particular birds were then please feel free contact me.

A happy and healthy New Year to all!

Regards

Peter
---

26/12/2020...... Little & Large


The Firecrest in the Big Wood at Marbury Country Park continues to attract a steady stream of visitors, including some KOS members and it appears that all have been successful, it just requires a little patience and determination, as Bob Groom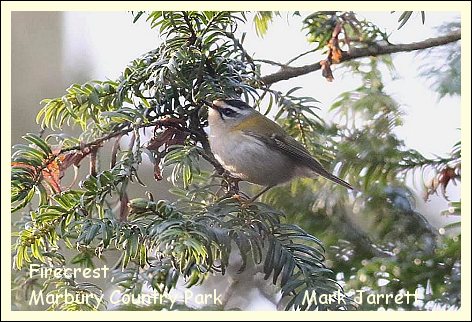 found.
......."I went over to Marbury with high hopes and had an excellent visit. The ringtail hen harrier that had been there on the Sunday (and at Neumann's the day before) was too much of a long shot so my aim was to see the diminutive rarity in Big Wood. En route I met up with Geoff and Sheila and just afterwards at the hide three birders came past who had just been watching the Firecrest! Following their directions and trying to ignore the brambles scratching my legs I joined another hopeful birder scanning the two big yew trees at the back. After half-an-hour he had to give up and go back to Crewe and I was considering leaving myself when birder-with-bike arrived from the other direction (a much easier route) and within minutes we were watching the little gem as it came out into sunlight near the top. What a lovely bird! Also seen the pair of Wood Ducks, pair of Goosanders, drake Pintail and when there was a disturbance at the far side of the mere 200 Curlews and 500 Lapwings (rough counts) went up. Great....." My thanks to Mark Jarrett for giving me permission to use the image of the Marbury bird (he refers to it as a record shot - some record shot Mark!)

Peter Dawson has been spending more time at Booths Mere recently, where he too had Goosanders......"The Black Redstart was still about yesterday when I was there. Another birder I met had seen it and I got a glimpse of what I think was it. There was also a report of it on Birdguides later in the day when it was back on the office roof.
There are also a few Goosander on the mere, a Pink-foot amongst all the Greylags and 10 Egyptian Geese and a pair of ravens over.
I'm going over there quite regularly now but haven't always seen the BR. Preferable to Tatton Park where there are so many people and dogs running around all over the place! ......."

Understandably in the current circumstances Tatton is getting a little crowded at times but it doesn't seem to affect the wildlife, on Thursday (24th), on his daily walk, Roger Barnes counted 150 Greylag Geese on Melchette Mere plus an interesting duck which, from his description, was, perhaps, a female Common Scoter.
At this, the other end of the size scale from the Firecrest, Pinkfeet have been passing over our area. Last Sunday (20th), whilst doing some essential maintenance in the garden, a flock I estimated at 400 to 500 passed over, heading due south and on Christmas Eve Len Mason had 400 flying west. There's no finer sight and sound, natural or man-made than these flocks of Pink-footed Geese.

The temperature on my weather station dropped to -2.5 ° C in the early hours of Christmas day and there followed a cold but sunny morning. Members took full advantage - even the Hon.Sec. and Mrs. Brookes!".........Years ago Jean and I had an Xmas walk down Sudlow Lane; well, we decided to go this morning being glorious sunshine, no wind and the temperature just above freezing. We hoped to see a Brambling no luck.
The highlight of our walk must have been GS Woodpecker drumming shows we are on upwards turn towards spring. Other birds below.
Blue, Great, L T Tit, Nuthatch, several Redwings flying and scuffling about in the leaves. 1 Fieldfare, Tree creeper, Jay, Blackbird, Song Thrush, Mistle Thrush, Carrion Crow, Rook, Robin, House Sparrow, Chaffinch, Magpie, Kestrel, Buzzard, Dunnock, Black-headed Gull".

Geoff and Sheila Blamire went over to Moore........."Our Xmas morning walk - set off at -3C with some sunshine and little wind. Fortunately the mud and enormous puddles were frozen to make it easier going.
Moore NR: started with Wigeon, Teal, Gadwall, Mallard, etc. 2 brief visits of a Willow Tits at the feeders, plus Coal, Blue and great Tits, Nuthatches, Chaffinches, etc.
Upper Moss Side: small flock of Reed Buntings.
Canal towpath: flushed a Woodcock!
Mersey River towards Wigg Island: usual gulls, etc, plus 21 Curlews and 100s Lapwings (at low tide).
Back to Moore NR: superb male Bullfinch.
A Good morning all round.............."

over in Marton Steve and Gil Barber also took advantage of the good weather......." We had c90 minutes out along a local lane. Ponds were frozen except one with a little open water which held a few Mallard and Teal. It was good to see that the field flood which provided lockdown LRPs in spring was back though iced over. Highlights were 7 Buzzards on the Lapwing field (but no Lapwings) and a Raven flushed from an item of food in another field. Anything smaller than a thrush was very thin on the ground! "

Thanks for your reports folks and to everyone who sent in their sightings over the past year.

This will be the last of 2020's updates. It's no use me trying to summarise the events since March, they'll be talked about and analysed by all and sundry for decades to come. Long after we're all gone. Lets just hope that 2021 proves to be a little less stressful for one and all.

We're now passed the shortest day, Derek mentioned a Great Spotted Woodpecker drumming on Christmas day and the Dunnocks are singing in the garden - things can only get better!!

---







16/12/2020...... The Black Redstart is still around


The Black Redstart remains in the vicinity of Booths Hall Farm and the Booths Park business complex but it appears to be giving just fleeting views, so I was probably lucky last Sunday to obtain a couple of record shots. Bill Bellamy apparently caught a glimpse of it on Sunday (14th) on his way home from doing the Tatton and Rostherne WeBS counts, details of which he sent to Tatton Ranger Darren Morris......Well it was a challenging Sunday regarding the weather. I'm hoping you weren't working but the rain did seem to keep the crowds away. I've attached the counts from Rostherne and Tatton. The rain and wind probably moved quite a bit of waterfowl to more sheltered sites. I did notice on my way home that there were 500+ Canada Geese on Booths Mere at the other side of Knutsford where there was also a flighty Black Redstart!
Highlights at Tatton included 4 Little Grebe and 12 Snipe with good numbers of Mallard overall (124)............ You can access the latest counts by clicking here.

The following day Bob Groom also went in search of the Redstart, he didn't find it but he did have what must be a record count of Greylags!........ As I couldn't go into Tatton I used my hour off to check Booths Hall in case the BR was still around. I didn't see it, perhaps moved on in the week, and only a few birders around also having no luck, so I concentrated on Booths mere. As Peter mentioned a huge amount of wildfowl, more species and bigger numbers than I've been having at Tabley recently and more than I can remember being there when I used to check it way b back. Must definitely keep monitoring it. A few Redwings around also. Surprisingly all the Greylags went up (140+) at one point (and all the ducks!) when a Buzzard went over and their calls echoed off the buildings. True stereo effect!

I've been in Tatton a number of times since the last update, it's busy at weekends of course, but in mid-week you can always find a quiet spot, especially up past the Old Hall towards the Mill Pool. New birds this week were a couple of Siskins in the alders next to the Melchett car park. Geoff and Sheila Blamire have recorded Siskins in their Mere garden, but no Lesser Redpolls yet this season. So we beat them to it in Bucklow Avenue where I saw two on the sunflower hearts last week but they flew off when I went inside to get the camera and haven't re-appeared!
The two Stonechats have been frequenting the big juncus reed beds at the north end of the park as well as the reeds along the western edge of Tatton Mere, this is where I found them last Friday(11th) where they were joined by a third party - the little weasel shown above (I also obtained my best photo yet of the female Stonechat but I've been told the world doesn't need any more Stonechat pictures, so it will have to remain on file!)

Today I walked as far as the conifer plantation hoping to perhaps locate a Firecrest (they've been recorded here in the past and there's one currently in the Big Wood at Marbury Park) Plenty of Goldcrests, seen and heard but they were high up and against the light, so no luck.

A little further up, just beyond Higmere Plantation and you're on Knutsford Moor where Hugh Pulsford and the South Manchester Ringing Group do much of their valuable work although, because of the virus, activity has been restricted this year.

We have been a bit restricted this year for obvious reasons but also the contractors responsible for "attempting" to clear the Himalayan Balsam encroaching along the waterways into the Moor. Their technique was originally to simply clear the entire area , cutting all the phragmites in one go, yes all 11 hectares!!

but I managed to step in and stop that reminding them and Tatton Estates that the breeding birds need last years reed stems to build their nests on. Amazing what environmental consultancies don't know. I also had to remind them that as a SSSI on botanical grounds, the ground flora was a balance of the entire area and below the phragmites were "interesting sedges and bog plants".

They were also too late in the season, so touching any plant led to an explosion of seeds etc. I gave them contacts at Woolston Eyes and RSPB folks who are savvy with HB clearance techniques and they have upped their game to a degree, but it is a one man band with a couple of helpers, which as we all know is useless against an invading plant like that.

So they have been clear felling in quarters of the bed earlier before the plants set seed, (although this has reduced the breeding number of Reed warblers using the area). They don't have the resource of the weed touch killing techniques or the ability to pull the plants earlier in the season which is very manpower intensive but highly effective.

I have had to juggle net lanes and catching areas over the last two years, although it is still a dangerous place to set foot in. The contractor tells me his workers have disappeared up to their arm pits on several occasions just stepping off a fox path not 20 yards from the road, and needed rope and tackle to get out!. there are no natural paths or walkways into the bed.

(I of course only send my trainees in!)

I've added a couple of sound files to the website this week.

The first is from the "Today" programme and is about nocturnal migration [click here]

The second is a tribute to Eric Hardy, first broadcast on Radio Merseyside shortly after his death in 1992. [click here]. It's quite long but very entertaining as the great man rails against authority!

Encouraging news from founder member John Somerville this week. His oft-postponed heart operation finally went ahead on Monday, he's back on the ward and anticipates going home tomorrow (Thursday 17th). It's been a frustrating time for JS but hopefully in a couple of months time, like the rest of us, he'll be out and about again visiting our favourite biding spots - Tatton, Woolston, Burton Mere and, John's favourite - Lunt Meadows.


---