they were seen at the end of December by Sue Middleton ( a new species for Sue), Darren Morris and Bob Groom , Derek Pike had 47 Lapwings on the big fields opposite the entrance to Lilac Avenue on 26th December, increasing to 112 on New Year's day - this is less than half a mile from Knutsford town centre and the site earmarked for a development of 260 new homes as part of the local councils "Vision for Cheshire East in 2030". Derek and Jean spent some time in Tatton over the new year and on the 7th January had two Green Woodpeckers calling and two Ravens displaying - the latter are very early nesters so hopefully they'll be setting up shop in the park once more. Tatton Ranger Darren Morris tells me they had 10 Woodcock in Hanging Bank on the 7th and whilst cleaning out nest boxes (they have 30) found that 90% had been used in 2017. It's hoped to attract Pied Flycatchers to the park and to this end some boxes are plugged until mid-May to prevent members of the Tit family from moving in before the flycatchers return.
Roger Barnes reports a Barnacle Goose and two Greylags on Melchett Mere; Bob also saw these as well as 7 Wigeon, a Kingfisher and a flock of Siskins in that area so we may have something to show the public this coming Sunday, the 21st, when we team up with the Tatton Rangers between 11am and 1pm for the annual wildfowl watch, Darren tells me that refreshments will again be available, probably only tea and coffee as last years scones were a bit of a bonus!.
The following weekend on Saturday 27th and Sunday 28th we'll be joining forces with the Friends of the Moor (27th) and Friends of Knutsford Heath (28th) for the Big Garden Birdwatch; each event will last for an hour beginning at 11:00am. All welcome - the more the merrier!

Later this month our KOS committee will be meeting to discuss the programme from May 2018 through to May 2019. Last year as well as the normal indoor and outdoor events we enjoyed the Scottish week in June and Lindisfarne at the end of September, perhaps we'll have another weekend away later this year and no doubt due consideration will be given to the possibility of a week abroad to celebrate our 45th anniversary in 2019!

Input from members is always welcome regarding any of the Society's activities - indoor or outdoor - praise or constructive criticism, your wish is our command!

30/12/2017...... Seasonal conditions for the Christmas walk
It would appear that whilst members appreciate ice and snow on their Christmas cards when it comes to the real thing they're reluctant to leave their firesides for a bracing walk around the Northwich Woodlands! So it was only a small group of stalwarts [noun: a loyal, reliable, and hard-working supporter of or participant in an organization or team] who braved the elements for the Christmas walk (29/12). It was pretty bad though I must admit! Heavy rain overnight that changed into wet snow at around 9:00am with a temperature of only 1 ° C as we set off from the car park next to the Stanley Arms. The path alongside the River Weaver was a bit tricky; frozen compacted mud with a topping of melting snow - eyes down rather than scanning the landscape for birds.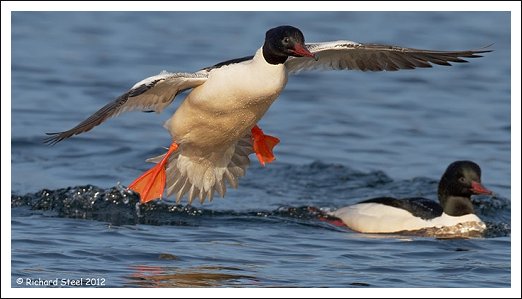 Teal, Cormorant, Mallard, Moorhen and a single Great Crested Grebe were all noted on the river before we took the steep steps up from the path to Haydn's Pool. The pool was pretty much deserted just a couple of Snipe and in the distance, surveying it's domain from the top of one of the old ICI chimneys, a lone Peregrine.
A bit more of interest in the woodland adjacent to Budworth Mere and on the mere itself where the highlight was a group of Goosanders - 2 fine males and 7 female/immature birds in a flotilla close to the mereside opposite the sailing school. The usual mix of woodland species - Jay, Treecreeper, Bullfinch, Nuthatch as we made our way to the viewing screen where Blue, Great and Coal Tits were feeding; both Great Tits and Coal Tits were in song during the morning. Up to six Hawfinches have been seen in the Old Hall area but once again we missed out although we did have a quick scan before making our way back to the cars; 3 hours in total which helped to blow the Christmas cobwebs away.

Passerines seemed to be down in numbers this year, I'm guessing that many species are taking advantage of garden feeders. We have two, one of which was designed and built by a friend and features the usual wire mesh front but which additionally curves round underneath at the bottom. It's filled with sunflower hearts and is attracting large numbers of Green and Goldfinches, especially the latter with up to 20 at any one time. The seeds are also dislodged from the bottom mesh onto the ground where they're consumed by Blackbirds, Dunnocks, House Sparrows, Chaffinches and recently 4 Bramblings.


There's a three week break now before our next KOS group activity beginning on the 20th January with the trip to Connah's Quay followed the next day by the Tatton Wildfowl Event in conjunction with the Tatton rangers. On the 26th it's the January indoor meeting with Jim Almond followed by the Great Garden Birdwatch on Knutsford Moor (27th) with the Friends of the Moor group and finally on the 28th we repeat the Garden Birdwatch with the Friends of Knutsford Heath.

Species seen on the Christmas walk, 29th December 2017.
Moorhen, Black-headed Gull, Blue Tit, House Sparrow, Blackbird, Mallard, Magpie, Buzzard, Dunnock, Chaffinch, Cormorant, Woodpigeon, Great Tit, Great Crested Grebe, Goldfinch, Teal, Robin, Long-tailed Tit, Carrion Crow, Peregrine, Snipe, Wren, Jay, Treecreeper, Redwing, Bullfinch, Great Spotted Woodpecker, Coal Tit, Curlew, Mute Swan, Canada Goose, Goldeneye, Goosander, Nuthatch, Collared Dove, Coot, Shelduck, Tufted Duck, Song Thrush, Pheasant, Common Gull, Herring Gull, Lesser Black-backed Gull, Green Sandpiper, [ ✓ 44]


19/12/2017...... A record breaking Christmas party!
A busy weekend for KOS members with the annual Christmas party on Friday (15th) followed on Sunday (17th) by the trip up to Marshside and Martin Mere.
The party went very well and, as our treasurer Frank Dearden reports in his email, we made a welcome profit during the evening.

Greetings,
I am pleased to report that, in addition to a very enjoyable evening yesterday, we also had a very successful fund raising.
The total profit realised was just short of £ 300.
This is a record and beats the previous best year (2015) by more than £ 20.

The table below gives the detailed breakdown.

Attendance £ 224.00
Raffle and bird lottery £ 67.00
Bring and buy/Auction £ 41.80
Total income £ 332.80
Expenses £ 36.40
Profit £ 296.40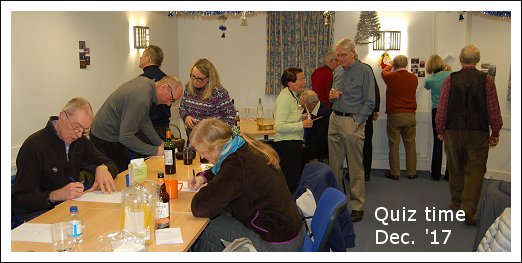 Twenty-four people were in attendance on the night but some who could not be there sent in donations to compensate so the attendance money is equivalent to twenty-eight persons. Securing quality speakers for our small society is an expensive business and we, quite reasonably, want to offer the best lectures we can to our members. The average cost for a lecturer is currently £ 120 per visit so the profit generated by yesterday's efforts buys us 2.5 speakers. That is approaching half of a whole season's expenditure on lecturers and reinforces how important the Christmas party is in generating funds to keep the Society going in its current format. To all those who contributed their time, effort or funds to staging last night's event, and to those who came and opened their purses/wallets, a great big thank you from the man who takes care of the cash. Merry Christmas, Frank Thanks Frank, as efficient as ever, we were all glad to see you back in circulation and in such good form!

On Sunday Marshside lived up to it's reputation as being one of the coldest places on earth! Dry as we left Knutsford but when we reached our destination it was raining heavily and the temperature was reluctant to rise above only 3 ° C. so it was off immediately to the shelter of the Sandgrounder's hide. It wasn't much warmer in there but at least it was dry.
The usual mixture of Wildfowl - Mallard, Wigeon, Teal, Pintail, Shelduck, Gadwall, Shoveler plus Canada and Greylag Geese. At one point, in the far distance, a huge flock of Pink-footed Geese passed over towards the Ribble estuary - many thousands - quite extraordinary we'd never seen that many before. Waders were well represented with Snipe, Black-tailed Godwit, Lapwing, Curlew and Golden Plovers but just a single raptor braved the elements - a tiny male Sparrowhawk that landed on a fence post just up from where we watched - it looked quite dishevelled and miserable.

Given the time of year there weren't many people at Martin Mere although a few brave kids seemed to have persuaded their parents to "Sail to Santa" across the water in front of the reception building where we ate our lunch before moving to the restaurant for a coffee.

The highlight of the afternoon came as we sat in the Ron Barker hide and watched five Marsh Harriers quartering the reedbeds. Apparently, earlier in the day, there were seven in view at the same time! There was the usual scrum at feeding time with 1,600 Whooper Swans and a sea of Shelducks hoovering up the grain but we saw only a couple of Ruff this time despite a count of 83 during the morning.
As the light began to fade the Pinkfeet returned (there are 15,000 on the reserve [thanks Marcia]) settling noisily at the far side of the main lake.

A reminder that this year's Christmas walk will take place on Friday 29th December meeting up at the public car park next to the Stanley Arms in Anderton at 09:45am. Derek has a 4.3 mile walk planned which, with stops, should take us about three hours.

species recorded at Marshside / Martin Mere on 17th December 2017.
Black-headed Gull, Mallard, Wigeon, great Black-backed Gull, Lapwing, Teal, Greylag Goose, Canada Goose, Coot, Moorhen, Pintail, Mute Swan, Little Egret, Redshank, Pink-footed Goose, Shelduck, Starling, Tufted Duck, Snipe, Sparrowhawk, Gadwall, Shoveler, Black-tailed Godwit, Curlew, Herring Gull, Golden Plover, Cormorant, Carrion Crow, Robin, Wren, Great Tit, Coal Tit, Goldfinch, Pied Wagtail, Whooper Swan, Jackdaw, Chaffinch, Grey Heron, Song Thrush, Ruff, Blackbird, Pheasant, Dunnock, Greenfinch, Blue Tit, Marsh Harrier, Tree Sparrow, Woodpigeon, Kestrel, Stock Dove, Magpie, Long-tailed Tit, Reed Bunting Treecreeper, Collared Dove, [ ✓ 55]

Back to Knutsford Ornithological Society Homepage...........2017 Archived pages



#