wind made it feel a little cooler.

10 members arrived to give a hand during the morning, including Yvonne and Darren Morris who once again provided tea, coffee, biscuits and a supply of hot water - essential ingredients with which to tempt people in!

We were surprised that given the more agreeable weather there were so few people passing by, but nevertheless with the promise of free refreshments we were able to accompany a steady stream of visitors down to the hide throughout the morning.
Amongst the 31 species seen or heard there was nothing unusual but, with the use of member's 'scopes, things like Cormorant, Black-headed Gull, Coot, Mallard, Shoveler, Wigeon, Moorhen, Little Grebe, Great Crested Grebe, Pochard, Goldeneye and Common Snipe could be pointed out to our guests. Alan Gillespie, a long time friend of the KOS, again paid us a visit and alerted us to the fact that, as last year, a Kingfisher was on view along the channel connecting Melchett and the outlet stream from Tatton Mere. A 'scope was quickly set up there and passersby were able to view a species they'd previously only seen on TV!
Most visitors were local to the area and from the positive comments received I suspect we may see some of them again at one of our coming indoor meetings or outdoor field trips.

Thanks to all concerned for their help in making this event such a success - we must do it again sometime!

Also in the park Roger Barnes tells me that Grey Herons can be seen perched high in the alder trees of Higmere plantation, staking out their claims to the most favourable nest sites prior to the breeding season, which is now upon us - young birds have been seen as early as February at some locations in the past. On his way to the Allen hide Alan Gillespie walked along Beech Walk, next to the golf course, and reports seeing Brambings feeding on the beech mast - the first I've heard of in our area this winter.
In Mobberley a pair of Little Owls have set up shop along Pavement Lane and this morning on Slade Lane I watched a group of 5 Bullfinches exploring an orchard and heard three Song Thrushes and two Goldcrests in song. let's hope they don't get carried away - it's mild at the moment but the weather people tell us it's going to get a lot colder - winter's not over yet!

There are some high Spring tides next week - around 10 meters on the 22nd, 23rd and 24th. The RSPB will be putting on a special event on the 23rd.

Wednesday 23rd January - Parkgate High tide Birdwatch (RSPB). 10.30am-2.30pm, Price: Free. In celebration of the RSPB Dee Estuary reserve's 40th anniversary, join us at Parkgate Old Baths for the awe-inspiring spectacle of a high tide flooding the vast salt marsh, potentially reaching the old sea wall. The marsh at Parkgate is one of the best wetland habitats in the northwest, and when flooded by an incoming tide, the wildlife which lives here is pushed closer, with chance of seeing the great range of ducks, geese, wading birds and egrets in big numbers as they are driven upstream by the rising tide. A range of birds of prey take advantage of mice and voles flushed from the grasses; hen and marsh harriers, peregrines and merlins all spend the winter months on the estuary and this is one of the best places to watch them, plus short-eared owls if we're really lucky. So why not venture out to try witness all the drama. Low pressure and a westerly wind will help push the tide and wildlife in close. There is free public parking at the Old Baths car park (CH64 6RN) at the north end of The Parade, and the Wirral Country Park car park on Station Road (CH64 6QJ). There are public toilets at Mostyn Square in the middle of The Parade, and a number of pubs and cafes. High tide (10.0m/32.8ft) at 12.36pm.

Species recorded in Tatton Sunday 13th January 2019
Jackdaw, Redwing, Starling, Brambling, Nuthatch, Great Spotted Woodpecker, Blue Tit, Great Tit, Cormorant, Mute Swan, Black-headed Gull, Coot, mallard, Shoveller, Kestrel, Wigeon, Moorhen, Little Grebe, Pochard, Goldeneye, Great Crested Grebe, Magpie, Carrion Crow, Blackbird, Tufted Duck, Coal Tit, Chaffinch, Kingfisher, Buzzard, Canada Goose, Snipe. [ ✓ 31]


07/01/2019...... January field trip to Connah's Quay


I'd sent out an email to members with the postcode for the Connah's Quay reserve, the venue for Sunday's first field trip of the year on Sunday (6th). It must have been correct as everyone arrived with time to spare. Everyone except me and Frank that is. A combination of old age and finger trouble on the satnav found us still on the A55 at the allotted time heading for Conwy and Llandudno!
Luckily Frank was in his usual unflappable mode and soon had us back on track. We were late but only by a few minutes. 75 years ago chaps like him would have been sat in the tattered remains of the fuselage of a crippled Lancaster bomber calmly guiding the pilot back to safety at some aerodrome on the flatlands of Lincolnshire! Anyway, suitably embarrassed, we eventually landed to hoots of derision from the rest of the KOS Crew!!

High tide was at 11:00am so we made our way immediately to the tower hide at the far end of the reserve, Chaffinch, Linnet and Brambling, seen from the cars, were early additions to the day list as we made our way along the track running parallel with the River Dee. Earlier in the morning we'd seen huge flocks of Pink-footed geese passing overhead as we approached Connah's Quay, a few more were seen from the hide but here Canada Geese predominated, a sizable flock grazed in front of us accompanied by a few Greylags and two difficult to find Barnacle geese.
Waders were well represented with c. 50 Dunlin feeding on the mud before the tide rolled in plus Curlew, Lapwing, Oystercatcher, Redshank, Black-tailed Godwit and, in the distance, viewable only through the bigger 'scopes, a small group of Knot.
We had a number of sightings of Little Egrets out across the estuary towards Parkgate plus one record of a single Great White Egret. A Peregrine appeared from that direction and landed for a short time on a nearby pylon, partially obscured by the structure but viewable through the 'scopes. Just four species of raptor during the day with the Peregrine, an early Kestrel, Buzzard and a Marsh Harrier seen by Bob as we walked back to the cars, bringing our final tally to a reasonable 51 species. The only disappointment was the absence again of any Twite; apparently they have appeared only intermittently in small numbers at very high tides and after heavy rain when fresh water pools, in which they were seen bathing, formed in the car park.

This coming Sunday (13th) we'll again be at the Allen Hide, overlooking Melchett mere, in Tatton Park from 11am until 1pm for the annual Winter Wildfowl Watch in conjunction with the Park Rangers. Always good fun and we're hoping that refreshments will again be available but this depends on what Darren can scrounge!!

species seen at Connah's Quay on Sunday 6th January 2019.
Chaffinch, Brambling, Linnet, Robin, Grey Heron, Blackbird, Song Thrush, Kestrel, Great Tit, Curlew, Buzzard, Raven, Shelduck, Lapwing, Teal, Canada Goose, Herring Gull, Black-headed Gull, Lesser Black-backed Gull, Great Black-backed Gull, Greylag Goose, Wigeon, Dunlin, Reed Bunting, Pheasant, Oystercatcher, Carrion Crow, Woodpigeon, Magpie, Shoveler, Coot, Moorhen, Cormorant, Redshank, Black-tailed Godwit, Barnacle Goose, Little Egret, Great White Egret, Greenfinch, Little Grebe, Long-tailed Tit, Marsh Harrier, Dunnock, Wren, Mallard, Peregrine, Mute Swan, Redwing. [ ✓ 51]
---

30/12/2018...... Christmas Walk
A pleasant enough day on Friday (28th) for our annual Christmas walk around Budworth Mere / Haydn's / Neumann's etc. - overcast but dry with a maximum temperature of 12 ° C. It was nice to see our Hon. Sec. Derek back out in the field and in great form! and also Hon. Treasurer Frank who survived a 10 hour drive up from Kent the previous day - sheer weight of traffic with cars queuing in the slip roads up to the services on the M25 and M6; how on earth are we to cope in the future when all these vehicles need their batteries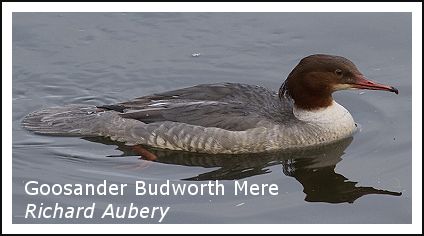 charging when we're all electric?

Our route took us from the Witton Bridge car park up to Haydn's pool, along to Budworth Mere then over to Neumann's Flash on our way back to the cars. Dunnocks, Great and Blue Tits were all in song as we approached Butterfinch Bridge, no Cetti's Warbler this year but a Water Rail called briefly from deep inside the reedbed upstream from the bridge.

Haydn's Pool was disappointing; it's currently overgrown with little water to be seen, but we did tick off Stock Dove and Peregrine on the day list - the latter perched on a railing on the old ICI building, not in it's usual position on the chimney - you can't hide from the Hon. Chairman's Swarovski!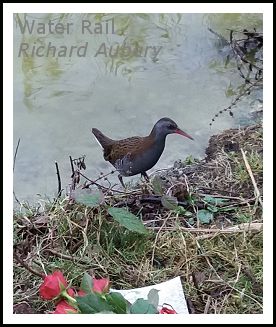 Elevenses were taken at the viewing screen overlooking Budworth Mere. More to see here, the most obvious species on view were the Goosanders - no less than 29 birds, four full adult males but mostly "red heads" one of which was fishing in the shallows, just below the screen, where Richard obtained the image shown above. A second Water Rail was heard from here whilst out on the mere good numbers of Great Crested Grebes two of which were displaying.

Over towards the sandspit were the gulls, Mainly Black-headed with a few Herring a handful of Lesser Black-backed and a single Great Black-backed. Other wildfowl included Shoveler, Tufted Duck, Little Grebe with a couple of Canada Geese and a lone Goldeneye. A Kingfisher flew low over the mere as we made our way along the waterside path and into the woodland.

Approaching Neumann's we came across a small flock of finches predominately Green and Gold but alongside them a couple of Lesser Redpolls. More Wildfowl on Neumann's with Wigeon and Teal present in good numbers; across on the far side of the flash a flock of c. 200 Lapwings (but no Golden Plovers this time). Richard, Geoff and Sheila diverted to Pod's hide before returning to the cars and from there had a Snipe and great views of a Water Rail which was so close that Richard was able to capture this shot with his phone camera. In the foreground you'll see red roses left in memory of Pete "Pod" Antrobus and in who's memory the hide was erected. A poignant image and a reminder that for many people Christmas and New Year can be a very difficult time.

Some up and coming dates for your diary.

Friday 4th January.... The latest CAWOS meeting - Paul Hobson "Scotland" 7:45pm at the Catholic Church, Tatton Street, Knutsford.

Sunday 6th January.... Our KOS January field trip to Connah's Quay. 08:30am at the Tatton Street car park or 09:20 at the entrance to the reserve. Hopefully the Twite flock has built up again this winter.

Sunday 13th January... Wildfowl watch with the Tatton Rangers. 11:00am to 1pm at the Allen hide.

Friday 25th January... KOS indoor meeting - "North Norfolk Here I Come" with Jim Almond

Saturday 26th January - Big Garden Birdwatch with the Friends of Knutsford Moor. 9am to 10am on the Moor.

Sunday 27th January - Big Garden Birdwatch with the Friends of Knutsford Heath 11am to noon on the Heath.

Species seen at Northwich Woodlands. Friday 28th January 2018.Dunnock, Robin, Mallard, Goldfinch, Blue Tit, Magpie, Chaffinch, Great tit, Blackbird, Woodpigeon, Nuthatch, Water Rail, Carrion Crow, Peregrine Falcon, Stock Dove, Mute Swan, Jay, Coal Tit, Song Thrush, Great Spotted Woodpecker, Goosander, great crested Grebe, Moorhen, Cormorant, lapwing, herring Gull, Common Gull, Lesser Black-backed Gull, great Black-backed Gull, Shoveler, Little Grebe, Tufted Duck, Goldeneye, Shelduck, Reed Bunting, Sparrowhawk, Coot, Kingfisher, Heron, Canada Goose, Long-tailed Tit, Buzzard, Greenfinch, Teal, Wigeon, Lesser Redpoll, Snipe. [ ✓ 47]

19/12/2018...... The KOS Christmas Party


Our 44th Christmas party went very well on Friday evening (14th). Despite fewer attendees than last year, as Frank Dearden our Hon. Treasurer reports, the society's finances received a very welcome boost.

Greetings all. A lovely evening last Friday rounded off our 2018 meeting programme with festive spirits fuelled by a delicious food offering. This event is also our sole fund raising effort of the year; here is how we did on that front.

A total of twenty one people attended the party; a figure lower than in previous years owing to a number of late cancellations from members felled by various bugs. Nevertheless, the evening was a great success on the financial as well as the enjoyment front, coming in the top three of KOS parties for money taken and profit recorded. The two occasions when slightly more was raised were years when we had guest lists of twenty eight. Based on the size of our gathering, it was the most financially productive party that we have ever had. Admission money at £ 7 per head raised £ 147.00 The raffle organised by Sue and Jacquie brought in £ 54.10 The bring and buy stall, followed by the end of evening auction, overseen by Sheila and Judith realised £ 54.40 Various donations totalled £ 53.00 This produced a total revenue of £ 308.50. Deducting modest buffet costs of £ 51.50 (all the offerings being subsidised in some way by the providers) gave a profit of £ 257.00 So a big thank you to all involved in our party, for supporting the raffle and the bring and buy, for providing the food and making donations. Also to Bob for organising a quiz and providing the prize. The sum raised will help keep the Society going and enable us to continue to attract quality speakers to our meetings. Frank Thanks Frank it looks as though we'll not have to post that begging letter to Jose Mourinho who's apparently leaving Old Trafford with a golden goodbye of £ 18 million!

I've not received many sightings of interest since the last update. Bob Groom was at Rostherne on 11th December and had a flock of c.100 Pinkfeet flying over. In Mobberley along Pavement Lane two Little Owls have taken over the oak tree nest site used two years ago by a pair of Barn Owls. Blue, Great and Coal Tits have been in song for the past couple of weeks and were joined over the weekend by the local Dunnocks. Not long now to the shortest day and in the garden the daffodil leaves are beginning to emerge - Spring can't be that far away - or am I being a tad too optimistic? In his weather column in today's Times Paul Simons, who correctly predicted the arrival of the "Beast from the East" at the end of February, seems confident that were going to suffer something similar in the near future, possibly as soon as late December although more likely in mid to late January. It could run through to February with hard frosts, ice and snow - you've been warned!

I've updated the trips and meetings page with three additional outdoor events. On December 28th we'll be having our Christmas walk around the Northwich Woodlands - Neumann's / Haydn's / Budworth Mere etc. meeting at the usual Witton Bridge car park at 09:45 for a 10am start.
We'll again be joining forces with two Knutsford organisations for the Big Garden Birdwatch. Friends of Knutsford Moor at 9:00am on 26th January and Friends of Knutsford Heath at 11:00am the following day.
---
Back to Knutsford Ornithological Society Homepage...........2018 Archived pages
#