morning sun. The feeding stations in front of the Lapwing and Bunting hides had more customers than the ice cream van in the car park! attracting Stock Doves, Reed Buntings, Greenfinches, Water Rails, Coal Tits, the expected Willow Tits and beautiful Bullfinches that prompted a crescendo of shutter noise from the photographers, who were also using the hide, whenever they appeared.

Derek and Jean seem to have settled into their accommodation in Portugal and Derek reports seeing Swallow, Bluethroat and Flamingo already from their bedroom window ....... Weather better today about 16c we have been sat on balcony watching tide roll in.......

I received a nice email from Hazel Raw over the weekend.........I had a wonderful experience on Thursday this week. I drove into Tatton Park and went to sit on the bench opposite Melchett Mere. It was around 11.45. Around noon I noticed two Water Rails in the undergrowth to the left of where I was sitting. On a branch of a tree adjacent to where they were a Kingfisher was standing, at the end of the branch, and it proceeded to dive down and fly back to the branch with a fish in its bill. The Water Rails became agitated and a Heron flew over. The Water Rails disappeared into the undergrowth. ........ Great stuff Hazel and a reminder that it's often just as productive to sit and wait for the birds to come to you rather than charge around looking for them!

The cold spell is coming to an end, apparently by Thursday we'll be enjoying temperatures up in the mid-teens and the BBC will be able to return to worrying about the NHS and what will happen when Donald gets bored with early morning tweets and tries to find out what that big red button's for.

Species seen on the trip to Pennington Flash - Sunday 12th February 2017
Raven, Kestrel, Black-headed Gull, Magpie, Dunnock, Canada Goose, Mute Swan, Mallard, Tufted Duck, Blue Tit, Goldeneye, Blackbird, Robin, Great Black-backed Gull, Goosander, Lapwing, Long-tailed Duck, Cormorant, Grey Heron, Kingfisher, Woodpigeon, Stock Dove, Goldcrest, Buzzard, Great Crested Grebe, Long-tailed Tit, Redwing, Herring Gull, Teal, Little Grebe, Song Thrush, Wren, Shoveler, Oystercatcher, Great Tit, Moorhen, Reed Bunting, Chaffinch, Bullfinch, Willow Tit, Greenfinch, Water Rail, Nuthatch, Coal Tit, Scaup, Carrion Crow, Jackdaw, Lesser Black-backed Gull, Rook, Little Egret (thanks Frank!)
[ ✓ 50]

07/02/2017...... Cold Spell Forecast
A large high pressure weather system over continental Europe is forecast to expand over the next few days, eventually covering the British Isles bringing much colder weather including some snow. So you've been warned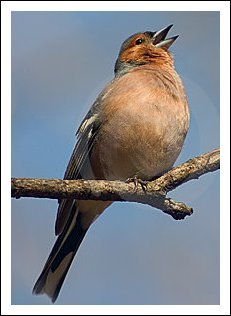 - although Daily Mail and Express readers will no doubt already know about this and begun stocking up on essential supplies or finalised plans to flee to the Iberian Peninsula for a month!
Before then though we've been enjoying some pleasant days - cold but dry and a number of our resident species were in song this morning in Mobberley - Blue, Great and Coal Tits, Robin, Dunnock, Song Thrush, Mistle Thrush, Goldcrest and, five days earlier than last year, the first Chaffinch spluttered into song along Smith Lane. No sign yet of Lapwings and Skylarks on the big fields opposite Smith Lane Farm - perhaps they know it's better to wait just a little longer.

Last Wednesday (1st) we spent the morning at Woolston Eyes, 39 species, nothing out of the ordinary, although from the bridge we watched a male Kingfisher as it hunted below us, it remained for some minutes, giving time for Derek to get it in the 'scope and allow everyone excellent close-up views - a second bird appeared briefly before flying off towards the weir.
News today from the Green Lane area of Knutsford where Bob Groom seems to have had a close encounter with a Merlin ..........A probable Merlin flew across Green Lane this afternoon. Unfortunately I didn't get the best of views as I was busy dodging cars at the time, the lane having become a regular shortcut to and from the A50. A small, dark falcon flying very fast and low with its wings swept right back. It kept on going and disappeared over the fields towards Moss Farm. In the trees on the perimeter of the Cemetery grounds scores of Starlings were burbling away in the sunshine... In years gone by Merlin were regular Winter visitors to the area, attacking birds going to roost on Knutsford Moor - Starlings and Corn Buntings - so you can tell how long ago that was!
This coming Sunday (12th) we travel over to Wigan Flashes for our February field trip - 9:00am at the Tatton Street car park.


Woolston Eyes - 1st February 2017.
Kingfisher, Magpie Blue Tit, Greenfinch, Song Thrush, Grey Heron, Woodpigeon, Black-headed Gull, Dunnock, Mute Swan, Coot, Bullfinch, Moorhen, Long-tailed Tit, Cormorant, Robin, Canada Goose, Teal, Shelduck, Lapwing, Kestrel, Buzzard, Goldeneye, Great Tit, Goldfinch, Blackbird, Reed Bunting, Wren, Tufted Duck, Pochard, gadwall, Greylag, Shoveler, Lesser Black-backed Gull, Great Crested Grebe, Carrion Crow, Great Spotted Woodpecker, Willow Tit [ ✓ 39]

30/1/2017...... A busy weekend
A busy weekend for KOS members began on Friday evening (27th) with a well-attended presentation by the much travelled wildlife photographer / filmmaker Mike Leach entitled "Owls of the World".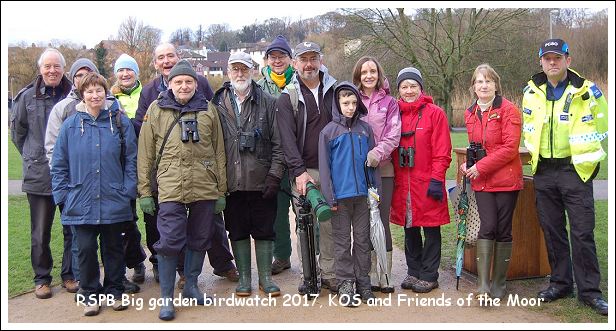 Mike's an excellent speaker articulate, witty and authoritative; I'm sure we'll be welcoming him back before too long.
Two new members have helped to swell our ranks recently so a warm KOS welcome to Bill Boyle from Knutsford and James Devaney from Lymm.

The following morning (28th) we joined our chums from Friends of the Moor for an hours birding on the Moor as part of the RSPB's Big Garden Birdwatch. The weather wasn't too promising - steady rain to begin with but by the end of the period things had improved as the two groups we'd formed met up again the collate the results. 31 species this time, four down on last year but not too surprising given the conditions. Once again we were fortunate enough to hear a Water Rail calling from the reedbed, 14 Shovelers on the moor pool were a surprise and good numbers of Redwings were present this time - due perhaps to the extremely cold weather they're currently enduring on continental Europe.

On Sunday (29th) it was the turn of the Heath as we got together with the Friends of the Heath for a similar exercise, although it covers about the same area as the Moor there's not the variety of habitats we enjoyed yesterday and we only managed 17 different species. Having said that those species that were present were well represented with good numbers of Blackbirds, Blue and Great tits and Robins in abundance!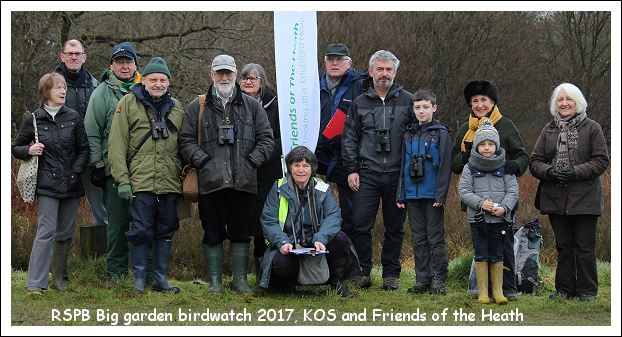 As a bonus, as the morning ended, news came through of three Waxwings just across the road along Garden Road, Terry Heath and Bob Groom sprinted off in that direction and were lucky enough to connect with the three before they flew off into the nearby estate (the birds that is, not Bob and Terry).

Bob Groom and Jacquie Ledward enjoyed a good day at the coast on the 28th - We stayed at BMW until the weather picked up, which fortunately it did. The tally included at least 4 Marsh harriers, close views of a ringtail Hen Harrier, 2 Peregrines, 2 Kestrels and 2 Buzzards (but no short-eared owl) plus excellent views of a Great White Egret, 2 Stonechats, massive number of Lapwings and the usual waders, ducks and geese. The only downside was the damp cold that chilled to the bone..

Closer to home and KOS members Steve Collins and Phil Dell were in the Whitley hide at Rostherne and it appears that they were lucky enough to be in the right place at the right time!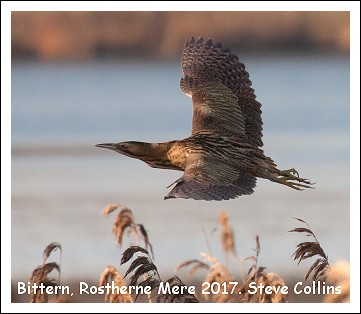 A Bittern made a flight appearance today at Rostherne-The first this winter I think. Phil and I were in the Whitley Hide about 12.30 and were talking about the Bitterns last year when one obligingly flew from left to right from the reeds near the channel across in front of the hide on a beautiful day! Unfortunately I hadn't got my camera out and was gutted but delighted to see it! I remember last year that when they flew they often came back shortly after so decided to stay for my lunch for an hour. It nearly caught me out as I was scoping around but at 1.15 it came back and flew across right to left to where it originally came from and landed in the reeds in the channel area. I always wanted a reasonable flight shot of a Bittern and nearly missed it and only got one photo in focus, but as they say, you only need one!

Terry and Sue Heath currently have Bramblings visiting their Knutsford garden, they seem to be widespread this Winter, Derek and Jean had 12+ along Beech Walk in Tatton whilst Geoff and Sheila have two in their garden on a regular basis, as well as a male and female Siskin.

CAWOS (Cheshire and Wirral Ornithological Society) have their latest meeting this Friday (3rd February) with a presentation by Mike Lane entitled "A Digital Lane" Mike is a full-time wildlife photographer specialising in birds and mammals, which he has done for more than 40 years. He gets to travel widely and has been to over 50 countries, but his main love remains photographing British wildlife which is more challenging. He believes that there is a technique or location where nearly all British birds can be photographed relatively easily if you know how. A Digital Lane tells of various places around the globe, starting with Black Grouse in Scotland, Finland for Brown Bears, diving Ospreys and then to some amazing drinking pools for birds in Hungary. Sounds good - 7:45pm at the Catholic Church on Tatton Street.

Species seen on the Moor - 28th January 2017
Blackbird, Black-headed Gull, Blue Tit, Canada Goose, Coal Tit, Collared Dove, Coot, Dunnock, Goldcrest, Goldfinch, Great Tit, Greenfinch, House Sparrow, Jackdaw, Jay, Long-tailed Tit, Magpie, Mallard, Moorhen, Nuthatch, Pochard, redwing, Reed Bunting, Robin, Shoveler, Song Thrush, Mute Swan, Tufted Duck, Water Rail, Woodpigeon, Wren.
Species seen on Knutsford Heath - 29th January 2017
Blackbird, Song Thrush, Nuthatch, Blue Tit, Great Tit, Coal Tit, Long-tailed Tit, Black-headed Gull, Robin, great Spotted Woodpecker, Woodpigeon, Magpie, Chaffinch, Carrion Crow, Goldcrest, Goldfinch, Jackdaw, Jay.

23/01/2017...... A successful Wildfowl Watch in Tatton
A cold but relatively dry day on Sunday (22nd) for our annual Wildfowl Watch in conjunction with the Tatton rangers,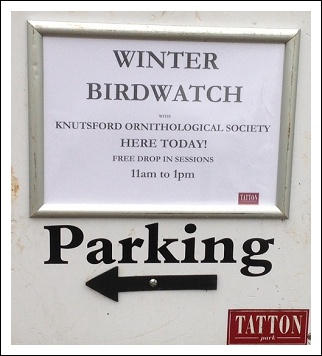 held at the Allen hide on the edge of Melchett mere. The temperature was 1.5 ° C at 11:00am and had only struggled up to 2 ° C by the time we shut up shop at 1pm but the park was quite busy with groups of walkers enjoying an invigorating walk before lunch despite a few intermittent light snow showers earlier in the morning.
Days like this can be very enjoyable as long as appropriate clothing is worn, yes of course we all look forward to Spring and the return of the warmer weather and our Summer migrants, but it's no use wishing the Winter away - it won't happen any quicker and time passes quickly enough as it is, especially when you've passed your sell-by date - carpe diem!
A good turnout of KOS members with 10 in attendance ready to deal with the great British public, as usual I positioned myself on the roadside close to the entrance, posh new KOS business cards in hand and attempted to persuade passers-by that their visitor experience would be enhanced by spending a few minutes in the Allen hide. The task was made so much easier this year as Yvonne and Darren Morris had set up a refreshment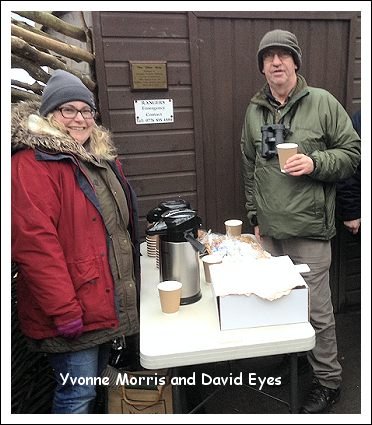 stall with tea, coffee, biscuits and even some freshly made scones on offer - FREE! As a consequence a steady stream of visitors made their way down to the hide. We estimated 50 to 60 this year mostly local of course, Knutsford, Mobberley, Northwich and Lymm but some from further afield Bristol, Colne and Scotland as I recall.
Visibility wasn't too good, with a light mist hanging over the mere but a few ducks and geese were on offer and the feeders were pretty busy all morning and I didn't hear any complaints as people left! Thanks to all the KOS members who attended - especially Yvonne and Darren the Ranger for arranging the refreshments.

Mobberley Sand Quarry (SQ) as we call it lies just off the B5085 at the edge of the village; it's the wet part of what's known as the Community Meadow and was purchased by the village a few years ago to stop it falling into the hands of any developers, including the ever expanding Manchester Airport.
When the quarry closed in the 1960's a large lake with sandy margins formed and, until it began to shrink in the 1980's,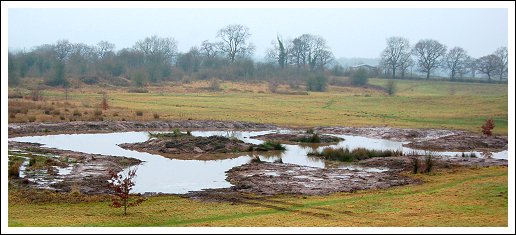 was the home of Redshanks and Little Ringed Plovers and an excellent spot for passage migrants in the Spring and Autumn. Greenshank, Spotted Redshank, Whimbrel, Ruff, Little Stint, Turnstone we had them all over the years! Unfortunately the lake became smaller and smaller until it started to dry up completely during the Summer months. Recently though an effort has been made to reverse this trend and an excavator has been used to dredge and deepen it, the excess mud and soil has been used to form two islands so it should be an interesting place to watch once again this coming Spring.

A busy weekend ahead for members starting on Friday evening with our first indoor get together of the year - Mike Leach will be giving a presentation entitled "Owls of the World". On Saturday morning we'll be taking part in the Big Garden Birdwatch on Knutsford Moor with the Friends of the Moor, followed on Sunday by a similar event on Knutsford Heath in conjunction with the Friends of the Heath. Both events begin at 11:00am and will last for the one hour allowed - any members who'd like to attend would be most welcome. Send me an email if you require further details of any of these events - tony@10X50.com


Species seen on Sunday in Tatton during the Wildfowl Watch
Robin, Mallard, Great Spotted Woodpecker, Coot, Great Crested Grebe, Tufted Duck, Pochard, Shoveler, Cormorant, Buzzard, Brambling, Redwing, great Tit, Blue Tit, Nuthatch, Coal Tit, Goldcrest, Meadow Pipit, Pied Wagtail, Woodpigeon, Fieldfare, Song Thrush, Jay, Moorhen, Magpie, Chaffinch, carrion Crow, Jackdaw, Blackbird, Goldfinch, Long-tailed Tit, Canada Goose, Wren, Mistle Thrush, Black Headed Gull, Pintail, Goldeneye, Green Woodpecker, Raven, Starling [ ✓ 40]

15/01/2017......The first field trip of the year.
A good start to the New Year with 62 species seen between the two sites we visited on our first field trip of 2017 (14th January), beginning at Warrington and the Moore Nature Reserve in the morning before driving over to Marbury Country Park at lunch time.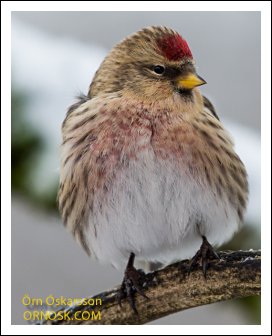 The weather wasn't too promising on our arrival at Moore it was raining quite heavily and the temperature was only 4 ° C (in fact it never rose over 6 ° C all day). In the trees above the car park and the first entries on the day list, a number of Lesser Redpolls, not good views as they were watched only in silhouette high up in the tree tops. The first of the hides is along Lapwing Lane overlooking Lapwing Pool and from there we had nice views of a good selection of wildfowl including Wigeon, Goldeneye, Mallard, Pochard, Teal, Coot, Moorhen and a very obliging Little Grebe feeding just a few yards in front of us, it's path underwater revealed by a tell-tale stream of bubbles and moving vegetation.
The feeding station was well stocked and attracting a steady stream of visitors - Reed Buntings, Blue, Great and Coal Tits but no sign, on this occasion, of the Willow Tits that are one of the Reserve's main attractions; they're a rapidly declining species and may have vanished altogether from Moore, this may also be the case with Lesser Spotted Woodpecker, another Reserve speciality conspicuous by it's absence.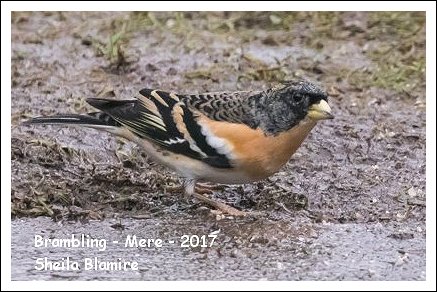 Birchwood Pool held a few gulls - Black-headed, Lesser Black-backed and Common, Bob found us his usual Sparrowhawk which gave good views through the 'scope when it landed opposite us in a birch tree - as we watched a Green Woodpecker appeared briefly flying towards the feeding station, species 44 for the morning.

It didn't feel any warmer over at Marbury as we sat in the viewing screen overlooking Budworth mere and the Coward reedbed, a Bittern had been seen here earlier in the week, no sign of it on this occasion but we did see a Kingfisher and heard at least two Water Rails calling from the reeds. On the mere good numbers of Great Crested Grebes (c60 were counted recently) plus Greylags and Shoveler for the day's final tally of 62 species.

There are still plenty of Waxwings around the area but they have yet to re-discover the berry laden cotoneaster trees in Mobberley that kept them sustained for some weeks during the last irruption a couple of years ago. Bob Groom with Darren and Yvonne Morris caught up with the birds at Tesco Northwich on the 30th December, but only very briefly before they quickly vanished - never to be seen again. Jayne and Nick Davies were pleased to have a Brambling visiting their garden in Mobberley on the 10th whilst over in Mere Geoff and Sheila Blamire currently have three Bramblings - they've now been around for a couple of weeks.
Don't forget that this coming Sunday (22nd) it's the Tatton Wildfowl watch in conjunction with the Tatton Rangers at the Allen hide from 11:00 am until 1pm - I've been told that refreshments may be available this year!

The latest KOS committee meeting took place on Friday evening at Geoff and Sheila's home. Treasurer Frank Dearden was happy with the financial situation and he'd allocated Sue and Jacquie a little more money this time for speakers and they've booked some really good ones for the next season (2017/2018).
A full range of field trips was provisionally agreed, although there's still plenty of work to be done before the list is finalised. From this year we will be having an August trip for the first time and rumour has it that we'll be returning to Lindisfarne and Suffolk during the period concerned: all for ten quid a year - you've never had it so good!

Moore and Marbury January 14th 2017. Stock Dove, Sparrowhawk, Robin, Great Tit, Carrion Crow, Blackbird, Goldfinch, Lesser Black-backed Gull, Long-tailed Tit, Lesser Redpoll, Great Spotted Woodpecker, Little Grebe, Wigeon Goldeneye, Mallard, Magpie, Pochard, teal, Coot, Tufted Duck, Moorhen, Heron, Woodpigeon, Blue Tit, Jay, Pheasant, Chaffinch, Reed Bunting, Nuthatch, Coal Tit, Goldcrest, Cormorant, Buzzard, Bullfinch, Jackdaw, Black-headed Gull, Gadwall, Great Crested Grebe, Canada Goose, Green Woodpecker, Common Gull, Wren, Herring Gull, Redwing, Kestrel, Mute Swan, Collared Dove, Mistle Thrush, Curlew, Buzzard, Water rail, Greylag Goose, Pied Wagtail, Kingfisher, Lapwing, Dunnock, Shoveler, Great Black-backed Gull, Little Egret, Starling, Rook. [ ✓ 62]

Back to Knutsford Ornithological Society Homepage...........2016 Archived pages





#