Trip report Finland and Norway 14-25 May 2022 - Colin Butler
The trip commenced early on the 14th at Manchester with my flight to Amsterdam to meet with the rest of the group. We the flew to Oulu via Helsinki arriving late afternoon for some birding around the hotel.

The real birding started early next morning when we met our Finnature guides at 03:00.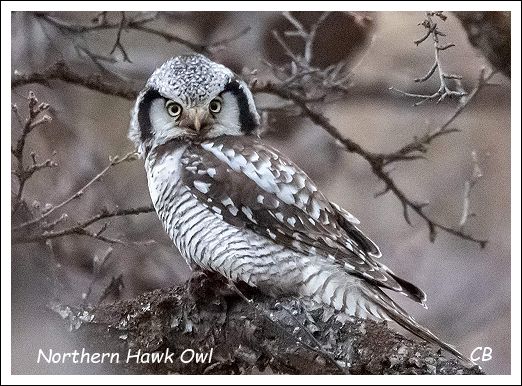 By mid-morning it was clear that the day was one of those days that can only be dreamed of. We had seen 6 species of owl,2 Great-grey being mobbed by a Short-eared, Ural, Hawk, Tengmalms and Pygmy. The rest of the day was spent adding Redwing, Fieldfare, Crossbill, Black Grouse, Capercaillie, Black Woodpecker and other Finnish birds whilst traveling to Kuusamo.

Photography was difficult due to 100% cloud cover and being in the Forest, but we did manage some photos despite this.

Another early start 03:00to meet another Finnature guide was the order of the day in Kuusamo. Siberian Jay and Siberian Tit were soon added to the list and soon after Rustic Bunting was added shortly after a singing Red-flanked Bluetail was photographed followed by a Three-toed Woodpecker. We had added the usually almost impossible to see Hazel Grouse we had the usual fleeting glimpses the previous day but within the nature of this trip we were treated to 30 minutes of unparalleled views of one feeding in full view.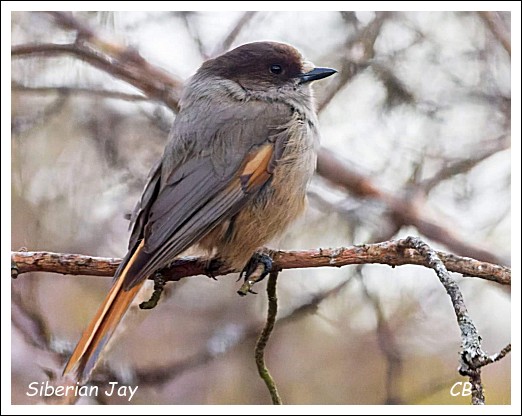 We left our guide mid-afternoon for to long drive to the next site at Kamaanen where we stayed at the famous Neltan Tuulen Tula for the night. This is on most birders itinerary due to the almost guaranteed sighting or Pine Grossbeak. We were not to be disappointed with numerous birds seen along with more sightings of Siberian Tit and Jay, numerous Gaudily coloured Brambling, Willow Tit, Arctic Redpoll, Waxwing and a Male Capercaillie and Even Red Squirrel.

We left Kamaanen for the long drive to Varangerfjord in Norway making regular stops for Common Crane, White-tailed Eagle and numerous calling Black-throated Divers. After the long drive we settled into our rooms in Varangafjord to be informed that there was a Hawk Owl nesting in the grounds of the hotel. Needless to say we visited the site, keeping well away, every morning and evening taking numerous photographs.

The next five days were spent visiting numerous sites in Varangafjord which proved to be very productive with the following birds added to the list.

King Eider a total of 160.

Sellers Eider a total of 25

White-billed Divers, a total of 10 were observed.

White-tailed Eagle were seen daily with a total of 87 counted on one day and a total of in excess of 200 for the trip.

Long-tailed Ducks an estimate of in excess of 4,500 sightings

Arctic Skua were daily sightings in Varangafjord

Long-tailed Skua finally arrived on our final day with two pairs seen displaying on the tundra

Short-dated Owl were seen daily.

Golden Eagle just two sightings

Rough-legged Buzzard a total number of 57 sightings were noted

Willow Grouse.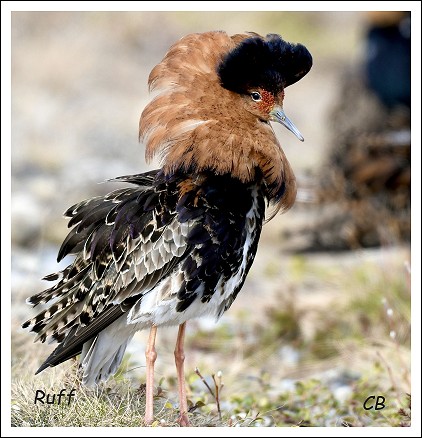 The Hawk Owl was seen daily in Varangafjord both morning and night and with 24 hour daylight photography was possible at 1am.

A visit to the seabird colony at Hornoya was one of the highlights. Hundreds of thousands of seabirds nest on the island including Guillemot, Razorbill, Puffin, Shags as well as being a reliable spot for Brunichs Guillemot. The sound and sights are overwhelming but when three White-tailed Eagles appeared there was complete pandamonium.

Hump-backed and Minke Whale were observed on two days.

One the journey to Ivalo for the return light Red-spotted Bluethroat along with a Ruff leck was added to the expanding list.

Many of the spring migrants were either in small numbers or yet to arrive but the reason for visiting at this time was to be able to see the wintering ducks like King and Stellas Eider.

There were numerous daily sightings of Mountain Hare.

Throughout the trip every seemed to fall into place until I went to the carousel at Manchester Airport where my luggage did not fall onto the carousel. At the time of writing the luggage is still missing along with one camera two lenses and a laptop containing around 7,000 photos