Trip to Morocco April 2017 - Lyn Graves, Simon Smith, Bob Groom.
Three members of Knutsford Ornithological Society, Simon Smith, Lyn Graves and myself, travelled to Marrakesh on April 4th to participate in a very successful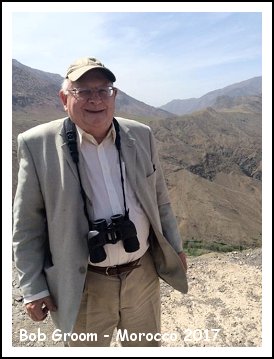 Ornitholidays birdwatching tour, visiting the High Atlas and the Deep South. (The High Atlas is actually comparable in height to the European Alps with Mount Toubkal almost reaching 14,000 feet.) Along with Sue from Shrewsbury and Andy from Ipswich with Dave Marsh leading, on day one we headed to Oukaimeden, a ski station at 2,650 metres (8,694 feet). Here we had snow just above us but it was receding rapidly due to the warm Spring and there was some concern as to whether we would see the special bird there which nests much higher but comes down to lower levels in winter.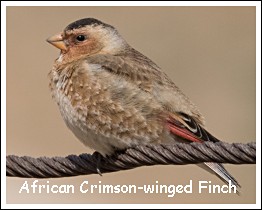 There were many hundreds of Yellow-Billed Choughs and scores of Red-Billed Choughs, a real treat. Also Rock Sparrows, Black Redstarts, Seebohm's Wheatears (a local split from Northern Wheatear), even Mistle Thrushes. Down on the river there were Grey Wagtails, Green Sandpiper and a White-Bellied Dipper and on the cliff above, White-Crowned Black Wheatear, Blue Rock Thrush and a surprise, a male Pied Flycatcher! As the 3.00 PM deadline to leave approached, worries increased but with just five minutes to go two beautiful Crimson-Winged Finches appeared on the wires. A new bird for everyone, including me. (Dave mentioned that one year the group arrived there in a snowstorm and didn't see the birds. Fortunately it was sunny and breezy for us.) En route we had super views of the beautiful Moussier's Redstart and a party of pale-phase Booted Eagles. More goodies on the way back to Marrakesh included Firecrest and Rock Bunting. On day 2 I was fortunate to spot a Levaillant's Green Woodpecker feeding on the ground and bring it to the attention of the group. It was a new bird for all. Other highlights of the day were Desert Lark, as well as Black, Desert and Maghreb Wheatears (a split from Mourning Wheatear). In the evening, as we did the checklist at our hotel in Ouarzazate at dusk, a Night Heron flew past.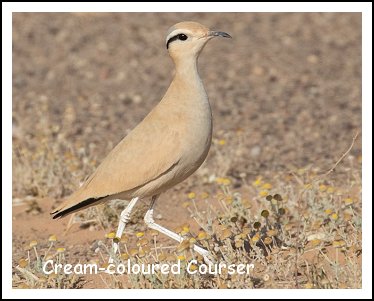 (Checklists are more complicated now than on my earlier visits to Morocco e.g. Olivaceous Warbler is now split into Eastern and Western species, both found in the area, one a resident breeder and the other a passage migrant. Another debate is whether the local Great Grey Shrike is just that or conspecific with the split Southern Grey Shrike, found in Spain, whereas, notwithstanding their different appearances Iberian and Blue-Headed Yellow Wagtails are still considered only races. The Moroccan race of White Wagtail is similar to the Masked Wagtail of the Middle East.) Friday, 7th April saw us at the huge Mansour Lake. On the dry approach area we saw many Long-Billed Crested Larks, a new split, local Hoopoe and Little Owl. Waders were in short supply but we did have good views of Wood Sandpipers and Little Ringed Plovers. A strange sight was a party of Chiffchaffs feeding in rotting vegetation around a sewage channel. A pair of Black -Eared Wheatears looked stunning in the strong sunlight and there was even a rarity, a male Red-Throated Pipit, also many Whinchats and a number of European Bee-Eaters. Marsh Harrier and Black Kite were seen around the lake. A Woodchat Shrike gave good views. Returning to the bus we found the nearby trees full of warblers, including Orphean, Subalpine and Willow, not to mention Common Bulbuls and even a few Turtle Doves. As we headed South from our lunch stop, where we had seen White Storks and many Cattle Egrets around the river, the landscape became more arid. In a semi-desert area near the famous Tagdilt Track we had fantastic views of a Temminck's Horned Lark on the nest and pecking round it, plus Hoopoe Larks, 3 Cream-coloured Coursers and a male Montagu's Harrier.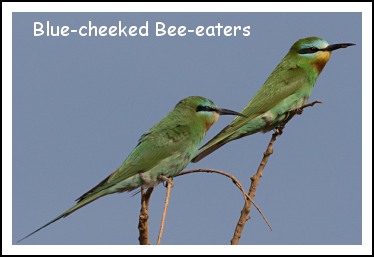 The following day we headed back to the semi-desert area, where it was bitterly cold at 7.00 a.m. There were many (!) Cream-Coloured Coursers, really close, more Temminck's Horned Larks, couple of Short-Toed Larks, a pair of Red-Rumped Wheatears and a Lanner Falcon. At mid-day it was warm as we explored the impressive Gorge Du Todra (a big tourist attraction), there were many good birds but the highlight was good views of 2 Barbary Partridges, an elusive species to say the least. Even Nightingales showed themselves on the streamside walk . After leaving Boumaine on Day 5 we stopped in an arid area for Scrub Warbler, 2 Fulvous Babblers and incredible display by a Thick-Billed Lark. The road wound down through the Ziz Valley and we eventually arrived at our hotel, effectively situated at the entrance to the Erg Chebbi dune system. There we had marvellous views of hawking Blue-Cheeked Bee-Eaters. What a stunning bird. Day 6 was a very special day. At 7.00 a.m. in four-wheel drive vehicles we headed south, into the rising sun with the Sahara Desert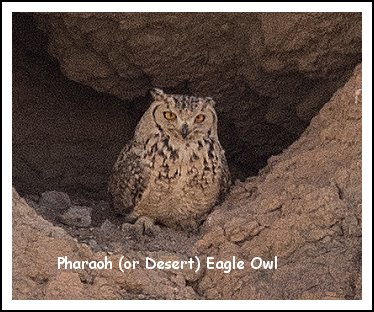 spread out before us. 40 minutes later we were watching big flocks of Spotted and Crowned Sandgrouse as they made their way to water. What a spectacle. Late morning we arrived in a tiny, remote settlement and had close views of a pair of attractive Desert Sparrows, a declining species as House Sparrows push them further and further into the desert. Again new for all and my third target bird. We were then taken to a spot where 2 Egyptian Nightjars were roosting in the desert, completely camouflaged against big stones and tiny bushes. This fantastic day was not yet over, however as after lunch we trekked out over dunes to a distant rocky escarpment where, in a huge cleft in the rock, a Pharaoh (or Desert) Eagle Owl was known to roost. (The name was given when it was split because a pair nested on one of the Egyptian pyramids!) Our leading guide for the day walked across, clapped his hands and the massive bird appeared in the cleft for a few moments before returning inside. What a finale! Pre-breakfast on Day 7 I had good views of Garden and Melodious Warbler and 5 species in one little bush - male Pied Flycatcher, male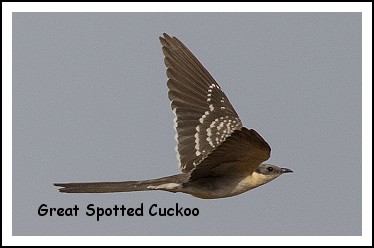 Blackcap, Whitethroat, Subalpine Warbler and a female Redstart, while the others found a Wryneck. That day we did the long journey back to Ouarzarzate, with a stop at a dry wadi producing a Rufous Bush Chat, Desert Lark and a Spectacled Warbler, not to mention Trumpeter Finches. A Bonelli's Eagle passed over the bus. It was hot and heavy when we reached the Monsour Lake Barrage to catch up with water birds like Great Crested Grebes, Little Egrets and a distant Purple Heron. The next day we walked down towards the lake again and had bonus birds like Black-Winged Stilts and some very distant big stuff. It was also a good morning for raptors - Peregrine, Black Kite, Marsh Harrier and 2 Short-Toed Eagles. After lunch at the Tizi-n-Tichka pass at 7,415 feet we resumed our journey back to Marrakesh. A short roadside walk produced 2 Hawfinches, Short-Toed Treecreepers, Great Spotted Woodpecker and a Sparrowhawk, not to mention Great Tit, African Blue Tit, Coal Tit, Wood Pigeons, Kestrel etc. There were still surprises in store, however, a colourful Roller on a wire and then a stop in an urban area for the very localized Magpie with its distinctive blue spot behind the eye. As we were about to leave, 2 Great Spotted Cuckoos flew past, calling, a bird Dave had never seen before in all his trips to Morocco! Then it was back to the big city and its Little Swifts, Spotless Starlings and Collared Doves and a journey home the next day.

For more of Simon's excellent images Click here