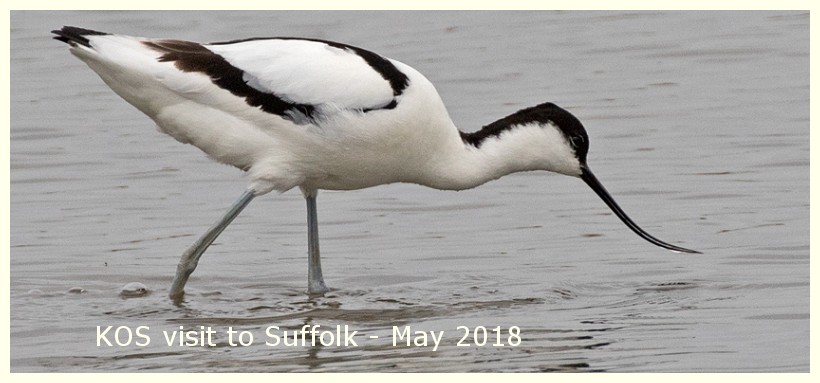 Knutsford Ornithological Society trip to Suffolk - 17th to 20th May 2018
Eleven members headed south for our long weekend in Suffolk based at the Premier Inn in the town of Thetford. This is one of the chain's more agreeable hotels, spotless accommodation as we've come to expect but with a better restaurant than most which offered a smaller more manageable evening menu and, most importantly, freshly cooked breakfasts!
Although he wasn't able to travel our treasurer Frank Dearden had prepared an excellent itinerary taking in some of the area's main attractions and at the same time he'd given due consideration to the drivers (and some of their ages!) and the travelling involved .

Day #1 Thursday 17th May - Travel / Welney Wetland Centre
After a journey of about four hours we met up at our first destination, the Wildfowl and Wetlands Trust's Welney Wetland Centre in Norfolk and enjoyed a coffee before heading off to explore the reserve where we were hoping to catch up with the pair of Common Cranes and their recently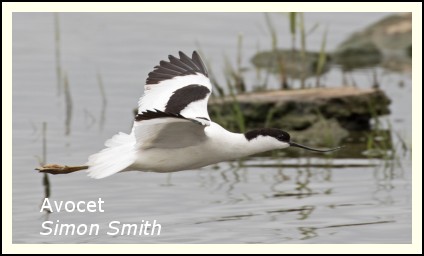 hatched chick. In the event we had to wait until just before leaving to get distant views of the two adults through a specially set up telescope on the verandah of the reception building, enough to add to our species list but we would come across more cranes later in the weekend.
The impressive main observatory gave wide-ranging views across the reserve with its reedbeds and network of channels, Avocet, Black and Bar-tailed Godwits, two Garganies, Gadwall and even three Whooper Swans were added to a rapidly expanding trip list. The Black-tailed Godwits were particularly interesting as efforts are being made to stabilize and even increase the current population using the head start techniques being used with other species of wader including the Spoon-billed Sandpipers in northern Russia. Additionally this year 32 eggs from nests flooded earlier in the Spring were salvaged and are being incubated on site.
There are two linear walks either side of the observatory, each with a number of hides. We did both routes and along the way noted the expected passerine species in song - Reed and Sedge Warblers, Reed Buntings and Common Whitethroats plus just a single Cetti's Warbler. Marsh harriers floated slowly over the reed beds and in the far distance two Hobbies, the first of many we'd see over the next few days.
We left this excellent reserve with an encouraging total of 61 species under our belts, the weather had been excellent - dry, warm and sunny - conditions that would continue for the whole of the weekend - a good start!
---
Day #2 Friday 18th May. Minsmere
Frank had selected Minsmere for a full day's birding on the Friday - it's a huge reserve and needs plenty of time to cover it fully.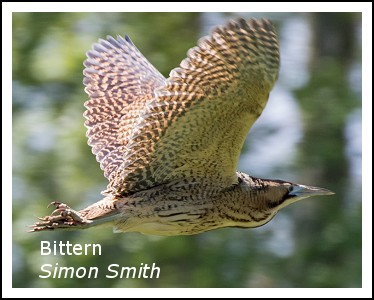 We started in the North Hide where a Turtle Dove had been heard the previous day (neither sight or sound of it when we were there) before following the 3.5K coast trail with the sea on one side and a series of scrapes on the other. We saw and heard Cuckoos as we made our way along the North Wall and a Bittern called from the adjacent reed bed. The scrapes were full of birds - from the east hide we had Ringed Plover, Dunlin and Common Sandpiper just in front of us whilst further away on the far side single Grey Plovers and Turnstones were welcome inclusions to the trip list. Black-headed and Mediterranean Gull were both nesting on the scrapes -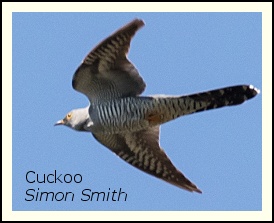 a surprising number of the latter, they were quite rare in the past but have really done well recently. Amongst the gulls were Common and Sandwich Terns together with a large flock of Kittiwakes and as we viewed this area from the South Hide on the opposite bank Lyn Graves picked out two Little Terns, their yellow bills showing well when viewed through the 'scopes.
After lunch in the visitor centre cafe it was onwards and upwards as we tackled the shorter (2.4K) Island Mere trail as far as the Island Mere hide before we returned along the top path after walking up Whin Hill. No new species from the hide although we had excellent views of both Marsh harriers and Hobbies hunting over the phragmites reed bed, we did though have additions in the form of a singing Willow Warbler, Long-tailed Tit and Green and Great Spotted Woodpeckers taking us up to the dizzy heights of 93 "ticks" in a period of 24 hours - Ok I know we may just as well collect train or aircraft numbers but it does add interest and keeps the troops on their toes!

---

Day #3 Saturday 19th May - Lakenheath / Weeting Heath
Another cloudless morning on Saturday as we drove from Thetford to RSPB Lakenheath, a journey of about 25 minutes including a couple of short stops for fuel and sandwiches.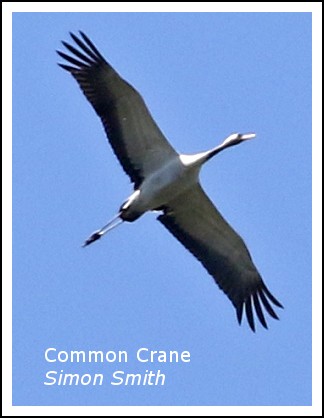 (incidentally I've put web-links to these various sites but the RSPB websites are confusing, difficult to navigate and look like something from the 1990's! Compare with the BTO Website. No complaints about the reserve though, it was great! Just the right amount of input from the wardens (voluntary I think) who provided maps and an introduction to the site before we went on our way.
A short path led from the visitor centre through a reed bed and provided close up views of Reed and Sedge Warblers as we made our way to the New Fen viewpoint from where we could see a family of two adult and three tiny Great Crested Grebe chicks, a Common Whitethroat sang along with more acrocephalus warblers. I was reminded this morning that at this point I said "I've seen more birds on Knutsford Moor" - I probably did say that and it was probably true! We had hoped to see Bearded Tits (or more correctly - Bearded reedlings) here so I asked a couple of passing birders for advice and they pointed us in the direction of a boardwalk leading to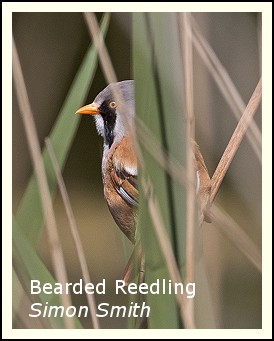 the Mere hide - it took a lot of patience but in the end I think just about everyone had views of a pair skulking at the base of the reeds a few yards from the hide. A Bittern had been performing well all morning from this hide and I believe was seen by those that managed to squeeze in! We ate our sandwiches seated in the shade of the shelter at the Joist Fen viewpoint overlooking a huge area of reeds stretching into the distance, this was a great location. A Common Crane appeared high above us circling upwards in a strong thermal, it remained in view for ten minutes or so drawing a response from one or more other Cranes, out of view, that called loudly as the original bird passed directly overhead. Further away, probably at a distance of at least 2Km, our attention was drawn to what looked at first like a group of Swifts but it turned out they were Hobbies!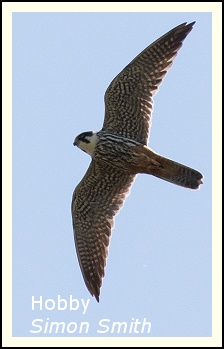 We'd chosen just the right time of the year as these newly arrived little Falcons flocked together in one of their traditional locations before dispersing to their breeding sites. 25 birds was our conservative estimate but there could have been more, 40+ had been seen the previous day - quite amazing!

The plan had been to move on from Lakenheath to the BTO's only reserve at the Nunnery in Thetford, but instead we decided to visit the Norfolk Wildlife Trust's Weeting Heath reserve where we knew we'd be almost certain to see the rare breeding Stone Curlews. It was only a short drive to the reserve where a very enthusiastic and extremely knowledgeable young lady warden gave us details of the area and it's birds. Two pairs of Stone Curlews were nesting, one pair were incubating and the others had hatched two young, both adults and chicks were plainly visible from the West Hide using Derek's big Swarovski. There were plenty of other species around too - Mistle Thrush, Goldcrest, Yellowhammer, Nuthatch, Jay, Marsh Tit and the reserve's first Spotted Flycatcher of the year were also added to our weekend tally.

Our party then split into two - one group made their way to a location they'd been given where singing Nightingales were to be found whilst the second group retired to our hotel to watch the Cup Final from Wembley. I believe the Nightingales performed well unlike Manchester United who played like a disparate flock of feral pigeons.
---
Day #4 Sunday 20th June - Rutland Water
Some KOS members are early risers and every morning as I enjoyed my breakfast I noticed the likes of Derek, Bob, Jean E. and Sue returning from their walks around the woodlands and streams to be found close to the hotel, they provided first records of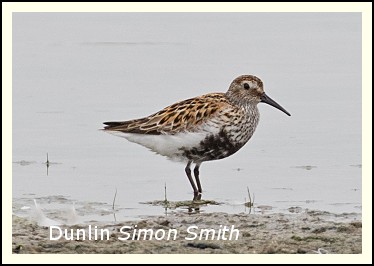 many species and on Sunday prior to leaving for the journey home Sue Middleton came across a Grey Wagtail - the only sighting of the trip - well done Sue!
Our route back to Cheshire was to be via Rutland Water home to the successful Rutland Osprey Project which in 2001 celebrated the first Osprey chick to fledge in Central England for 150 years. Simple enough on paper but it's a huge expanse of water and home to many shore side attractions - I think we visited every one before we finally ended up at the right place!


It's a great reserve with no less than 26 hides plus the visitor centre and a further 7 at the associated Lyndon visitor centre!! You could quite easily spend a whole day there.

We walked in a northerly direction, some as far as the Plover Hide whilst others only got as far as the Dunlin Hide overlooking Lagoon 4. Garden Warblers were everywhere, singing from the undergrowth next to the pathways, quite a contrast to Cheshire where Blackcaps predominate. From the Dunlin hide, which is as far as our group of late arrivals managed, we had Common Terns, a nice Black Tern, a single Dunlin and three Ringed Plovers. Those that got to the reserve early made their way to the Plover Hide and from there had singing Nightingale, Sparrowhawk and a Little Ringed Plover. A possible Baird's Sandpiper has now been identified by the "experts" as a Sanderling so is not included in the final list. Our last birds before leaving for home were two Ospreys circling low over the visitor centre - a first for at least one of the party and an appropriate way to end another most successful long weekend with the KOS.

Species recorded on the KOS trip to Suffolk May 2018.
Mute Swan, Whooper Swan, Greylag Goose, Barnacle Goose, Shelduck, Wigeon, Gadwall, teal, Mallard, Pintail, Garganey,Shoveler, Pochard, Tufted Duck, Red-legged Partridge, Pheasant, Little Grebe, Great Crested Grebe, Bittern, Grey Heron, Little Egret, Cormorant, Marsh harrier, Sparrowhawk, buzzard, Osprey, Kestrel, Hobby, Peregrine, Moorhen, Coot, Common Crane, Oystercatcher, Avocet, Stone Curlew, Little Ringed Plover, Ringed Plover, Grey Plover, Lapwing, Dunlin, Ruff, Black-tailed Godwit, Bar-tailed Godwit, Curlew, Common Sandpiper, Redshank, Turnstone, Kittiwake, Mediterranean Gull, Common Gull, Lesser Black-backed Gull, Herring Gull, Yellow-legged Gull, Great Black-backed Gull, Little Tern, Black Tern, Sandwich Tern, Common Tern, Stock Dove, Woodpigeon, Collared Dove, Cuckoo, Swift, Green Woodpecker, Great Spotted Woodpecker, Magpie, Jay, Jackdaw, Rook, Carrion Crow, Blue Tit, Great Tit, Coal Tit, Marsh Tit, Bearded Tit (Reedling), Sky Lark, Sand Martin, Swallow, House Martin, Cetti's Warbler, Long-tailed Tit, Chiffchaff, Willow Warble, Sedge Warbler, Blackcap, Garden Warbler, Common Whitethroat, Goldcrest, Wren, Nuthatch, Starling, Blackbird, Song Thrush, Mistle Thrush, Spotted Flycatcher, Robin, Nightingale, Stonechat, Dunnock, Grey Wagtail, Pied Wagtail, House Sparrow, Tree Sparrow, Chaffinch, Greenfinch, Goldfinch, Linnet, Yellowhammer, Reed Bunting, [ ✓ 112]