Trip to Tarifa 21st - 28th September 2018
Never having experienced the Autumn migration of big birds south across the Straits of Gibraltar I had an urge to go and managed to book the last place on a Naturetrek tour based at an eco-lodge, Huerta Grande, near Tarifa, the southernmost point of both Spain and Continental Europe. I'll draw a veil over the chaos at Manchester airport.
On arrival at Gibraltar Airport I had a longish wait for the rest of the group to arrive from Heathrow. Fortunately there is a large and airy reception area and I was able to look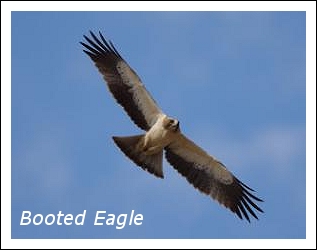 out at passing raptors and Yellow-Legged Gulls and the hugely impressive Rock of Gibraltar. Our tour guides, Simon (Tonkin) and Niki (Williamson), ex-pats now living in Facinas, proved to be experts on the local fauna and flora and heavily involved in migration research. There can't be many places where one can open the cabin door, look up and see a circling Griffon Vulture or group of Booted Eagles, but at the eco-lodge you certainly can. Day one dawned sunny and hot (it was well above 30C during the week, appreciably hotter than normal for late September). However, at 8.00 am (breakfast time) it was barely coming light as Spain is on double summer time. I picked up a shed snake skin on my patio, which hadn't been there the day before.. Simon later identified it as from a Lataste's Viper! At a windy watchpoint (Cazalle) high above the Straits there were big birds in all directions, massive Griffon Vultures were ubiquitous, both pale and dark-phase Booted Eagles were plentiful (their peak migration coincided with our visit) and there were also lots of Honey Buzzards and Short-Toed Eagles. Egyptian Vultures were also present and we had a couple of sightings of the rare Ruppell's Vulture when we moved to the Sanctuary Valley ('Sanctuario'). There were also many Lesser Kestrels and several migrant Sparrowhawks. A party of Black Storks also put in an appearance. Even here the Levanter (East wind) was extremely strong and it got even stronger through the week, corralling big migrants while they hesitated about crossing the Straits. The following day (Sunday) we faced a long deiay as a seemingly endless religious procession made its way down the road ahead but it did allow us to check birds in the nearby fields, including dozens of Corn Buntings, many Cattle Egrets, quite a few Stonechats and Goldfinches, not to mention gangs of Spotless Starlings.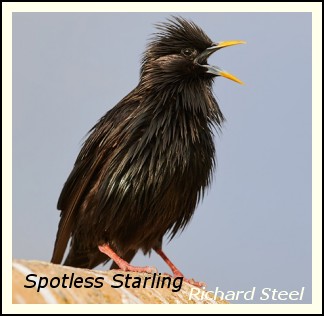 La Janda, our destination, used to be Laguna de la Janda, a vast complex of lakes and marsh, until it was drained for agriculture. Fortunately it is still good for birds and an amazing sight was on offer, I estimated between 900 and 1,000 White Storks on the ground before a man and a dog put them to flight. There were also a few Black Storks and 250+ Glossy Ibis. Marsh Harriers cruised round over the fields and other raptors were in the offing. Smaller birds included Tawny Pipits , Green Sandpiper and Red-Rumped Swallow. We were promised a rarity in a nearby area and sure enough Simon managed to locate an amazingly well camouflaged Red-Necked Nightjar very close to the road barrier. A star bird. Also a Spotted Flycatcher gave good views. Monday was an even hotter day (36C at Cadiz). The disappointment was that the Levanter, now Force 7, meant that no passenger boats were going out into the Straits (so no chance of seeing whales) but we did at least get a boat trip close up. After a tapas lunch in Tarifa and a long lecture about marine mammals at the harbour we were driven to Algeciras Bay for a 2-hour trip round Algec iras Bay. We were treated to a spectacular display of Dolphin activity, both adults and young. Many dozens leaping out of the water, closely approaching the boat.Tuesday's main destination was the Barbate Salt lagoons, which certainly turned up trumps with 110 Greater Flamingos, 10 Spoonbills, a gathering of Stone Curlews, plus a variety of gulls (5 species) and waders (including large numbers of Ringed Plovers), even a few Mallard! An Osprey also put in an appearance. The strength of the wind made viewing difficult, however.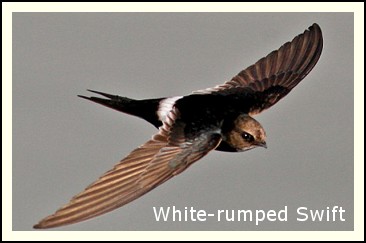 Earlier we had revisited the Sanctuary Valley where we had stunning close views of Short-Toed Eagles. Simon spotted Griffon Vultures circling in the distance and we headed in that direction, only to find that, rather than there being carrion, a farmer was helping cows to give birth in a field and the Griffons were waiting to clean up the placentas! Later some of us saw a Bald Ibis (from the reintroduction colony near Vejer) on a golf course before an official descended on us, expostulating that birdwatching was strictly "prohibido"! It was a privilege on Wednesday to visit a Griffon Vulture colony, high in the Sierra de la Plata. A Ruppell's Vulture gave close views, along with the massive Griffons. An exciting sighting was a Peregrine repeatedly mobbing an adult Bonellis Eagle, to drive it away from the ridge. I was fortunate enough to spot a late (and rare) White-Rumped Swift with some distant Crag Martins and Simon was able to confirm it for the group. Earlier in the day he had made an emergency stop to rescue a gravid female Mediterranean Chameleon from the road. After the photographers had had their fill he released it some distance away, Sadly when we returned up the road some hours later Simon found it dead at the roadside. Thursday was a quiet day as the rest of the group were flying back to London but there was no Manchester flight that day. I dined with the newly arrived group that evening, wishing them well for their boat trip now the wind was switching back west. I'll draw another veil over problems the following morning, suffice to say that I was back home in time to attend Michael Leach's excellent presentation at that evening's K.O.S. meeting. My head was still full of images of those big birds, waiting to head South (the Griffons are mostly resident, of course) and I would certainly recommend the trip to anyone who has not yet experienced the magic of Autumn migration in Southern Europe. . Bob Groom