20/10/2015 ............ KOS Long Weekend in Teesside October 2015
Last weekend will long be remembered by the people of Teesside, not because of the KOS visit (although I hope we made a good impression) but because it was the end of the week that saw 170 years of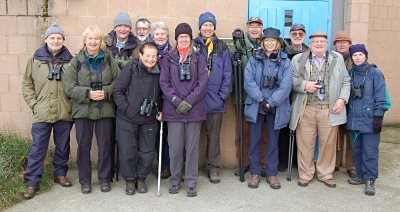 steel making came to an end and the great coke ovens were allowed to cool for the final time at the Redcar site, just across the river from where we were based at Seaton Carew.It's estimated that 2,200 jobs will go plus 1,000 contractors as well as 6,000 in the direct supply chain, ironically all this as we roll out the red carpet this week for Xi Jinping the Chinese President whose country dumps thousands of tons of state subsidised steel on an already saturated market!
We stayed for three nights at the Marine Hotel - clean and tidy, excellent meals and friendly staff; in fact one of the highlights of our time in the north east was the friendly reception we had, not just at the hotel but also from the RSPB staff at Saltholme and the birders we encountered on our travels - none of the pompousness we've experienced at certain other locations!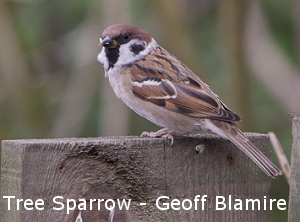 In theory, given where we were and the prevailing weather conditions a total of over 100 species should have been easily achieved, but in fact it was a bit of a struggle and we only managed to record 90. Our trip began on the Thursday (15th)at the Fairburn Ings RSPB reserve; unfortunately because of a power failure the visitor centre was closed, nevertheless we were able to walk the paths and get the list underway. Redwings were passing over giving some of us our first Winter Thrushes of the Autumn, we recorded small numbers on each day but surprisingly no Fieldfares all weekend. The feeders were well stocked and were attracting loads of Tree Sparrows and Tit species including Willow Tits whose calls could constantly be heard, there must be many on the reserve.
From Fairburn we drove north for lunch at the RSPB Saltholme reserve via the iconic Middlesbrough Transporter Bridge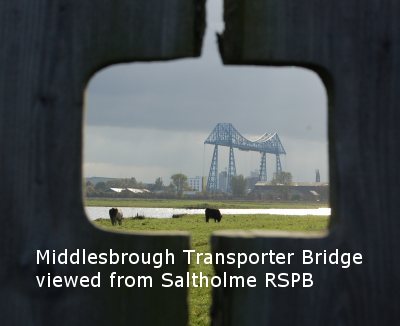 which was an very interesting experience - our thanks to Derek for insisting on including this during the weekend. There's also one a little closer to home in Warrington, but it's not operational at the moment.
We didn't spend much time at Saltholme as we were going to spend the next day there, just enough time for butties and a coffee before moving on to Portrack Marsh. a few new species were added there but it's more a place for the Spring than the Autumn and would be a good spot for Reed and Sedge warblers at that time of the year.
I wondered if the plan to spend most of the day at Saltholme on the Friday (16th) was a good idea but it worked well as it's a really big reserve with well maintained paths and spacious hides making for easy walking and viewing. One of the first birds we saw on the main pool as we made for the first hide (the Wildlife Watch point) was a "redhead" Smew which gave good views through the 'scopes - a reminder of the Smews we used to get every year around this time on Tatton's main mere. Not much from the first hide just a few Coot, Mallards, Moorhen and an elusive Snipe,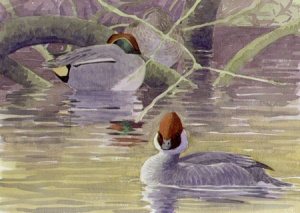 although a Marsh Harrier had passed through shortly before our arrival.
Paddy's Pool was more productive and we had good views of Pintail, Greylag and Pinkfooted Geese plus flocks of waders which included Lapwing, Dunlin and Golden Plovers. Returning to the visitor centre via a shorter route two of us who'd chosen not to walk around the long perimeter path were lucky enough to come across a pair of Stonechats.
After refreshments in the excellent cafe we travelled the short distance to Dorman's Pool where we rounded off an enjoyable day with good views of a Great White Egret.

Early risers on Saturday (17th) were rewarded with excellent views of Sanderling, Ringed Plovers and Turnstones on the sand in front of the hotel as the incoming tide formed an area inaccessible to the dog walkers.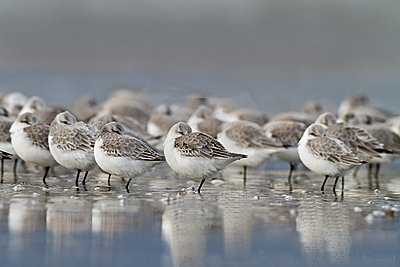 Our first port of call after breakfast was the North Gare Breakwater just south of Seaton Carew giving us a chance for a little sea-watching. We added Grey Plover, Red-breasted Merganser and Sandwich Tern to the list but it was somewhat disappointing with few birds out to sea. More luck though in the sand dunes near to the power station where one of the local birders pointed us in the direction of an area of willows that were sheltered from the wind in amongst the dunes. The trees held numerous Goldcrests resting after their journey across the North Sea as well as a Short-eared Owl that nearly decapitated Bob as it was flushed!
Following lunch we drove up to the Seal Sands and Greatham Creek area walking up the path to the hide overlooking the sands. Again not too much on offer although a fine Greenshank was a new species for the list and we watched the seals coming in with the advancing tide before hauling themselves out on the mud opposite the Edgar Gatenby hide.

On Sunday morning before returning to Cheshire it was off just up the coast as far as Hartlepool birthplace of Jeff Stelling and our own Jean Emsley. The town centre was busy with a folk festival and a number of birdwatchers vainly searching for a Pallas's Warbler that had been seen the previous day amongst the newly arrived Goldcrests. The headland is an excellent little location for sea watching with plenty of spots to shelter from the weather if it gets a bit wild. From here we added Eider, Guillemot, Arctic Skua, Rock Pipit and a single unidentified Diver to the list, as well as the only Gannets of the weekend as Derek's persistence paid off.

Unidentified Diver [sp], Little Grebe, Gannet, Little Egret, Great White Egret, Grey Heron, Mute Swan, Pink-footed Goose, Greylag Goose, Canada Goose, Barnacle Goose, Shelduck, Wigeon, Gadwall, Teal, Mallard, Pintail, Shoveler, Pochard, Tufted Duck, Eider, Smew, Red-breasted Merganser, Red Kite, Marsh Harrier, Sparrowhawk, Kestrel, Peregrine, Pheasant, Moorhen, Coot, Oystercatcher, Ringed Plover, Golden Plover, grey Plover, Lapwing, Sanderling, Dunlin, Snipe, Black-tailed Godwit, Curlew, Redshank, Greenshank, Turnstone, Arctic Skua, Black-headed Gull, Lesser black-backed Gull, Herring Gull, Great black-backed Gull, Sandwich Tern, Guillemot, Feral Pigeon, Woodpigeon, Stock Dove, Collared Dove, Short-eared Owl, Great Spotted Woodpecker, Skylark, Meadow Pipit, Rock Pipit, Pied Wagtail, Wren, Dunnock, Robin, Stonechat, Blackbird, Redwing, Mistle Thrush, Chiffchaff, Goldcrest, Coal Tit, Long-tailed Tit, Willow Tit, Blue Tit, Great Tit, Jay, Magpie, Jackdaw, Rook, Carrion Crow, Starling, House Sparrow, Tree Sparrow, Chaffinch, Greenfinch, Goldfinch, Linnet, Bullfinch, Reed Bunting.

Once again our thanks go to Sheila and Derek for all their hard work organising this trip, not easy as it was a new area to us with a number of sites within it that we knew very little about.