Bird Ringing on Knutsford Moor

Revised 11 December 2020
Bird Ringing activities have recommenced on Knutsford Moor and it clearly shows that the Tatton "corridor" is a migrant highway and you do wonder what slips through !
This was a Cheshire Wildlife Trust Reserve, until the end of 2014, and has now passed back to the Tatton Estates. It is one of the largest areas of fen in Cheshire, (11 hectares) and comprises open water, reed swamp, willow carr and broad leaved woodland and is an SSSI.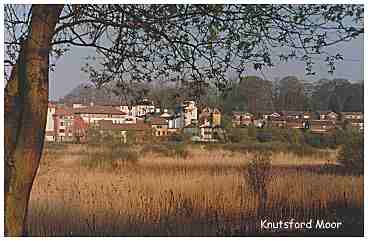 The reserve lies in a basin, and receives its water through a series of channels to the west. The water filters through the reed swamp before running northwards to feed the meres of the Tatton Park NT. Much of the reserve is covered in an extensive single-species stand of common reed. The drier regions of the reed swamp allow willow carr and scrub to succeed. Goat willow dominates above stands of common reed, reed mace, willow herb and hedge bindweed. Further eastwards, the ground rises and willow carr grades into dry, broad leaved woodland. Here the canopy is dominated by ash and horse chestnut.
Key bird species include Reed and Sedge warbler as breeding birds along with Reed Bunting. Water Rail is present in the extensive reed areas but the breeding status is not previously recorded. The scrub fringe also plays host to both Chiffchaff and Willow Warbler along with Blackcap and Garden Warbler to a lesser extent. There are historic records of Grasshopper Warbler and Lesser Whitethroat from this area.
The area acts not only as a spring migration site for birds passing north and a summer breeding area, but also as a catchment site for post breeding migrants from late July onwards, particularly warblers feeding on the abundant insect life present. The reedbed has a Swallow and hirundines roost in the autumn and is also frequented by Pied Wagtails roosting in winter. Historically (from 1967 to 1970) this site was a ringing site used by the newly qualified Malcolm Calvert, who was trained as a ringer by Jeremy Sorenson. On the 1st January 1971 the South Manchester Ringing Group was officially formed, with three members, Malcolm Calvert, Geoff McPherson and Rhys Green. Malcolm was the first Chairman / leader of the group and continues in this roll today [December 2020]. The SMRG database from those years is currently being uploaded into the British Trust for Ornithology (BTO) Integrated Population Monitoring Reporter (IMPR) system, but an initial review suggested over 6500 Swallows and over 800 Reed Warblers were ringed at this site, along with many other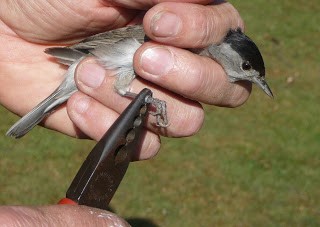 species.
CWT cleared several areas of invasive tree species in late 2014 and this presented an opportunity to survey the site for ringing activities. Early visits in April and May 2015 suggested only 4-5 pairs of breeding Reed Warbler and only 1 of Sedge Warbler so it was decided to wait until the migration period from late July onwards to start ringing. However weather and other factors meant that mist net corridors in the now extensive reed beds were not created till late August. Ringing started in the first week of September and the results are shown in the table.
Given it is somewhat late in the season, it is interesting to note that Reed Warblers are still passing though the reed bed, although most are juveniles, still completing their post juvenile moult, as are the few Willow Warblers noted. The Chiffchaffs, being a shorter distance migrant are still just starting their moult, and are fattening up on the rich insect supply available in the reed bed. The only Sedge Warblers are clearly late. It is surprising that Blue Tits use the reed bed so actively, but they are opportunistic, with a wide range of feeding strategies. One would expect the local Reed Buntings to be present ( but net shy!) and Wrens and the occasional Goldcrest will take good advantage of reed beds for insect food. September is the month for Blackcaps as they congregate in areas of elderberry and other rich food sources, moving south from northerly breeding areas to congregate where feeding is good. Ringing has shown that they are short distance migrants. most moving to the Mediterranean coastal areas to winter. Of course we also get an influx of eastern European birds in late autumn which winter in the UK, buts that's a different migration strategy. It is unlikely that Knutsford Moor will attract a large number of Blackcaps over the next month, but we shall see.
Sightings have included adult and juvenile Water Rail, along with 2 Tree Pipits and 5 Grey Wagtails south on 3rd September. A small swallow roost built up on 2nd September but probably only numbered 30 birds but attracted a Hobby and Sparrowhawk in the early evening. I will continue to update the KOS on our activities and sightings......... Hugh Pulsford
Species

New

Retrap/Control

Great Tit

3

0

Blue Tit

58

2

Wren

10

0

Dunnock

2

0

Bullfinch

1

0

Reed Warbler

25

2 *

Chiffchaff

32

1

Willow Warbler

10

0

Blackcap

12

0

Sedge Warbler

2

1

Goldcrest

2

0

Reed Bunting

1

0

* includes a control (ringed at Woolston 10 days previously)
KOS Homepage...........Latest News.........2015 Archived News